Interview to By in El País
Security | Access | Technology
The supplement "Excelencia Empresarial" published on February 8 in El País, collects interviews and reports from some of the most recognized companies in different sectors on the national scene, noted for their excellence in management and product. By, in the Technology section.
On February 8 El País published the supplement "Excelencia Empresarial". Its pages gathered news, reports and interviews with some of the most prestigious Spanish companies, which contribute to development in various sectors: food, medicine, law, industry, transport, etc. The paragraph of Technology included the interview to Inmaculada Tardío, General Manager of By. Here you can find the full contents thereof:
"Our customers recognize our unique design, ease of installation and use"
INMACULADA TARDÍO ORTIZ General Manager of By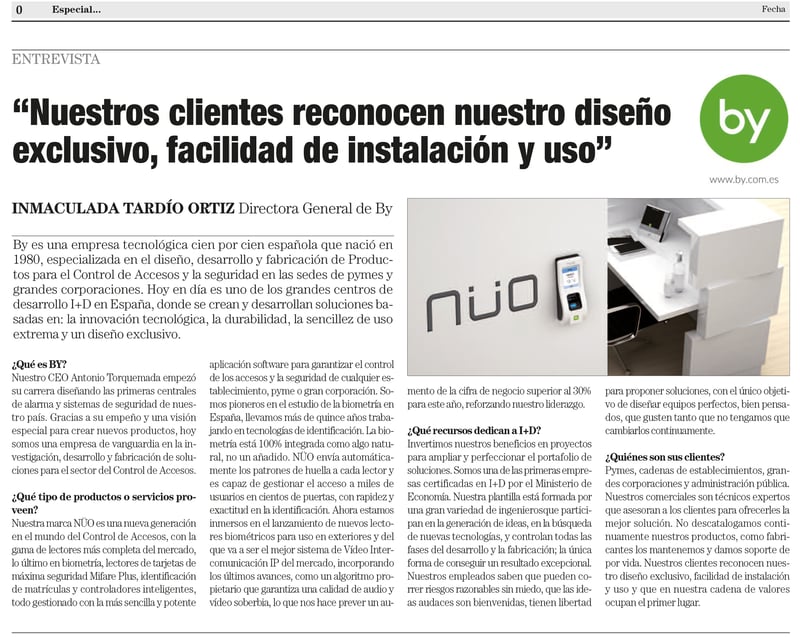 By is a hundred percent Spanish technology company born in 1980, specialized in the design, development and manufacture of products for access control and security at the headquarters of SMEs and large corporations.
Today it is one of the largest centers of development R&D in Spain, where solutions are created and developed based on: technological innovation, durability, ease of extreme use and exclusive design.
---
What is

By

?
Our CEO Antonio Torquemada began his career designing the first alarm centers and security systems of our country. Thanks to his commitment and a special vision to create new products, we are today a leading company in the research, development and manufacturing of solutions for the sector of Access Control.
---
What kind of products or services do you provide?
Our brand NÜO is a new generation in the world of Access Control, with the most complete range of market readers, the latest in biometrics, card readers of maximum security Mifare Plus, identification plates and intelligent controllers, all managed with the simple and powerful application software to ensure access control and security of any establishment, SME or large corporation. We are pioneers in the study of biometrics in Spain, we have been working on identification technologies for over fifteen years. Biometrics is 100% integrated as something natural, not as something added. NÜO automatically sends fingerprint patterns to each reader and is able to manage access to thousands of users in hundreds of doors, with speed and accuracy in identification. We are now engaged in launching new biometric readers for outdoor use and it will be the best Video Intercom IP system in the market, incorporating the latest advances, such as a proprietary algorithm that ensures audio quality superb video, which makes us anticipate an increase in business turnover of more than 30% this year, reinforcing our leadership.
---
What resources are dedicated to R&D?
We invest our profits in projects to expand and improve the portfolio of solutions. We are one of the first certified in R&D by the Ministry of Economy. Our staff is made up of a variety of engineers involved in generating ideas, in search of new technologies, and control all phases of development and production; the only way to achieve an outstanding result. Our employees know they can take reasonable risks without fear, that bold ideas are welcome, they are free to propose solutions, with the sole purpose of designing the perfect equipment, well thought out, so welcomed by the customers that we do not have to continually change.
---
Who are your customers?
SMEs, chain stores, large corporations and public administration. Our commercials are technical experts who advise customers to offer them the best solution. We don't discard continually our products, as manufacturers we keep them for life. Our customers recognize our unique design, ease of installation and use and that in our value chain they come first.
---
*08/02/16. El País, supplement Excelencia Empresarial
In By we believe in innovation and we have been over 30 years researching and developing security solutions and access control. Our experience is at the service of a single goal: helping you with your projects.