Parking access control is a key requirement for a wide variety of buildings, from offices and corporate buildings to industrial buildings, SMEs and homes with private car parks.
These days, there are a wide range of technologies available that provide effective parking control while creating a simple, frictionless user experience.
Here's everything you need to know about state-of-the-art parking access control solutions and how to choose the right ones.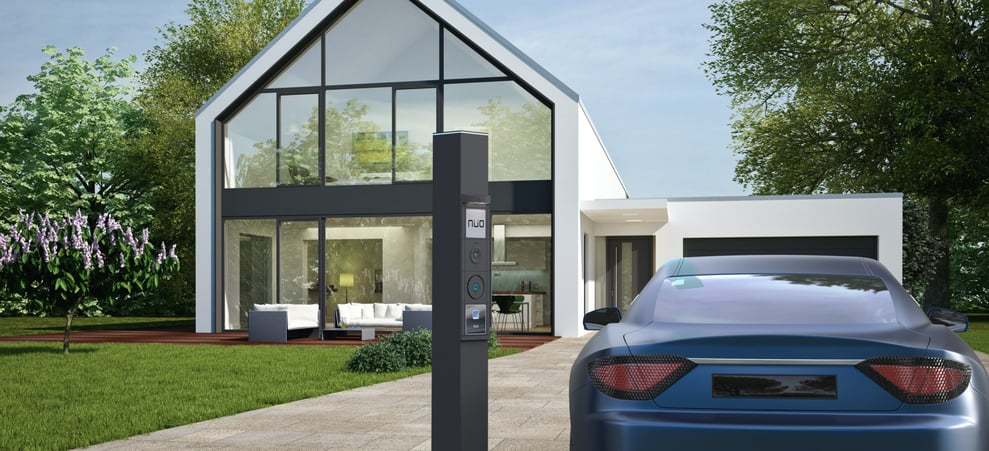 What does parking access control consist of?
Parking access control involves a whole set of technologies and installations dedicated mainly to the following functions:
Managing

the

capacity

of

a

car

park.

Allowing

or

denying

entry

of

vehicles

and

persons.

Generating

a

record

of

these vehicles

and

a

history

of

their

movements.

Securing

the

facilities

so as

to

prevent

unauthorized

access.




Why do you need parking access control?
Parking access control plays a strategic role in the security of your car park, where the constant movement of people and vehicles means a system tailored to these specific features is required.
This method of monitoring access to the car park prevents theft and robbery, unlike other systems based on alarms or CCTV systems, which can only alert you once a crime has occurred but cannot prevent it.
A very recent case is that of Saba Bamba in Barcelona, which have been subject to theft and damage in their car parks since the summer of 2019.
In addition, the only preventive measure the former provide is video surveillance cameras. This acts exclusively as a deterrent but does not prevent theft in any way, as parking access control systems do.
A key step towards making a car park secure therefore involves implementing a control system at the entrances and exits, preventing unauthorized access.
Does parking access control work?
As mentioned above, a parking access control system will grant or deny access to the facilities, while at the same time managing schedules and capacity.
To carry out these functions, parking access control utilizes a number of devices, the most common of which are:
| | | |
| --- | --- | --- |
| | | |
| Entry and exit barriers | Identifier systems (readers and video intercoms) | Traffic lights |
In addition, these devices should be connected to a centralized application or software, from which all operations can be monitored.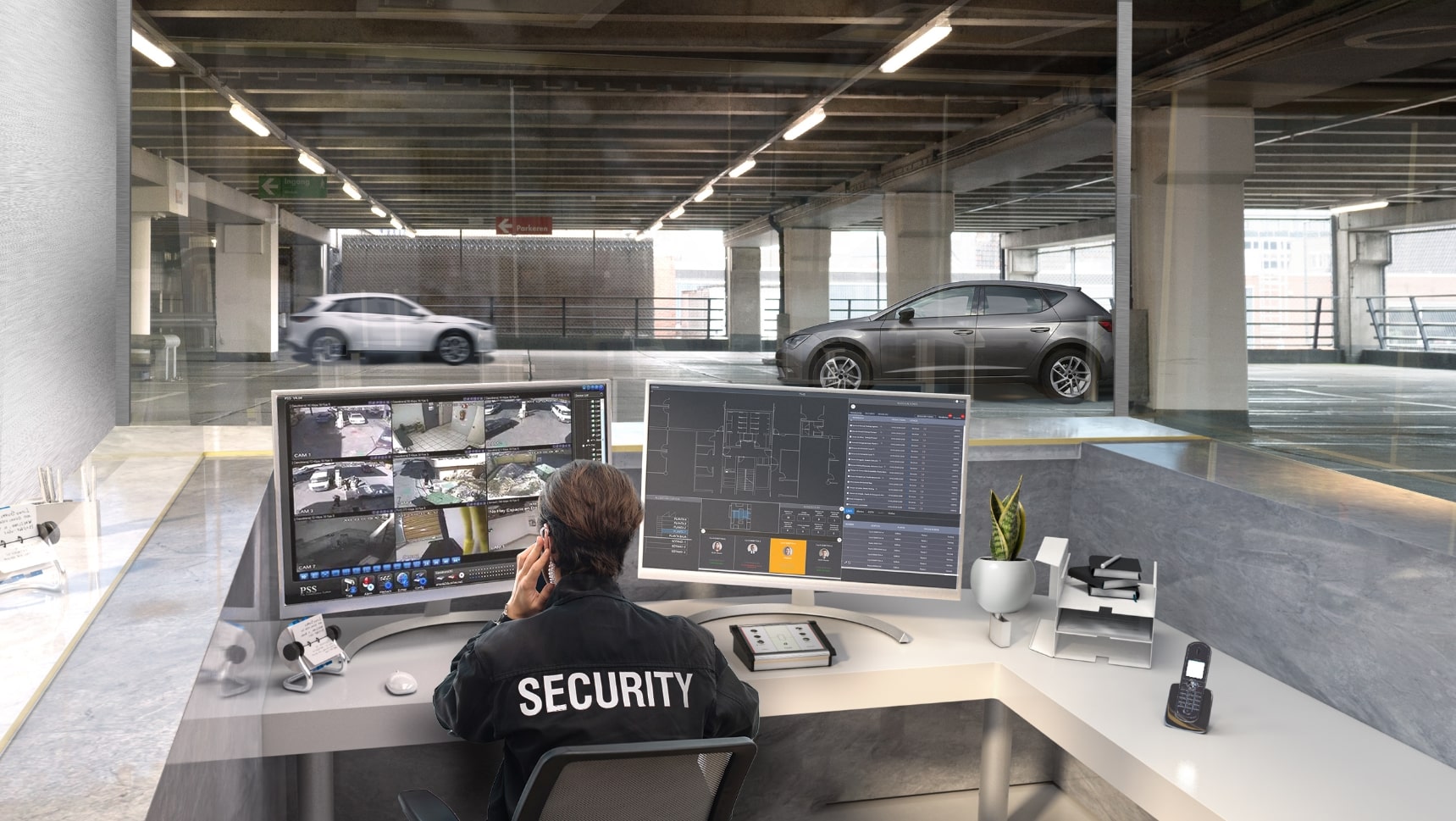 NÜO car park security solutions offer simple, comprehensive, and fully customisable access control. NÜO is made up of a web application for the intuitive and complete management of your car park and all the necessary equipment to configure the access control system for the car park at your company or home.
Each car park has a unique configuration and technical requirements, which is why at NÜO we offer many different variants for a configuration tailored to each space.
From long range UHF readers to automatic license plate recognition cameras, MIFARE Plus® high security cards, mobile credential, 100% integrated video intercom for managing visitors, automatic barriers, vehicle detection loops, or traffic lights.
Types of parking access control systems
Below we show you some examples of parking security most frequently requested by our customers. However, bear in mind that vehicle access control systems can be set up in many different ways depending on your specific needs. We therefore invite you to contact our specialist engineers in order to determine the best solution for your space.
1. Security for a garage with an automatic door with NÜO ID
Access your company or home parking space without getting out of your car and forget about remote controls thanks to the NÜO ID reader's ability to read UHF cards remotely. A convenient system that facilitates quick access for authorized users.
Provides added security with pedestrian access control at car park entrances.
.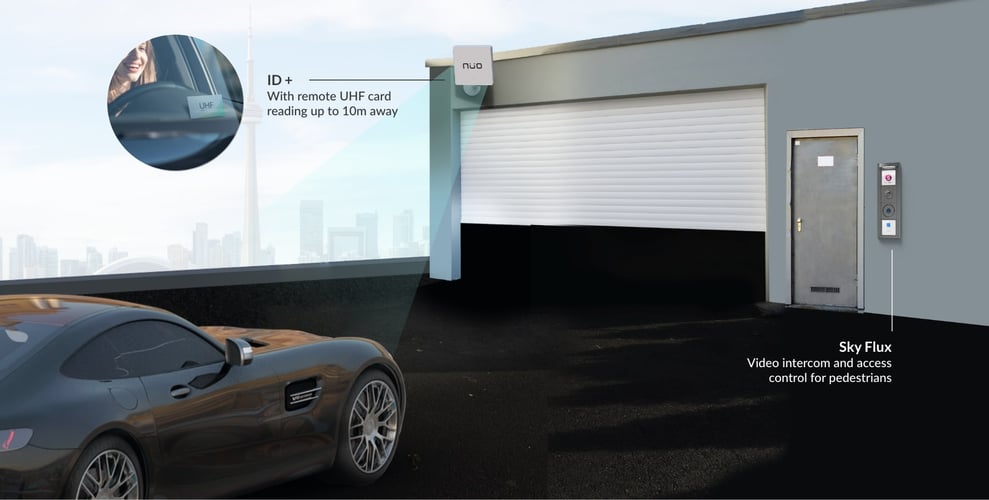 2. Security for a garage with an automatic door with Sky Car and Sky TL traffic light
Comprehensively manage access to the private car park of a company or home from a single application, with visitor and employee management.
The elegant and robust Sky Car station combines, in a single terminal, readers for identifying registered users and a video intercom module connected to a video console located inside the company or home, allowing you to welcome visitors and decide whether or not to allow them access to your premises.
It also contributes to safety within the car park via an elegant traffic light system which provides maximum efficiency in terms of signage, carefully designed to fit in with the rest of the elements of the system.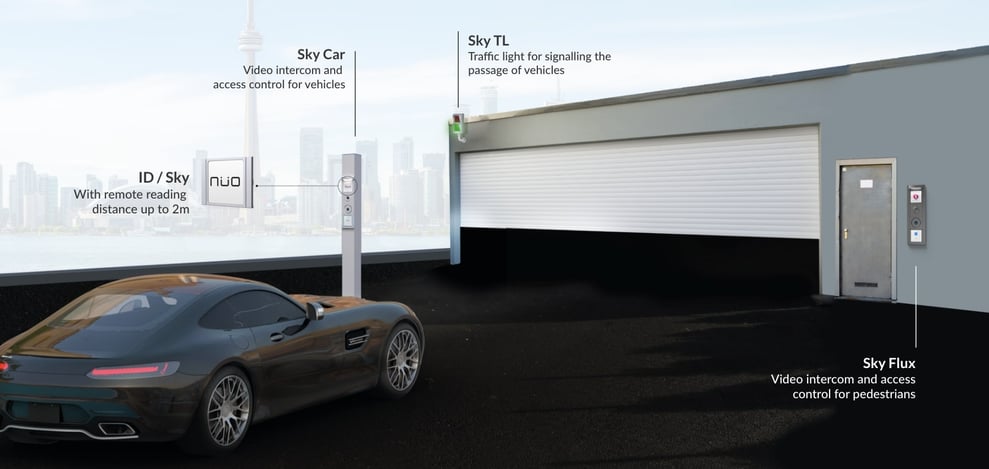 3. Access control system on an island for a car park with two-way traffic
A complete parking access control system which, through the use of electromechanical barriers for efficient and secure vehicle access control, controls vehicle movements in both directions while facilitating transit inside the car park. It also provides advanced management functions in the application, such as capacity control and advanced statistics.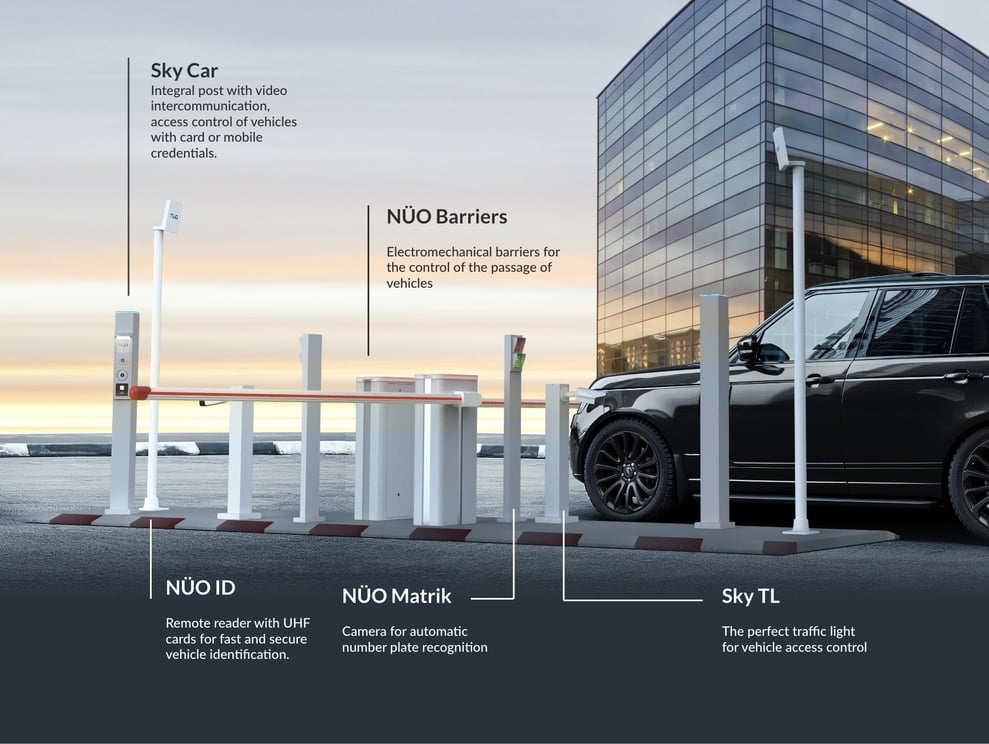 4. Access control system for industries with loading and unloading areas and spaces reserved for trucks or vans.
Industrial environments have their own specific needs, such as allowing taller vehicles to enter. For such cases, NÜO has designed Sky Two, a station in two-height modules for controlling parking access for trucks and lorries. We recognise that a car isn't the same as a truck, so at NÜO we have designed the perfect post for access control in logistics companies and industries.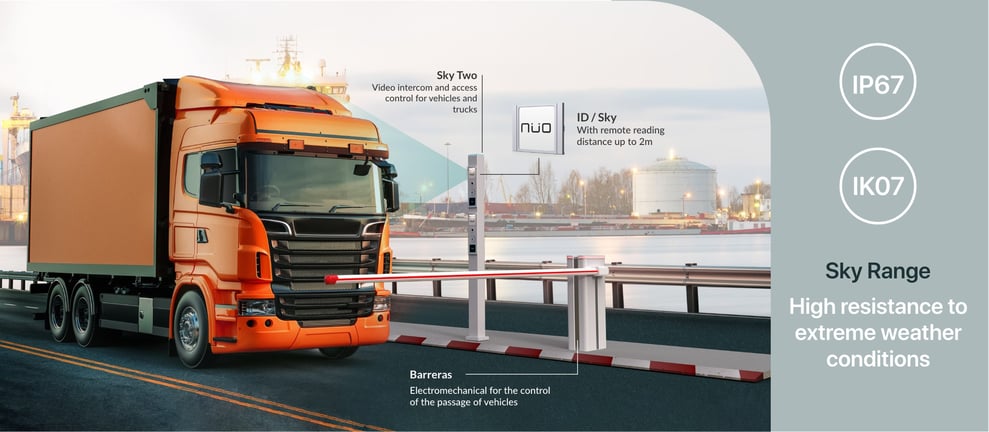 Advantages of car park access control systems
The NÜO parking access system has been specifically designed to provide maximum security and efficiency in this environment. It brings a number of benefits:
Equipment designed for outdoor performance

Parking access control devices are exposed to all kinds of environmental conditions that they must be able to withstand. The Sky range of devices are robust, resistant to saline environments, rain, strong wind, adverse temperatures, etc. As such, they are commonly installed in seaports to manage the entry and exit of vehicles and trucks, as well as in high intensity industrial environments, due to their excellent resistance not only to outdoor conditions but also to knocks, scratches, dust, etc.

Maximum comfort and frictionless user experience

With NÜO ID, there is no need for remote controls or to get out of the vehicle to open gates.

Easy installation and minimum maintenance.

Our equipment is manufactured with high-quality materials (such as aluminum) and adapted to the needs of each project. In addition, they are designed for maximum durability, reducing the need for maintenance.
Do you want to know more about how to have the safest and most efficient parking access system? At NÜO Planet we can help you: contact us for personalized advice or request a demo adapted to the needs of your project.