We at NÜO are aware of the importance of offering the best service. That is why selling our solutions is done through qualified professionals, who pay exclusive attention to their customers, providing them with high quality solutions and an impeccable after-sales service.

NÜO Planet works hand in hand with professional installers, with non-conformist installers who day after day look for perfection and solutions that evolve and do not become stagnant. Because NÜO Planet is a place where nothing is static, where everything changes and evolves, where everything outdoes itself. Due to our belief in future possibilities of technology, we do not stop investing in research and development. Our aim is to create the most innovative, secure, life- long products which are easy to use and to install...More profitable.
---
And this is where you come in as an installer
We work through certified installation companies, building a worldwide network of partners that is our most valuable asset. For this reason, we have developed the NÜO Planet certification program. A program designed so that you can make your business profitable and create lasting and valuable relationships with your customers.
---

What does being part of NÜO Planet mean?
Being part of NÜO Planet means joining a project hand in hand with a leading technology company, backed by 40 years in the security sector with a great experience and recognized know-how.
Together with NÜO you will be able to reduce installation times and minimize incidents, since NÜO solutions have been entirely designed to facilitate the installer's work, simplifying its implementation to the maximum. As well as, make your business grow:
Generating 22% more sales opportunities.
Increasing x2.5 the execution of security installations.
Improving service by reducing installation and maintenance times by 50%.
In NÜO we do not base our product only on price, but go a step further, offering design, security, reliability, quality... So that you always feel accompanied. And thanks to you and all our installers, this is possible.
Why should you join the NÜO Planet membership?

NÜO Planet presents you a great opportunity to make your business profitable: with NÜO you will be able to increase your sales in a simple way and consolidate your position in the market. You will get quick results and foster your clients' loyalty with cutting-edge technology solutions with a simple and intuitive user experience and an unique design.
Advantages of being a NÜO Planet Member
You will have access to the most advanced systems in the Access Control sector.

Continuous commercial and technical training.

Project design and advice at all stages of the process.

Personalized commercial material and demo material.

Preferential access to projects prescribed by NÜO Planet.

Exclusive discounts.
How do we help our partners increase their revenue?
Members of our NÜO Planet growth program increase revenue because the type of customer looking for solutions such as NÜO's values quality over price.
Our solutions are high-end, and therefore we do not compete in the low-end market where price is the only driver and where margins are very low and sometimes non-existent. This market is sensitive to new players who may have aggressive entry policies with low prices, questionable quality and a model that is ultimately not sustainable in terms of profitability and growth.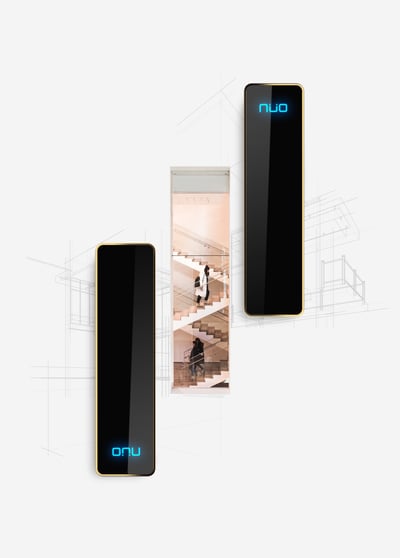 NÜO Planet's clients admire design, simplicity, avantgarde and, above all, quality and a guarantee of maximum security.
---
We can categorically state that our solutions are unique in the sector, designed for a very demanding clientele. This means that an installation project is valued in aspects far beyond the price, and that is beneficial for the client and for the partner. NÜO Planet members discover a new, more profitable market, willing to pay for the value of service and technology. A more loyal and referring customer.
As a result, our partners see an increase in the number of new installation opportunities, increase revenue with high value installations for their customers due to higher margins, and gain a better reputation.
Why NÜO solutions are unique?
NÜO solutions are developed with the latest technology on the market, an example is the use of biometric technology, to offer high security solutions. In addition, we are also committed to All-in-One solutions, where the Software and Hardware are developed by us, by a single manufacturer, in this way, we avoid incompatibilities and guarantee that everything works at first try, reducing installation times considerably.



These solutions are designed exclusively to facilitate the installer's daily work and help increase their profitability with systems of the highest quality, innovative and capable of adapting to any surface to meet the expectations and needs of your client. Thanks to the use of ultra resistant materials such as aluminum and tempered glass, its maintenance is minimal, being able to withstand extreme temperature changes in outdoor devices. In addition, as the software and hardware are developed by us, incompatibilities in the installation and system failures are avoided, such as the disconnection of the doors that can endanger the safety of users.
Main features of our devices:

Resistance: All NÜO devices are made of aluminum and high quality materials such as tempered glass, designed to be ultra resistant to shocks and scratches. Therefore, years will pass and the device will always keep its impeccable appearance without maintenance.
Temperature: Our devices have an IP protection rating between 65 and 67, designed for intensive use under extreme environmental conditions and prepared to withstand abrasion, shock, sunlight, rain, saline environments and extreme temperatures.
Multi-spectral technology: The NÜO Awa reader is equipped with a multi-spectral sensor that captures sharp images of the deep layers of the finger surface, ensuring the correct authentication of people with problematic, dirty, dry, wet or worn fingerprints and through latex gloves. And of course it prevents access to false fingerprints.

Antibacterial treatment: All NÜO biometric readers include an antibacterial treatment to prevent the generation of germs on the reader's contact surface. This does not affect the user's experience with the reader and ensures maximum asepsis in authentication, helping to avoid infections by contact.
Click on this link to see all our readers.
An additional added value in our solutions is the design.
Our luxury readers have the capacity to adapt to any surface.
You can choose the finish and colors, integrating them perfectly with the design of the facade. They are 100% customizable.
---
Need more reasons to become a NÜO Planet Member?
For more information about our Partner Program for professional installers you can contact us at the following link