Simplicity as a way of life
Can you imagine arriving home and being able to open the door and switch off the alarm without even needing a key? Arriving home from work and the garage door automatically opening as your car approaches, with no need for remote controls. NÜO Go! is the ideal home access control system that makes it that easy. Forget about looking for keys, the multiple copies that can be made, or losing keychains. Just by placing your fingerprint, card or smartphone in the reader, your house will be operational as if by magic. At NÜO we secure your home and your family with the most advanced technology, from the people inside to your most precious objects.
Because your luxury home deserves to be equipped with an equally high-level security solution.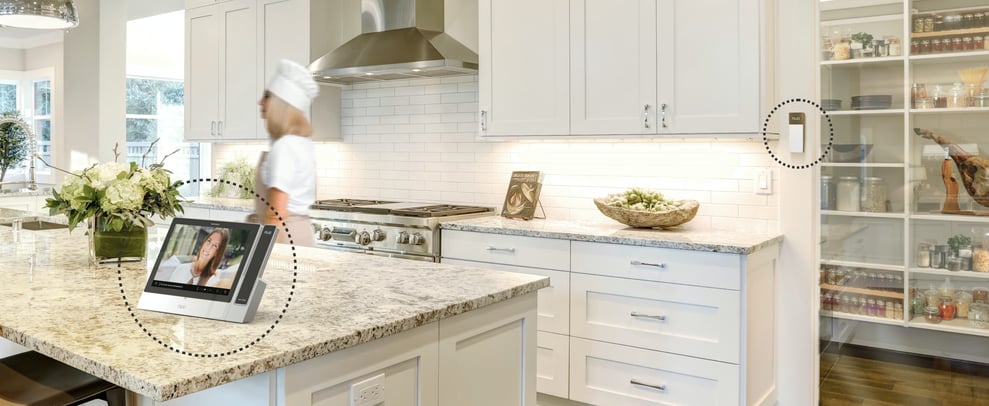 NÜO

Go!

arrives at your home so that you have everything under control.
Even when you're not home.
Register each member of your home and customize the security level of each of them. This way your permissions will be different from those of your children and your cleaning and gardening staff. Identify each one with a high-security card, a mobile credential or biometric data and establish different security profiles for each user, deciding where, how and when they can access. Restrict access by schedules, work shifts, by date, by living spaces, etc.

Using fingerprint biometrics each user will be their own key and at all times you will know when they have accessed and through which spaces they have moved.

You will have full control over everything!
A customized solution for your home
With NÜO Go! you can easily manage and secure all areas of your home in the simplest way: exterior entrances, parking access, or entries to an annex building, to the pantry, wine cellar, dressing room, or anywhere you keep your valuable possessions. NÜO Go! will make your home secure and beautiful with a cutting-edge design, the latest technology and high quality, ultra-resistant, eco-friendly materials.
Because we know that your home is unique, we want your security solution to be 100% adapted to your needs.
The following is an example of a
configuration of NÜO devices in a house: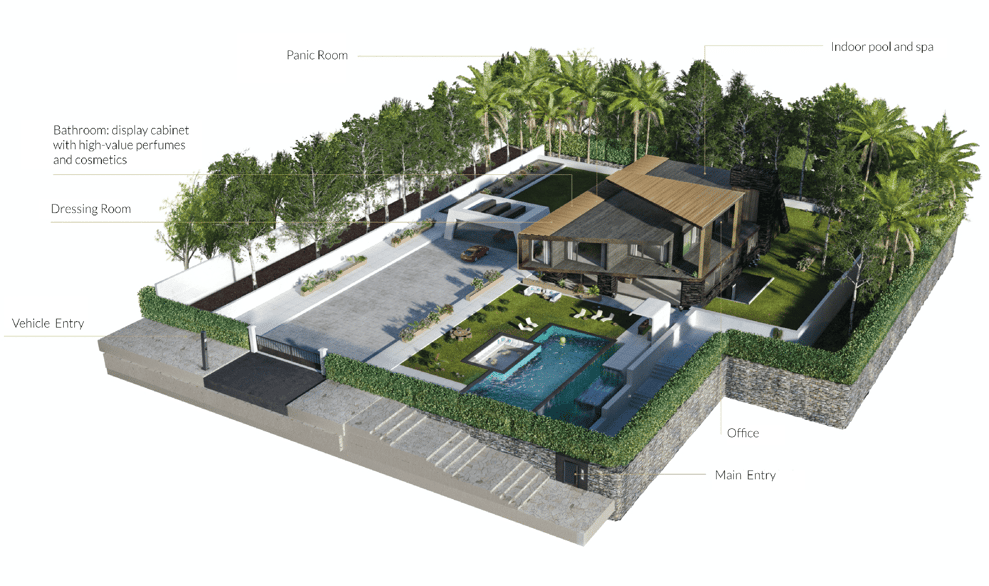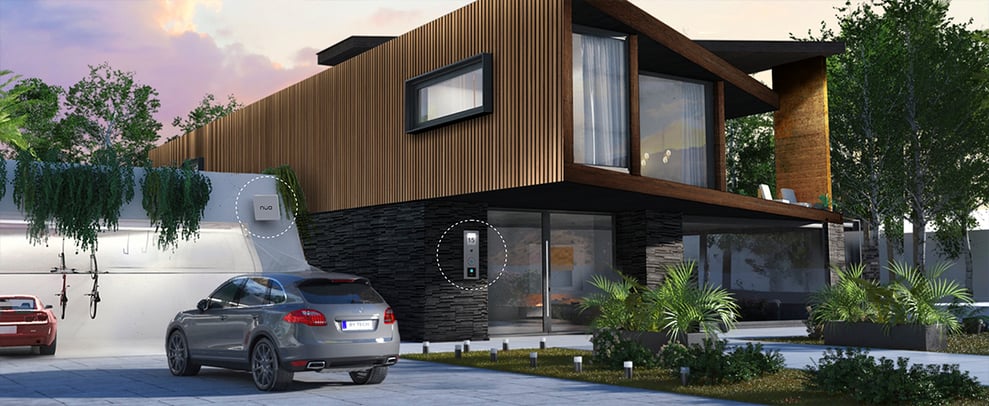 ---
"There are few places as important as your own home.
Your world, your space."
---
Pedestrian Access
Establish a security profile for each user deciding who enters, when and where. Restrict access by time, date, area, user, etc. In addition, user registrations and cancellations are in real time, so no more security problems.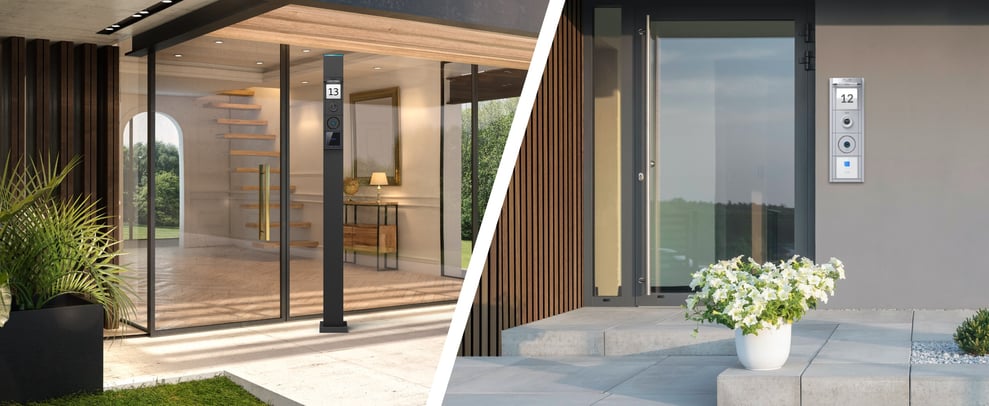 Parking
Manage the entrance to your home parking with Sky Car. Smooth access for members of the home, and seamless communication with visitors entering through the parking lot. Voice understanding is always perfect, with crystal-clear sound, even in heavy traffic noise. The high resolution camera will provide a full definition image of your visit. With NÜO ID the access will be automatic with long distance opening with UHF cards.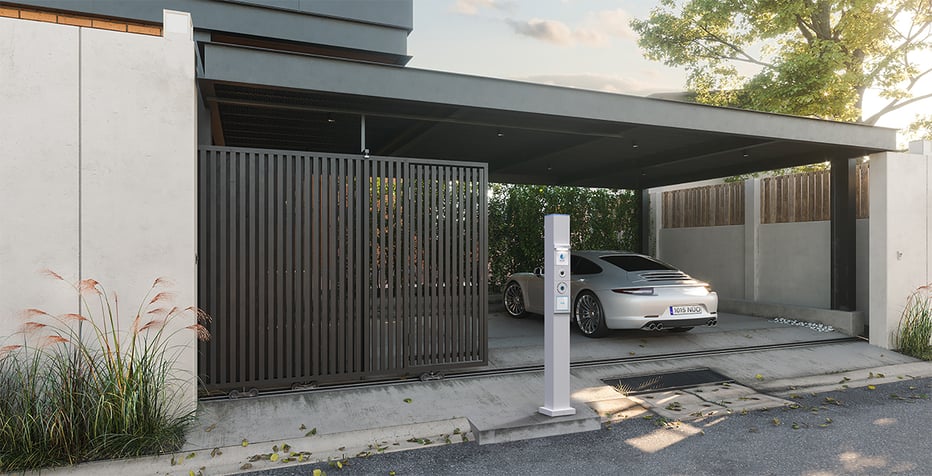 Discover the widest range of
readers on the market
NÜO Lu W

Control the most sensitive areas of your home with high-security biometric readers, and customize them to your liking to integrate them as a natural part of the design: choose from gold, silver or black.

NÜO Awa

The most advanced biometrics with the perfect reader for outdoors (withstands the most adverse weather conditions, rain, saline environments...)
NÜO Polo

Proximity reader for high security MIFARE Plus® cards and mobile credentials with Bluetooth® and NFC technology. With a slim and elegant shape, it manages accesses in an agile way.

NÜO Golf

Experience a new access concept and forget about lost cards or employees that lend their cards to each other. Allow your employees to access in a much more comfortable way with their own smartphone, and manage registrations and cancellations in real time.
W&M View

Videoconsole for reception of calls featuring a 10.1" high resolution touch screen, so no detail is lost of who wants to access your home. Choose between desktop models with wireless handset or wall-mounted models.

Sky Flux

Welcome your visitors through a sophisticated terminal that includes a fingerprint or smart card reader to speed up access for registered users and an audio module and high-resolution camera for visitors to communicate with the building.


Multitechnology readers!
NÜO readers work simultaneously with multiple credentials: fingerprint, card and mobile credentials using the NÜO Card App.

Choose the credential that best suits you.

Video + Audio + Acceses
In a single system! Your entrances, controlled and taken care of at all times.
Welcome your visitors through a sophisticated video intercom with perfect audio and video quality and allow employee access with a highly secure biometric or smart card reader. Because in NÜO Go! visitors and employees are integrated in the same system.

Control your home from anywhere thanks to the Web Application
So easy to use you'll find it hard to believe.
An interface so intuitive and simple that you won't need any instructions to use it. Accessible from any device and with a top user experience. NÜO Go! does everything for you, so you can focus on what's really important. In addition, system configuration is child's play: the system automatically locates all installed devices. All you have to do is name the doors and determine the desired security conditions for each access.
So simple, so effective!