As this news article from La Vanguardia explains, "Spanish retailers lose 2.49 billion euros as a result of what is known as "shrinkage", i.e., due to external and internal theft and administrative errors, which is equivalent to 1.33% of their sales, according to the Global Retail Theft Barometer 2014-2015.
Among the shops with the highest rate of this type of loss were jewellers and watchmakers (1.66%).
The high incidence of theft in jewellery stores is simply due to the fact that jewellery products have a high market value. They are much sought-after products and so considerable money can be made from them once they have been stolen. Jewellery stores sell precious stones such as diamonds and rubies and work with materials such as gold, silver and steel. These raw materials are worth a lot of money. In addition, some fine jewellery houses stock works of art in their stores, which are also very valuable on the black market, and other jewellery brands manufacture their own items, with a dedicated space containing specialised machinery and all kinds of speciality products, which are also very expensive.


It is therefore essential that appropriate security measures are put in place, covering all areas of the store in order to safeguard goods and merchandise as well as staff. This is even more the case because of the fact that jewellery stores are establishments with a high risk of theft and crime. Not only is there a risk of shoplifting, but armed robberies are on the rise, putting the lives of both customers and employees at risk. That is why it is of utmost importance to have security systems in place to protect all the assets of a jewellery store. Because the security of your jewellery store will determine to a large extent the profitability of your business.
Tips for securing a jewellery store: All the factors you need to consider
Traditionally, these types of establishments have relied on physical security personnel who stand guard at the entrances to the jewellery store. This type of security can be useful in certain cases where violence is involved, but one obvious disadvantage is that we are entrusting the security of our company to a person who may have other incentives. Statistically speaking, it is not uncommon for the security guard to be involved in the robbery, acting as an accomplice se ha contado en este tipo de establecimientos con seguridad física de personal dedicado a la vigilancia de las entradas de la joyería. Este tipo de seguridad puede ser útil en determinados casos donde existe violencia de por medio, pero tiene la clara desventaja de que estamos dejando la seguridad de nuestra compañía en manos de una persona que puede tener incentivos distintos a protegerla. Estadísticamente, en no pocas ocasiones la persona de seguridad está relacionada con los atracos, actuando como cómplices.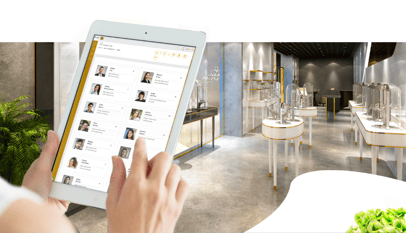 It is therefore advisable for jewellery stores to opt for a combination of physical security and electronic security. Physical security can protect the main entrance, but this means there are many other key areas or rooms with no security, such as goods storage, back offices, cash storage rooms, workshop areas, etc. That is why it is advisable to install an access control system for your jewellery store that will covers all your needs.
Today, there are a wide variety of electronic security systems available to protect an establishment's assets, from video surveillance solutions to biometric.access control systems. As specialists in jewelry store security systems, we will now list the security measures that you as a jewellery store should take to protect your business, employees and customers.
Jewelry store security is crucial for all jewellers who want to protect their assets.
This will require the following measures to be taken:
Video surveillance systems

Having access to images of the different areas of the jewellery store in real time and from anywhere is crucial in order to monitor what goes on in your establishment, even when it is closed to the public.

We recommend that some of the cameras are hidden, so that in the event of theft, they cannot be manipulated and instead go unnoticed.

Consider anti-theft push buttons and motion sensors

Anti-theft push buttons are devices, normally located under the counter, that are ideal for immediate alarm activation. This is a system designed for use when the store is open to the public.

To activate the alarm when the establishment is closed, we will need to install motion sensors

Access control systems for securing key areas

Access control systems are used to monitor the entrances and exits of an establishment, as well as its capacity.

Restricting access to private areas of the jewellery store, such as the back office, goods storage or cash management areas, will help to prevent unauthorised third parties from gaining access to, for example, business information, the safe or merchandise and products which are not on display.


For this purpose, biometric fingerprint access control systems are the best and most efficient solutions. They enable you to ensure that only authorised employees can access private areas, and you will never be unsure as to whether the person who gained access was actually the intended user of the ID. For example, with card-based access control systems, cards can be easily lent to other colleagues or to a third party, and can even be stolen. What's more, it is impossible to lose or clone a fingerprint, making it 100% secure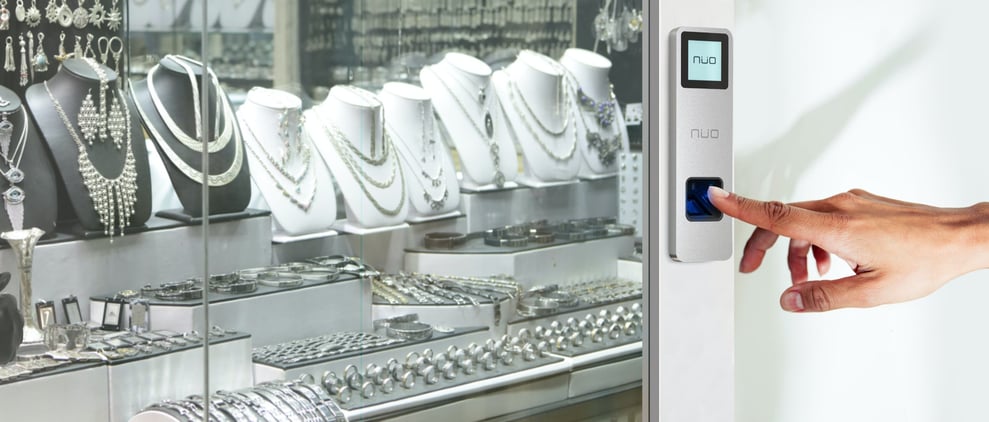 With this type of jewelry store security solution, you can monitor all accesses to the most important areas of your jewellery store in real time, and restrict employee access by time, date, shift or zone. That is to say, you can set it up so that only the supervisor has access to a specific room and the rest of the employees do not, or easily activate reinforced jewelry store security features such as:
01. Double action mode:
if a person wishes to access high-security areas, they will need to present the ID of two different people in order for the door to be opened.
02. Supervisor mode:
For access to sensitive areas where precious objects are stored, or to the administration area where valuable items are kept, the supervisor must have accessed the room in order for an employee to enter. If the employee attempts to enter alone, access will be denied.
03. Evacuation mode:
Use the application to pre-configure which doors you want to open in case of emergency to facilitate evacuation, and which doors you want to remain locked to prevent theft and loss of goods.
04. Airlock function:
Achieve maximum protection for your store with a lock system by which a door can only be opened when the previous door has been closed.
Reinforcing

jewelry store

security in display cabinets and stands
Miniaturised biometric readers are ideal for display cabinets and countertops that need to be locked, avoiding the need for keys, which can be easily copied or lost.

Choose to secure all the merchandise on display with specific readers for display stands, and benefit from the advantages of displaying your high-value products to the public with complete peace of mind. In addition, elect to use display cases with high-security armoured glass to prevent theft involving broken glass or break-ins.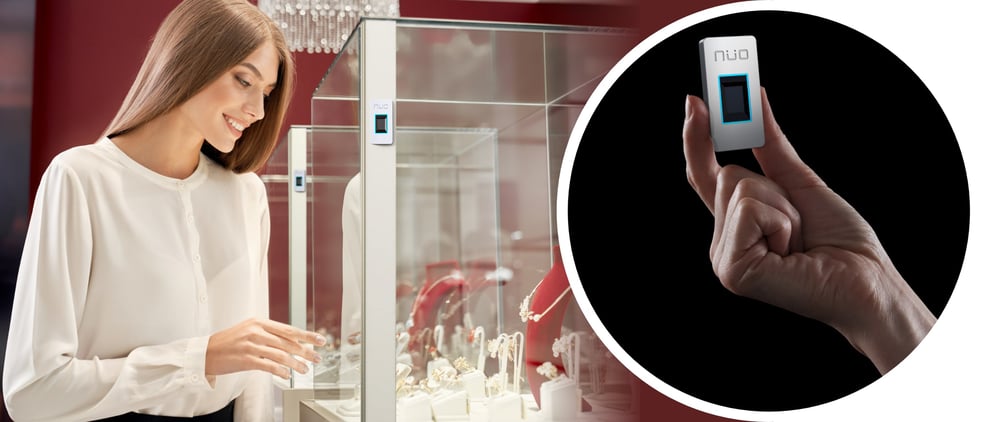 Outdoor video intercom systems
Faced with the increase in thefts and robberies, many jewellers have begun to implement video intercom systems for entering the premises, with a call system inside the store and high-quality video of the person looking to gain access through a video console installed in the store's interior. By using this system, access to the interior of the jewellery store is not possible without the authorisation of the employee or shop assistant.

Install armoured or reinforced doors, as well as bars at external entrances
High security doors that cannot be easily broken are an excellent option, especially for rear or secondary entrances, if there are any. It is also advisable to install impact-resistant bars or shutters over windows and glass doors, blocking or hindering access to the interior of the jewellery store by preventing the breakage of glass or direct theft through the store window.
In addition to these electronic security measures, it is important that employees establish a code of conduct and action protocols to minimise potential damage, and so they know what to do at all times and how to act in the event of a robbery or theft of any kind.