Any business must have a security system that allows it to protect all its assets, from customer information, products and merchandise, to its employees. However, in pharmacies, the need for electronic security systems is much greater, especially due to the type of products they offer. Misused medicines and pharmaceuticals can pose a threat to people's physical health. Furthermore, the client information and data that is processed here are considered sensitive.
Another factor to take into account is that many pharmacies have their own warehouse, as well as an office area and, in some cases, a laboratory. Areas that need to be controlled and restricted for unauthorised staff, due to the sensitivity of the assets stored in them. This is why pharmacy security requirements Lets see how to optimize pharmacy security systems.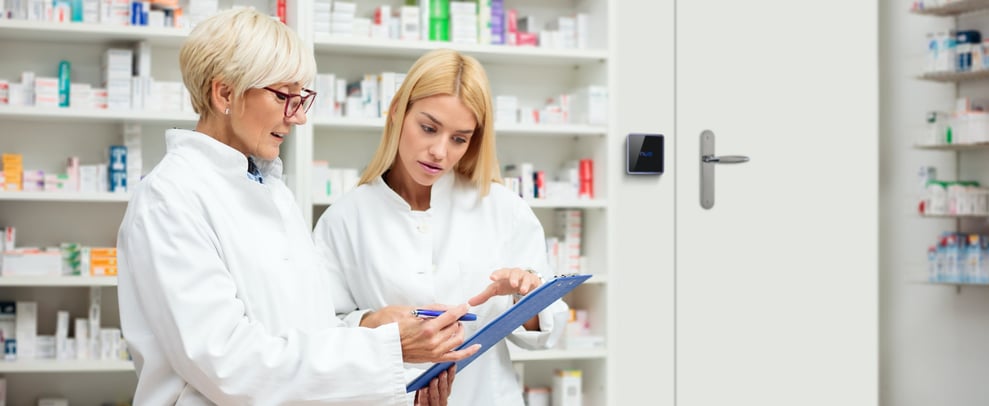 Reasons why a pharmacy needs an access control system:
When we talk about an access control system for pharmacies, we're not referring to controlling how many people enter and exit the pharmacy, but rather to having a global system that allows you to manage access to sensitive areas of the centre and restrict which people who freely enter the pharmacy can access spaces that should be off limits, thus preventing any type of theft or unauthorised access to sensitive information.
For maximum protection against theft and to prevent medicines from getting into the wrong hands and to run a safe business, it is essential to restrict access to certain spaces. For example, the office area is usually where the safe and the main computer with all the information on the company and the customers are found. It is also important to restrict access to the warehouse or laboratory area, if the pharmacy has one, preventing people who don't work in the pharmacy from handling any type of chemical product that is harmful to human health.
Types of access control for pharmacies
The NÜO Go! global solution to secure your pharmacy

NÜO Go! is the high security solution that includes the most intuitive management application and the most powerful readers in a single system to guarantee the security of your business.


By placing a reader on each door that you want to control, you will prevent any outsider from sneaking in, and you will also be able to very easily choose the permissions you want to give to each employee who works in the centre from a web application. Choose the type of credential with which you want them to enter (their own fingerprint, a maximum security proximity card or with their own smartphone) and manage accesses by shifts, schedules and holiday calendars. For example, restrict access in the afternoons for employees who work the morning shift, or allow only the supervisor to access the laboratory area.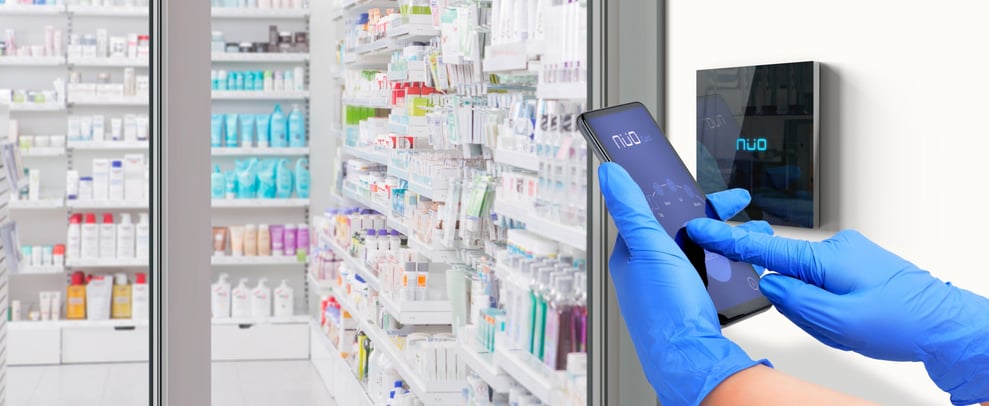 From the application you'll have information in real time on everything that happens in your business, including unauthorised access attempts. For example, you can see in the application that a specific employee tried to enter the pharmacy at 2 in the morning, when there was no reason for it.
Furthermore, NÜO Go! has advanced security features so that you can manage, if necessary, doors in lock mode for the laboratory area, thus guaranteeing the adequate exclusion of microbes and particles in the clean rooms, or use the double intervention feature to control access to areas with high-value assets, with which two different people must present their credentials to gain access.
Biometric readers

The most widely used biometric readers are fingerprint readers, since they are currently the safest as they cannot be cloned, stolen or borrowed among co-workers. These biometric access for retail are usually placed in the frames of doors where access is to be restricted. In this way, only those authorised users will be able to access a certain area.

Ideal for controlling warehouse, laboratory and office areas. In addition, there are some advanced solutions capable of reading the fingerprint even when the user is wearing latex gloves, something that is very common in pharmacies, thanks to the fact that they incorporate the latest in en multispectral optical technology. .

Specific readers for

pharmacy security systems:

glass display cabinets
Show your products to the public in a totally safe way with specific readers for installing on glass display cabinets, such as the NÜO Lu reader. This will allow you to advertise certain high value products or those that are more sensitive to being stolen, with complete peace of mind for your business. Because the safety of your pharmacy is equal to the profitability of your business.

Video intercom for on-call pharmacies
Having a video intercom system at the main entrance of your pharmacy to manage the entry of customers at night, for example, will help you guarantee the security of your pharmacy, both the goods inside and the night shift staff, minimising the risk of theft.
These types of systems are ideal especially at times when the pharmacy is on call. This type of system is integrated into the exterior wall, incorporating a high-quality camera, a doorbell to communicate with the inside of the pharmacy, and a reader for access by authorised people. A very convenient way for the pharmacy employee on duty to know who is on the other side of the door and decide whether or not they should give the user permission to enter.
This solution ensures the safety of the on-call pharmacy, especially at night when there are no other passer-by on the street and there is usually only one person in the pharmacy.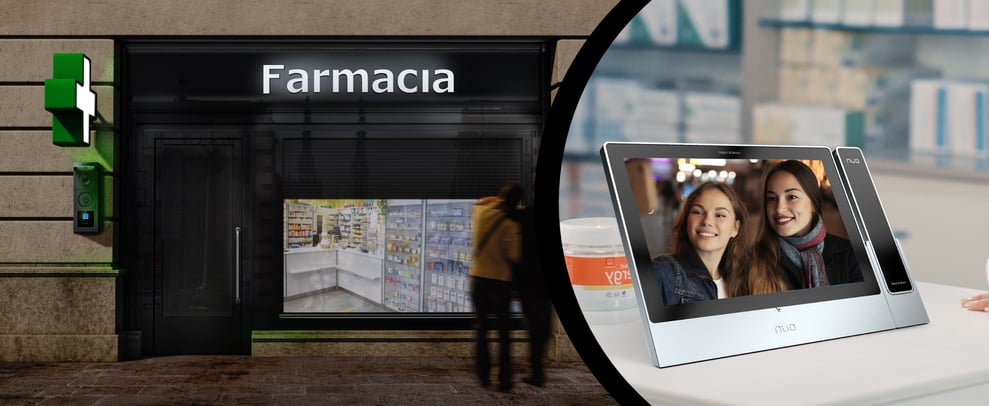 Advantages of integrating

pharmacy security systems
| | |
| --- | --- |
| | |
| Prevent the possible theft of sensitive information, while also preventing unauthorised third parties from accessing restricted areas. | Facilitate the display of even more products to the public, be they expensive or delicate, with the security and peace of mind that they will be protected. |
| | |
| --- | --- |
| | |
| Guarantee a safe environment for employees and customers, especially regarding their prescription and diagnostic information. | Purchasing prevention measures counts as a deductible expense for this type of establishment. |
Do you need more information about access control in pharmacies? We can help you! Contact us by clicking on the following link and we will answer all your questions on pharmacy security systems.