According to the 2020 Healthcare Data Breach Report, medical information security breaches affected more than 27 million users last year. Companies in the health sector are very aware of the problems that this entails, especially because of the sensitivity of the data and information with which they work. For this reason, as published in a recent article in the Cuadernos de Seguridad magazine, 73% of companies in the health sector are increasing their investment in security. This article also points out that the number of attempted attacks against health companies actually doubled in Spain during the last quarter of 2020.
According to the report, the most common infractions in terms of security in the health sector are:
Unauthorised access or disclosure: For example, unauthorised access to file rooms in health centres where sensitive information, medical records, etc. are stored.
Loss or theft of computer devices: When unauthorised personnel have free roam of health centres and gain access to sensitive spaces or areas where they should not be allowed access.
Hacking or information technology (IT) incidents: Security breaches caused by cybercriminals and inappropriate IT security policies.
The importance of security management and the installation of an Access Control system that meets the highest security standards is indisputable. This is reflected by the fact that investment in health and well-being in Spain increased by 84.3% in 2020 exceeding 100 million euros, according to the annual report on Investment Trends in Spain in 2020 by the Bankinter Innovation Foundation.

This data highlights the importance of taking steps to prevent any threat that endangers the safety of healthcare personnel, their patients and the property and assets of the facilities. There is a growing need to incorporate electronic security measures, such as the implementation of Access Control systems, which allow for a tight control of all the people who access the premises or health centre: identifying and recording everyone who gains access, where and when in real time.
In addition, in a modern and well qualified Access Control system, all actions taken on the system have an immediate effect. For example, if an employee stops working at the centre, from that moment on, all of their permissions will be blocked. The system will even record unauthorised access attempts.
In this case, if an employee tried to access a sensitive space outside of their work hours, apart from the fact that they will not be able to access it, that suspicious attempt to gain access will be recorded in the system. As a result, it is easy to restrict access to sensitive areas, prevent the spread of disease, prevent the theft of healthcare equipment and vital medicines, and protect both employees and patients.

Importance of Access Control systems in the health sector
Access Control systems in the health sector are of utmost importance when it comes to restricting access for both healthcare personnel and contractors as well as visitors and patients in the different areas. For example, a hospital similar to the Vall d'Hebron in Barcelona sees an average of more than 1 million patients a year and has 9,000 professionals who work there.
To prevent the theft of information, medical material, the spread of viruses... It is important to control access to each of its rooms and always know who has accessed them and when.
To do this, locking up spaces with a key is no longer enough like it was years ago, since making copies of these keys is very easy, as is breaking or manipulating the lock itself. Instead, more sophisticated systems such as Access Control systems with the latest technology are required to prevent cyberattacks, that is, to prevent them from being hacked and opened remotely to facilitate access to third parties or from having their access method cloned.
In addition, systems are needed to ensure the physical safety of both healthcare personnel, and patients and visitors.
Health sector: the need for global management of all spaces
A health facility can be huge, with several floors and areas with a variety of different functional needs. This makes it difficult to control and manage the doors, as well as their installation. To do this, a global system is required that allows all accesses to be managed from the same platform, such as: lifts, vehicles, sensitive rooms, medical material warehouses, operating rooms, ICUs, etc.
At NÜO, we offer fully scalable solutions that can be adapted to the needs of each healthcare centre. Because we know that each space is a world in itself, so we offer flexibility with the most varied range of devices and functionalities on the market.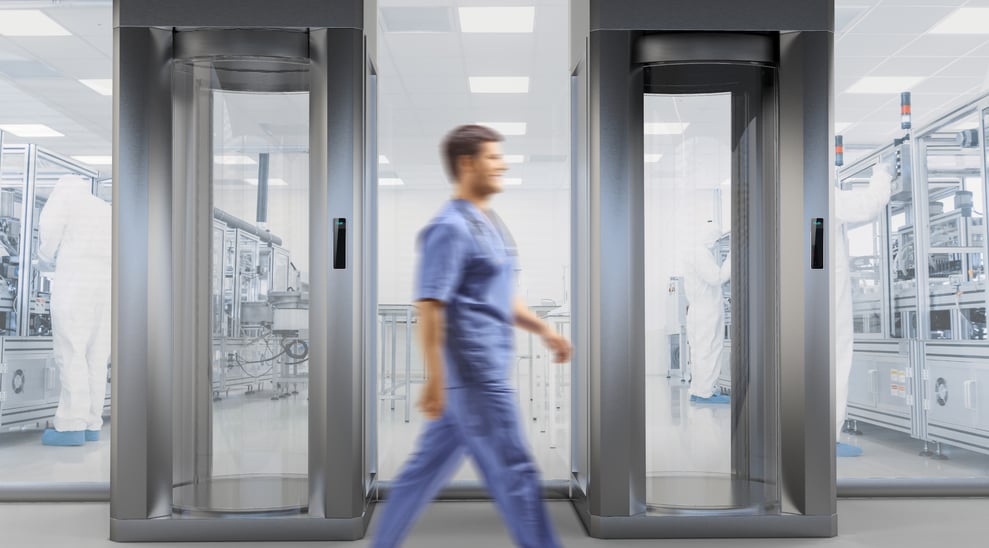 Given the sensitivity of healthcare centres, NÜO incorporates advanced security functions such as access via airlocks, which is highly requested in so-called clean rooms. One of the greatest challenges for hospitals is to seal off dust, airborne microbes, and other environmental contaminants from many of their wards. And, in order to keep pollutants out, hospitals create airlocks with two sets of doors. This means that staff must go through two doors before entering the clean room. In this case, the NÜO Access Control systems are perfect, since both doors will be connected to the same device, offering complete control over said access and making it so that the second door does not open unless the first one has been closed, thus increasing their level of security. This lock mode also prevents more than one person from entering behind the authorised user in hospitals or laboratories.
Other examples of advanced security functionalities for the full control of spaces that require a high level of protection, such as rooms with valuable material or pharmacy warehouses, are:
Double intervention mode: This is a functionality that requires the credentials of two different people to be presented in order to access a space.
Supervisor mode: Authorised employees will only be able to gain access when a user with supervisor permissions, usually the head of the department or ward, has gained access first.
Access Control systems in the health sector have become essential to guaranteeing security and preventing any type of attack. Biometrics has become the perfect ally for this task.
Biometric technology, a safe bet when it comes to Access Control systems for health centres
Biometrics is a safe bet when it comes to Access Control systems due to the high level of security it provides. This is because:
Biometric features cannot be forgotten or lost, guaranteeing the authorised user uninterrupted access. It is a unique method of personal identification and therefore cannot be transferred or loaned to a third party.
Biometric features cannot be stolen, guaranteeing the legal security of the company: who, when and where.
It is a highly secure identification method. These systems have centralised wiring, where security management is carried out by an smart controller installed in the secure area with communication encryption.
Fingerprint biometrics, one of the most recommended and secure solutions.
Fingerprint biometrics have been used for many years, and despite the fact that other solutions for regulating access control have appeared, such as iris or facial recognition, the fingerprint is still the most secure and mature solution on the market.
Here are some of its advantages.

100% guaranteed security
Fingerprints have traits that make them unique and unmistakable. In fact, even a person's own 10 fingers each have a slightly different pattern.
Based on the unique shapes of the valleys and grooves of the fingertip, a unique mathematical pattern is generated. This pattern is a piece of mathematical data and it is impossible to be transformed later on into the original fingerprint, which makes it incredibly secure. In contrast, other forms of biometric identification such as facial recognition are based on characteristics of the person that are recognisable, such as the image of the face, which makes them more vulnerable and means that people's data is roaming around freely and can be used for different purposes.
However, not all biometric systems provide the same level of security, and in order to have a level that is 100% guaranteed, we need to talk about advanced technologies such as live finger detection, which prevents access using fake fingers, or complex anti-spoofing algorithms. On the other hand, code readers are very easy to break into, and the same goes for proximity card readers, despite the fact that there are some models with advanced technology which are much more difficult to clone, such as the latest generation MIFARE Plus EV1 cards.

The most advanced biometrics with NÜO Awa
At NÜO we have the latest generation biometric solutions. With the latest in multispectral imaging technology, the Awa reader is ideal for the health sector where we can find laboratory and cleaning personnel with difficult to read fingerprints due to the use of chemicals, or doctors and nurses with hands stained by different substances or who have to wear latex gloves. What would normally be a problem with any other biometric reader is solved with NÜO Awa thanks to how powerful it is. It guarantees a correct fingerprint reading regardless of whether the fingers have grease on them, cream, scars, they are dirty, wet or dry, or if wearing latex gloves.
It is essential to add flexibility and agility to the daily operations of a health centre, therefore, the Awa reader will read the fingerprint in any condition. In addition, NÜO offers ultra-resistant equipment with 24/7 operating autonomy prepared for intensive use, and it can work outdoors or in environments with adverse conditions.

Antibacterial solution
This is a pioneering solution offered by all NÜO Biometric Access Control systems. To guarantee safety and avoid the spread of viruses and bacteria that can remain on the fingertips, our fingerprint solutions have an antibacterial solution incorporated into them that prevents the generation of germs on the reader surface.
There is an increasing demand for enhanced electronic security in health centres, due to the increase in the number of attacks and security breaches that the sector has suffered in the last year. In this regard, as an installer, providing you with a solution that offers global access management from a single platform will be a safe bet when it comes to giving you complete peace of mind and security.
Find out more about our solutions for the healthcare sector via this link and why as an installer you should be part of the NÜO Planet.