The food industry is one of the main pillars of the world economy. According to the ANNUAL REPORT ON THE SPANISH FOOD INDUSTRY 2020-2021, in the European Union, the food industry is the manufacturing industry's primary activity, with a turnover of more than €1.21 trillion, representing 15.2% of the manufacturing industry.
In Spain, according to data from the report, the food industry is the leading manufacturing branch in the industrial sector, with €130.8 billion in turnover, which represents 23.3% of the industrial sector, 22.1% of employed people and 19.2% of added value.
As one of the main production areas of the primary sector and due to the sensitivity of its processes, the safety of these facilities has become a priority issue.

All companies in the food sector, from the meat industry to the beverage manufacturing industry or the dairy industry, take great care of their ingredients, production processes and quality in all stages of the transformation of raw materials into safe edible products. A fundamental pillar to ensure the quality guarantee of products is to effectively manage the security of industrial buildings.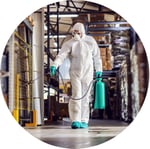 CONTAMINACIÓN Y/O ALTERACIONES
Food processing factories and warehouses are facilities that are especially vulnerable to contamination, process disturbances or delays that can compromise the quality of organic materials and materials subject to decomposition. In some companies, the contamination of a single ingredient at any stage of transport, storage or transformation can ruin entire production lines with huge financial losses.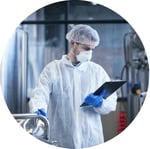 ESPIONAJE INDUSTRIAL
Furthermore, another of the major challenges that food companies face in the 21st century is that which is related to industrial espionage. Although it may seem like part of a James Bond movie or something that exclusively affects the largest international consortiums, espionage in the food industry is present even in the smallest and most local businesses.
Industrial espionage costs the global economy billions of euros a year in the theft of formulas, ingredients, production processes and machinery designs that are used in the food industry.
In some cases, the most worrying thing is that this information theft is committed by internal company staff who can access critical areas in broad daylight, without leaving any trace behind.
On the other hand, the entry of unauthorised people to warehouse areas, production lines or laboratories not only poses a risk of theft, espionage or access to sensitive information, but can also introduce contaminating elements and pathogenic agents that can put the integrity of the entire production chain at risk.
How to secure industrial buildings and production areas in the food industry?
The security of warehouses and industrial buildings is one of the greatest concerns of directors and managers today. As we can read in our article "Innovative Security Solutions for the Industry", the security of industrial complexes depends on many internal and external factors.

Firstly, industries can be large structures, with multiple entrances and exits, with the constant loading/unloading of raw materials, supplies, and work-in-progress and finished goods. Likewise, a large number of people can be involved in the production processes, including permanent and temporary staff, service providers, suppliers and buyers.
Furthermore, each piece of equipment is part of a complex and interconnected system in which the malfunction of a single element can put the entire chain at risk, sometimes irreparably and at a very high price.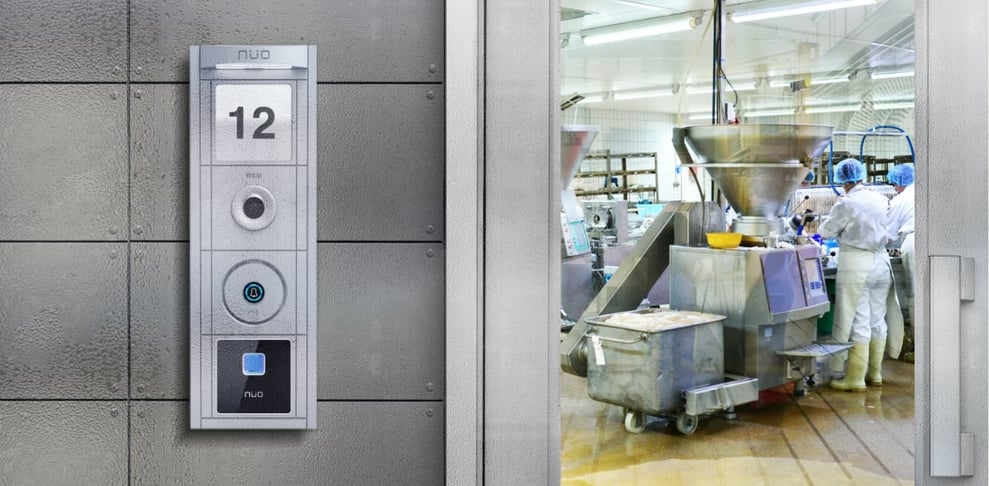 With all these elements combined, the security of food industries is crucial to ensuring the purity of ingredients, equipment indemnity and secrecy concerning formulations, processes, critical information and new developments.
The control of access to storage areas, warehouses, conservation chambers, laboratories, offices, IT centres and processing areas is essential for the sustainability of the entire industry.
Therefore, with an access control system you can:
| | |
| --- | --- |
| | Identify each employee with a high-security card, with a mobile credential or with their own fingerprint through state-of-the-art biometrics. |
| | Decide who you give permission to for each zone. For example, in a very simple way from the application, you can select which people or group of users can access a specific storage area or a workshop area. |
| | In addition, you can choose to only grant them access according to their schedules, shifts and holiday calendar. |
| | You will know who accessed where and when at all times, while always having access to intuitive reports that you can generate in just a minute from the web application.. |
| | With a single click, the manager can change the access permissions of each employee, expanding or restricting their ability to access determined areas, and these permissions can be restored simply and very quickly. What's more, all of these changes take effect in real time. |
NÜO Solutions: Comprehensive security for the food industry
Controlling access to the different storage, production, R&D and office areas of the food industries is the backbone of the comprehensive security of these industrial complexes.
NÜO Solutions have been providing buildings and industrial warehouses throughout Spain with maximum security for more than 40 years. Our solutions are based on a basic principle: security must adapt to the industry as a natural part of the entire process.
In addition, after decades of being experts in the implementation of security in large industrial complexes, we saw how more and more small and medium-sized industries were asking us to secure their spaces. For this reason, and with the same work philosophy, we have developed different solutions that adapt to any industry, regardless of its size, number of warehouses (since we have multisite solutions) or number of employees.
We design your costum project
We have a Project Department that will advise you on the best solution for your industrial warehouse. The design of our solutions is 100% adapted to your factory. We will carry out an analysis of the different production areas, spaces and critical zones, the personnel involved and circulation flows of people and vehicles to provide you with the best solution for your business.
NÜO Solutions are perfect for the food industry with fast, efficient installation and immediate application. Our systems have minimal maintenance needs and keep up with the growth of the company with an increase in entry/exit points, new users, permissions being granted/removed, access hierarchies and entry reports on demand.
Request a free demonstration of NÜO Solutions for the food industry and join the new generation of comprehensive security for your industry.