Access control turnstiles represent one of the safest and most in-demand security systems for the protection of business, commercial, and entertainment building facilities.
Like any security system, it is important that their integration with the building is devised from the first phase of the architectural project. These access control turnstiles integrate the value of functionality, advanced technology, and a lofty philosophy of aesthetics
.
Let's consider in detail why access control turnstiles are necessary in a corporate building.
What are we going to tell you in this article about access control turnstiles?
01.

What are access control turnstiles?
Access control turnstiles are electromechanical drive systems, made up of revolving physical barriers (arms or bars) that allow physical user access to the premises only when their identity has been validated by compatible readers, such as biometric fingerprints, identification cards, or mobile credentials.
It is a simple access control system that can be configured for one-way or two-way access and for automatic unlocking in emergency situations (anti-panic system), facilitating the evacuation of the facilities.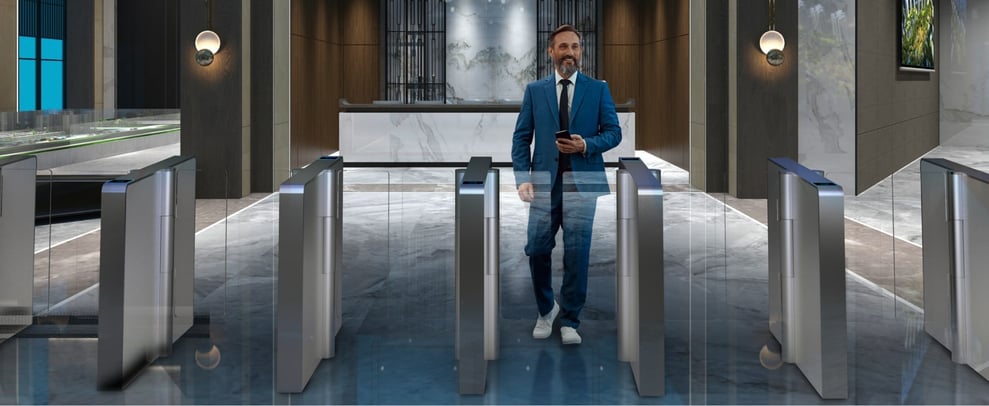 These turnstiles are widely used as an access control system to corporate buildings, edificios oficiales, oficinas, industrias, espacios para el entrenamiento deportivo, áreas de ocio, recintos universitarios, aeropuertos, etc. Puesto que sus modelos actuales permiten una integración armoniosa con cada proyecto arquitectónico.
02.

¿How do access control turnstiles work?

As we have indicated, access control turnstiles are electromechanical systems designed to regulate and control the passage of people to a facility, allowing access to the building based on the permissions of each user's credentials. To do so, access control turnstiles can be integrated with various control systems for the recognition of the person.

For example, these turnstiles allow the installation of control systems such as RFID card readers, biometric readers, or mobile credentials.

The turnstiles also allow the installation of a control system with facial recognition or with QR readers automatically generated via the mobile device. However, to guarantee the security of our building, we must consider that these solutions have a very low level of security.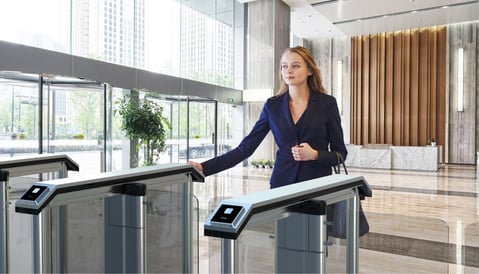 Facial biometrics technology still requires further development to guarantee the effectiveness of its software and the security of the information, being far surpassed by fingerprint biometrics in terms of security, comfort, and ease of access. What's more, dynamic QR codes, widely used for visitor access, are not very secure, both because they are easy to hack, and because they do not identify the person entering the premises.
03.

What functionalities do they have?

The main function of the turnstile is to control access to the buildings, allowing only authorized persons to enter. Unidirectional turnstiles can control only the entrance, while other turnstiles have bidirectional systems to control both the entrance and the exit of the building.


Among the advanced features of the access turnstiles are the following:



Capacity control.

In conjunction with access control software, access control software, access control turnstiles can automatically manage the number of people entering an establishment or area, blocking access when its control system detects the maximum capacity limit, and unblocking once other users have left the premises and capacity becomes available again. Very useful in gyms, stadiums, and at events.

Joint management of elevators. As a safety standard, elevators must be included in the access control system of a building, as they are the means of communication between all its floors. In conjunction with certain access control software, the turnstiles can communicate with the elevators so that an elevator and a floor are assigned to that user, depending on the access credential presented to the turnstile.
.

Guarantee that the credential is only used by the holder. Access control turnstiles with anti-passback control systems prevent the same credential from being used by several people to simultaneously access an area or venue.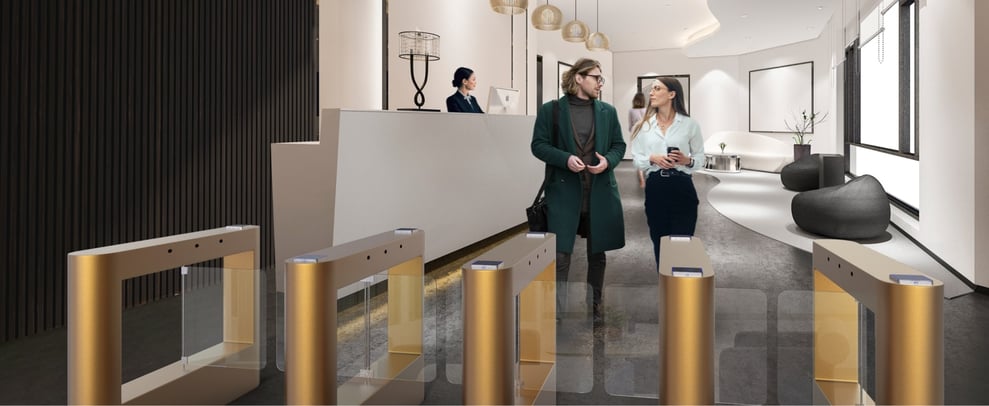 04.

Types of access control turnstiles

Access control turnstiles are available in various models, with various aesthetics and shapes. The main models are:
| | |
| --- | --- |
| Motorized tripod model. | This access turnstile generally has 3 rotating bars that can rotate bidirectionally (entrance and exit access), and rotates automatically, without the need to be pushed. This means that when the access system emits the signal to unlock the turnstile, it will wait to detect the proximity of the user to rotate automatically. |
| Motorized access corridors. | These types of access control turnstiles are highly aesthetic and feature a fast, silent, and bidirectional mechanism. Their installation creates a motorized access corridor, with a turnstile on each side that limits passage through two folding safety glass doors, which open when the authorized identification is received. |
| Motorized gates. | These types of access system constitute an access corridor created with two turnstiles, with each one obstructing the passage with a flap. These flaps are retrieved into the turnstile sides when the authorized access signal is received. They also boast a particularly elegant design. |
| 3-arm turnstiles. | These are the most traditional type of access control turnstiles, with 3 arms that rotate bidirectionally. This is a type of tripod model, but after the system authorizes access, the user must gently push the bar to complete the rotation automatically. |
| Full height turnstile gates. | Another type of access barrier is full height turnstile gates. These are medium or high in height, composed of a rotating column with 2, 3, or 4 arms or blades, with each blade made up of horizontal bars arranged one on top of the other. Access control turnstiles are widely used in areas that do not have surveillance, as they are physically impenetrable. |

05.

Advantages of incorporating access control turnstiles into your corporate building

As a leader of security in your company, or as an architecture and engineering professional, it is essential that you consider the advantages of incorporating access control turnstiles in corporate buildings and in new projects. These advantages are as follows:
They allow for bidirectional access configurations or custom entry and exit access.
They integrate seamlessly with biometric ID readers, high-security card readers, and mobile credential readers.
They offer greater security as they integrate with building access control systems with advanced functions such as:

Anti-tailgating functionality. This function prevents the entry being used by a second person to enter an area without authorization, after the access control turnstile is unlocked by an authorized user.
Anti-passback functionality, authorizing entry access to a certain venue, only if the system has previously validated exit access, or if it is the first time entering, and vice versa.

They have a long useful life, as they are designed using long-lasting materials, such as stainless steel or safety glass.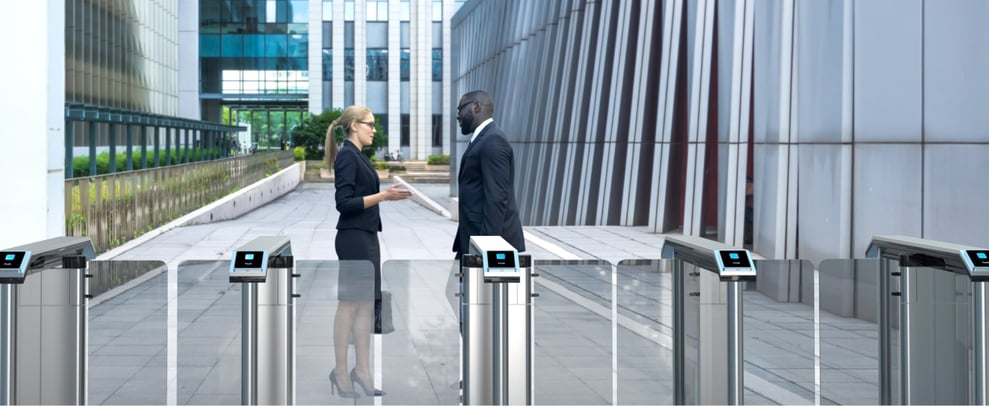 06.

¿Why choose NÜO Planet for your access control system?

NÜO Planet has innovative, aesthetic and elegant solutions for access control to corporate buildings, for internal and external facilities, as well as for restricted access spaces, offering the perfect balance between high security and advanced technology and design, to provide comprehensive, profitable, and scalable solutions.

Compared with other systems, NÜO Planet's access turnstile control system offers the following key advantages:
It is 100% integrated with other security and access control systems. This way you will obtain an automatic centralization of all the devices and databases in the web application.
It allows the configuration or management of access control turnstiles through the web application. Thanks to this you can add or exclude users, and include entry points or other devices, without having to invest in licenses or extra services.
It presents a significant reduction in wiring, due to the fact that NÜO Planet systems have a specific controller for turnstiles that manages to reduce 75% of the huge amount of cables required by access corridors with turnstiles.
It allows the management of non-accredited visitors, thanks to prior registration of visitors by the managers of each department through the web application. It is a system that optimizes work, because it saves employees time and effort.

Without a doubt, the NÜO Planet control system is a global management platform that has the best software to manage access to your corporate building..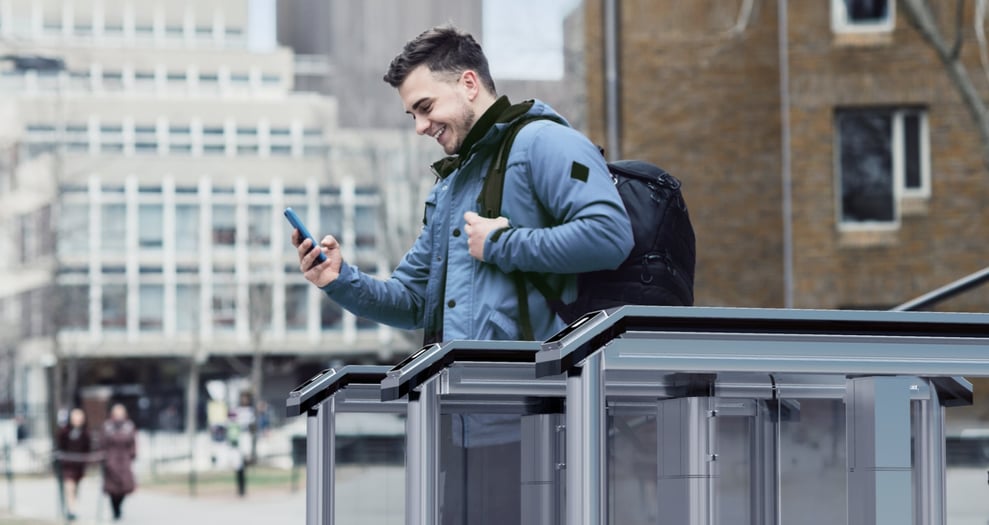 07.

What elements make up the NÜO Planet access control turnstiles?

The NÜO Planet access control turnstile system is made up of different readers that are 100% compatible with access turnstiles:
| | | |
| --- | --- | --- |
| | | |
| NÜO Moon | NÜO Air integrated in glass turnstiles | NÜO Air integrated in aluminium turnstiles |
NÜO Planet: leaders in access control security
The NÜO Planet system for access control turnstiles constitutes a complete solution, adapting to the most demanding security, functionality, and aesthetic requirements.

We know the importance of respecting the harmony of the architectural design, and that all the elements that make it up adapt to the concept and functionality devised in the project, in order to offer the user a high-quality environment.

We provide a combination of security with the architectural environment, we not only provide solutions with high security parameters and elegant designs, they are also solutions created for maximum technical operation, and to increase profitability in the installation of access turnstiles.
At NÜO Planet we have over 40 years' experience devising, creating, and delivering the best security solutions for your company. Contact us o request a demo y descubre el sistema más completo para tornos de control de acceso.