At NÜO Planet, we have been working alongside architectural firms for years, providing them with electronic security solutions, such as access control systems, which can be 100% integrated into their projects while fully respecting their design. We know that every detail matters to them, just as it does to their clients. High quality materials, design, harmony, minimal maintenance, durability, resistance, top-class finishings... These are some of the main characteristics that architects look for when developing their designs, and that clients demand in their residences or businesses.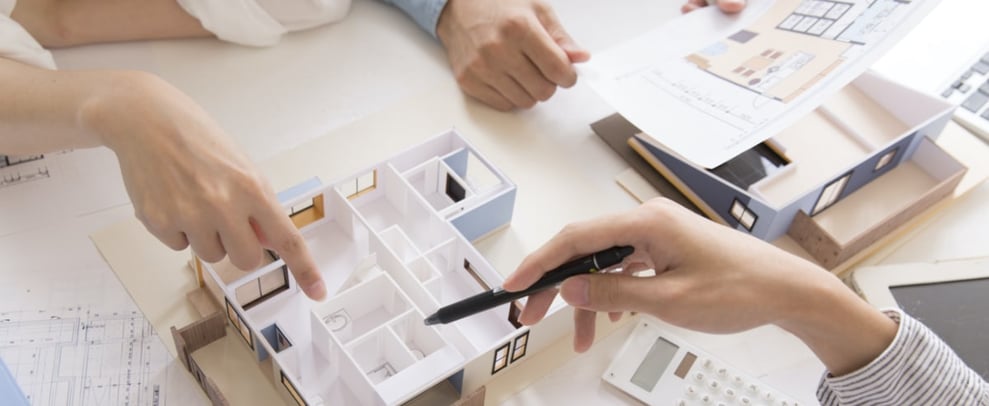 But how do you get a client to choose your architecture firm?
Tips for attracting new clients to your architecture firm
Are you visible?
La visibilidad es la clave para que los clientes sepan lo que haces y cómo lo haces. Para conseguir esta visibilidad, es decir, darte a conocer y crearte una imagen de marca, es importante que apuestes por el marketing. Estar presente en la red, en redes sociales, apostar por un blog propio, poner anuncios en sitios online, salir en la prensa… Son algunas acciones que puedes llevar a cabo para que el nombre de tu despacho comience a calar en la mente de los potenciales clientes.
Any distinguishing feature that stands out?
There are many architecture firms, but not all focus on the same type of architecture or have the same style. Currently, sustainable architecture is the order of the day and many clients are looking for structures that are respectful of and blend in with the environment.
What's more, this applies not only at the level of the construction itself, but also at the level of technology and energy efficiency. To stand out from the rest, it is important that you highlight a particular feature that distinguishes you from your competition.
For example, our architects love us not only because we provide products which are fully customisable and adaptable to any surface (marble, brick, glass, wood, etc.), and which blend in with the space so as not to spoil the harmony and beauty of the design. They also love the fact that all of our access control systems are made using sustainable materials. We choose not to work with plastic, but rather with high quality materials such as aluminium and tempered glass. These are not only environmentally friendly, they are also ultra-resistant, thereby enhancing the durability of the systems.
If your architecture firm has a distinguishing feature, highlighting it will help you to stand out.
Do you know who your ideal client is?
A very common mistake architecture firms make is that they are either very selective as regards their clients and turn down a lot of projects, or they go the opposite way and take on more projects than they should or take on projects that do not add any value with regard to the type of businesses they want to target.
It is important that you define your objectives clearly: What type of clients do you want? What are your expectations for the future? What type of architecture do you want to focus on?
For example, for NÜO Planet's clients, the most important aspect is not the price, but rather the design and quality. They prioritise the harmony and elegance of their buildings, choosing environmentally sustainable elements that guarantee durability. They don't mind that the initial investment is a little higher, because they understand that you get what you pay for; what matters is reliability, low maintenance and no extra costs in the long term.
Projects tailored to your ideal client
Knowing who your ideal client is helps you to design projects that will fit your clients' needs. Otherwise, who will you be creating your projects for? Will anyone fall in love with them?
At NÜO Planet, we know that today's clients are seeking modernity, technology that makes their lives easier (smart devices), sustainable materials, a design that is in harmony with the environment, security... Therefore, apart from designing structures that meet modern standards of sustainability and design, it is also important to work with the latest technology to ensure maximum security on site: the ability to access your parking spot by means of a license plate scan, to gain entrance using your phone or fingerprint, to manage entries and exits from a single application anywhere and at any time... These are essential elements to consider in your projects, since they represent extra value for those clients who choose your architecture firm.
Keeping up with the latest market trends
Keeping abreast of trends in design, technology, materials... in short, all the elements that make up architecture, is of utmost importance if your architecture firm is to grow and attract new clients.
Market demands are changing. Buildings are not the same now as they were 50 years ago, so it is important that you are aware of new trends in your sector and are able to adapt to clients' changing needs and tastes.
Build partnerships
Partnerships and contacts are crucial to a successful business. In the case of architects, for example, working with installers and engineers you trust means that you can be secure in the knowledge that the work will be done properly, that there will be no surprises, and that the original plan will be adhered to, both in terms of budget and timeframe. Partnerships with real estate agents are also essential, since they are the ones who will help you to market the project.
Keeping the above tips in mind will help you to attract new clients to your architecture firm, as well as to create loyalty among existing ones, making them more likely to hire you again and to recommend you to others.