With the technological advances of recent years, biometric security has become the preferred security method for companies, combining the highest doses of robustness on the market with an easy and intuitive user experience.
If you want to know which biometric security systems exist, what the advantages are of protecting your company through these systems and which is the most suitable for your company's needs, you've found the right article. Let's begin!
What topics are we going to cover in this article?
01. Biometric security: everything you need to know
02. Biometric security systems
03. Most frequent uses of biometric security
04. 4 personalized biometric security solutions offered by NÜO Planet
01.
Biometric security: everything you need to know
Biometric security refers to the use of biometrics to secure and protect facilities, systems, or confidential information against possible attacks.
However, to understand its full potential, we must answer a previous question: what is biometric identification? Well, it's the technology that allows users to be identified based on their biological or behavioral characteristics, data that is unique, non-transferable, and almost impossible to manipulate with current technology.
That is why bio-identification systems stand out as the safest and most robust on the market, conferring a level of protection and reliability that is much higher than conventional methods such as passwords or identification cards. If we also consider how simple and intuitive, they are to use and, consequently, how fast and comfortable the user experience is, it's no surprise that their implementation is becoming increasingly common, and they are quickly becoming established as the preferred technology for company protection.
02.

Biometric security systems

There are three types of biometrics that determine the different biometric recognition systems that can be found on the market:
Biological: ses genetic and molecular traits, such as DNA or blood, which can only be known by taking samples

.

Behavioral:

Looks for patterns in the user's behavior, such as the way they walk, talk, or write.

Morphological:

Takes the structure of the human body as a reference, that is, features such as the shape of the face, the eyes, or the fingerprint.
Within this last group are most biometric security systems applicable to companies looking to protect their assets. Among them, facial recognition, iris recognition or fingerprint recognition stand out. The latter is undoubtedly the most secure of all biometric access control systems, as the fingerprint is unique, inimitable, and non-transferable, making manipulation practically impossible. In fact, this system is going to experience exponential growth in the coming years, as uncovered by Grand View Research, since companies are becoming increasingly aware of the greater security that biometrics provide compared to, for example, keys or access cards..
U.S. Fingerprint Access Control Systems Market By Product, 2014- 2024 (USD Million)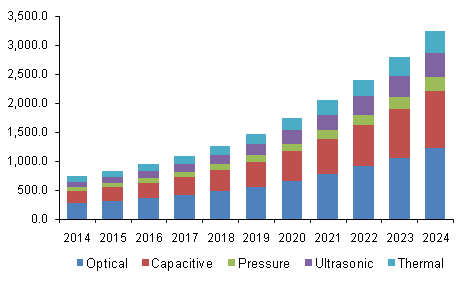 03.
Most frequent uses of biometric security
Biometric security has endless applications and advantages that make it a most interesting security system for your company, since it allows you not only to secure your perimeter access points, but also interiors with sensitive information, including everything from offices to drawers. Let's look at some of the most highly valued advantages.
Know the movements of your employees and visitors
In corporate buildings, it is essential to be able to guarantee exhaustive control over the movement of users, that is, employees, visitors, temporary personnel, and vehicles. To do this, the chosen system must be capable of automatically recording inputs and outputs and allow you to manage and consult all access information in real time to facilitate operational decision-making in an agile manner.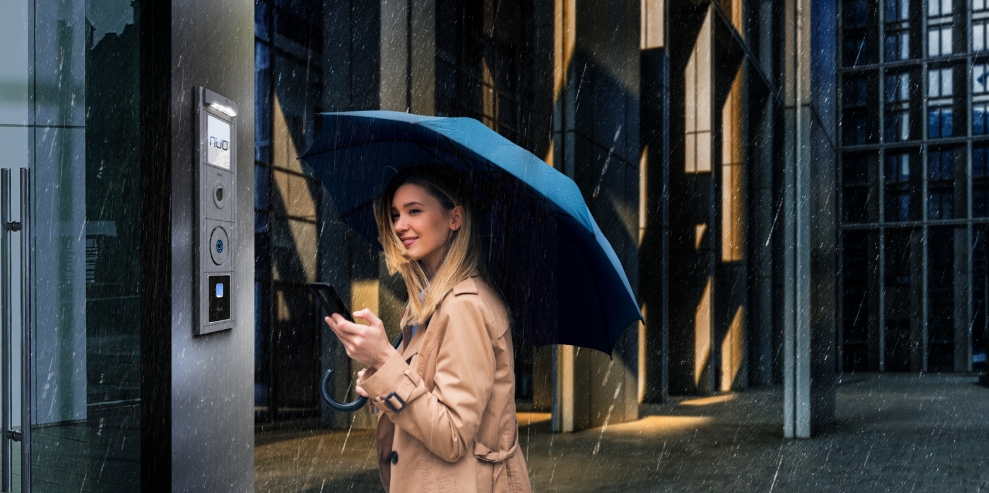 What's more, this control should not necessarily be carried out only at the first access point to the facilities, but rather it is a good idea to carry out further controls at strategic points such as elevators, offices with confidential information and sensitive areas such as warehouses with valuables or server rooms.
Offers security and guarantees
Traditional identification systems such as keys, certain identification cards or passwords have some common vulnerabilities: they are frequently lost or forgotten, transferred between users, or even manipulated and duplicated by attackers.
In this context, bio-identification in general and fingerprint identification in particular stand as the most secure alternative on the market, as they are based on unique and non-transferable biological patterns and therefore cannot be lost, transferred, intercepted, or duplicated.
Además, los the most effective access control systems are versatile and offer combinations between fingerprint readers, mobile credentials, and high-security access cards, thus guaranteeing security and convenience for users.
Easy and intuitive management application
It is very quick and easy to apply biometric security systems in your company and is even more so with our solutions in which biometrics are integrated into the devices, thus eliminating the need for additional software. In addition, the applications have been designed so that anyone can manage access to their company or home in the easiest way possible thanks to simple navigation, menus designed for the user and an intuitive interface. For their part, the physical readers are designed to be easy to install and mount.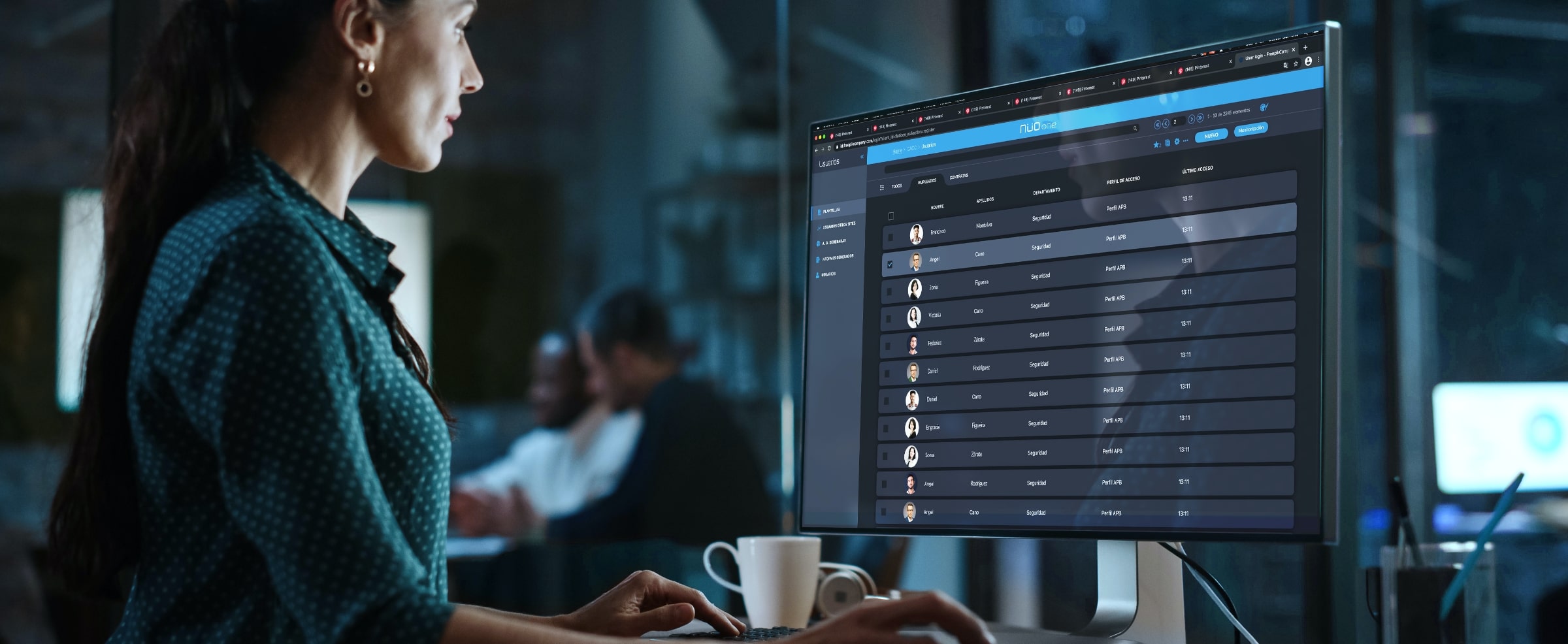 It should also be noted that biometric verification is very flexible and easily scalable if the company grows and that once the system is integrated, it is not necessary to invest in additional capital. All of this represents an increase in efficiency in key functions and a reduced initial investment and maintenance costs.
Comfort and speed for the user
The use of biometric security systems is very simple and intuitive for the user since the reader allows them to easily authenticate their identity in seconds.
In addition, with biometrics there is no need to remember a password or carry any type of identifying object such as a card, which improves the user experience. And that's not all, with biometrics the user also no longer has to think about periodically resetting their password to prevent vulnerabilities, or the verification process for activating their credential when used for the first time, because once your fingerprint is registered it will be ready to be used from that very moment and will never leave your side.



04.

Personalized biometric security solutions offered by NÜO Planet
Thanks to the latest technology in access control systems, at NÜO Planet we are always committed to personalized high-security solutions, because we know that protecting your company, business or home isn't something that can be left to chance. Specifically, in terms of biometric security, we are going to present the latest in fingerprint readers. Let's take a closer look at them!
NÜO Lu

If you need to install a biometric reader in an unusual place such as doors with narrow metal profiles, showcases, cabinets, drawers or the like, NÜO Lu is the ideal option.

With its compact design, it is prepared to manage access for up to 250 users with maximum security.

NÜO Lu W

Lu W is a multi-technology reader designed to successfully read fingerprints, MIFARE Plus® EV1 high security cards and works with NÜO Card, the high security mobile credential.

Its narrow design allows it to fit perfectly into door profiles and incorporates a touch screen that shows the status of the reader along with the name of the identified user.

NÜO Awa

Do you need to install a high-precision biometric reader outdoors or in sensitive environments? In that case, NÜO Aw is the ideal solution for you! It's designed to work under the most extreme climatic conditions, withstanding temperatures from -4ºF to 140ºF and with a finish that is abrasion and impact-resistant and can withstand continuous sun exposure, rain, and saline environments. It is an ultra-resistant reader with IK07 impact resistance and an IP67 environmental protection level. An all-terrain reader!

In addition, its state-of-the-art multi-technology reader incorporates biometrics, MIFARE Plus® proximity cards, NFC technology to use a smartphone as a card and the ability to communicate with apps via Bluetooth®. In terms of biometrics, the quality of its sensor is such that it is capable of reading fingerprints with scars, gloves on or dirty, wet, or extremely dry fingers, making it ideal for the industrial and health.

NÜO Awa X

If you're looking for ultra-fast management of turnstile access controls in your company, NÜO Awa X will be your ally.

Based on a specific DC Lane controller for turnstiles and a latest generation biometric algorithm, it is designed to be able to manage the access of thousands of users not only through bio-identification, but also via high security cards and mobile devices.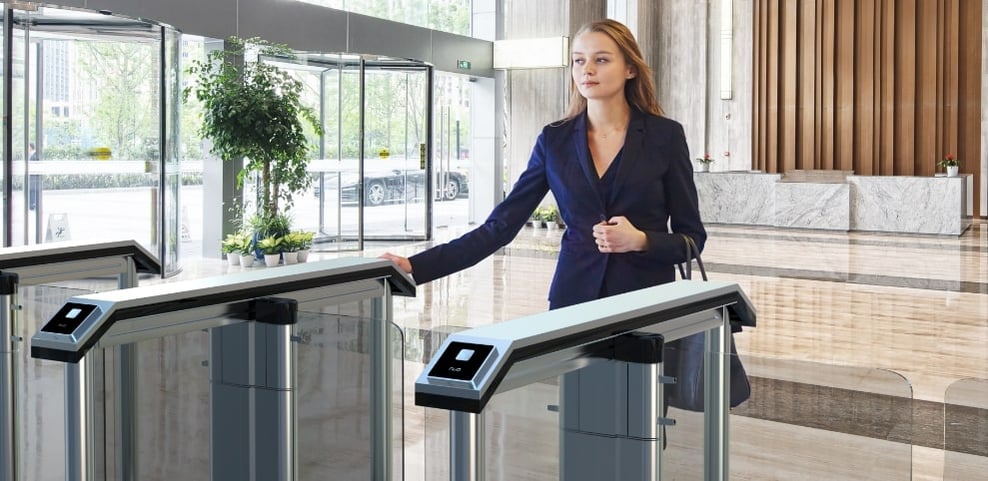 | | |
| --- | --- |
| | If you need more information on biometric security or personalized advice on which biometric reader best suits the needs of your company, contact us or request a demo. At NÜO Planet, we will be happy to help you. |