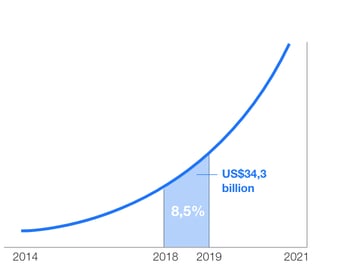 According to data from the analyst company Memoori, the global production of physical security products increased by 8.5% in 2019, reaching a total value of US$ 34.3 billion. This increase is not simply anecdotal but rather the security market has been booming for the last six years, with a compound annual growth rate (CAGR) of 7.24%. This increase has been driven by greater growth in the access control market, above video surveillance (CCTV) or intrusion.
This data demonstrates the importance of specialist installers in innovative and next-generation access control systems, with the ability to meet the growing needs of companies and individuals.
Access Control: the security sector on the rise
The trend for the future is for the boom in the Access Control sector to continue to consolidate itself. And this is largely due to the fact that after COVID-19, companies have become increasingly aware of the importance of user management. Having information on who moves through your facilities, when and where is now more important than ever, especially at the corporate level. Businesses that didn't have a good access control system in place are going to get to work immediately on implementing one.
Until now, we could go almost anywhere without identifying ourselves, for example, we could go to our bank, withdraw money and there was no trace of our presence or a way to know if it was really us who was there. But with the "new normal", companies will increasingly choose to identify all users (employees and visitors) who move and circulate through their spaces, assessing the benefits of management solutions that unify all the data in a single system.

With efficient user management, we will have all the data at our fingertips to make operational decisions. For example, with customised reports (by doors, by users, by date, by incidents, etc.), if there is a positive COVID case in the company, we can accurately trace the user's footsteps to know when, where and who they have been in contact with on the days leading up to the infection, and thus be able to take the appropriate preventive measures.
For this reason, controlling the influx of people has become a priority, in addition to being able to do so without direct contact. In this sense, biometrics, mobile credentials, access to car parks through number-plate recognition or UHF readers with remote identification are all becoming highly attractive solutions for companies.
And what trends can we expect to see in access control and security projects?
Given the current market situation, we come to the crux of the matter: the trends in access control projects that every installer is interested in so that they can offer their customers the best services and thus improve their profitability.
Mobile Credential
In the last decade, our smartphone has become something we always carry with us, it's where we keep all our information and it's the only thing we never forget at home. That's why we believe that access cards will gradually give way to the opening of doors via mobile phones. At NÜO, we know that smartphones are the new key, and that's why we have turned mobile device into the key you use to gain access to and move throughout all the spaces of your business, office or home. Incredibly easy to use and offering a great user experience, the mobile credential works by bringing the phone up to the door access reader.

Biometrics
Following the trends, 2021 is undoubtedly going to be the year of biometrics. These systems scan fingerprints, irises, facial features and even the vascular structure of the palm of the hand.
For example, at NÜO Planet we promote the use of fingerprint readers that include, in addition to the latest biometric technology, Bluetooth® and NFC technology to use smartphones as the new key. A solution for today and especially one for the future.
A commitment that we made years ago and that has been key for companies during this period: multi-technology readers. At NÜO Planet, we have always chosen to give our clients flexibility when it comes to managing their accesses and, as a result, our readers can work with different credentials: fingerprints, cards or smartphones themselves. Flexibility that has been key to helping companies optimally manage their spaces.
As for the different biometric modalities, we believe that when it comes to security, it is essential to resort to solutions that guarantee the quality and operational functioning of the facility. Although it is evident that facial recognition has evolved a great deal in recent years, when it comes to implementing technology for security purposes, we must guarantee the stability and robustness of said technology and ensure its full operability to use it safely in companies, businesses, homes and public institutions.
It's our opinion that facial recognition has yet to be fully developed. Today, most devices have many shortcomings, and those that don't are extremely expensive. This means that most companies would only be able to install a single door with facial recognition, and therefore it is not a feasible option.
Undoubtedly, fingerprint biometrics is currently the system with the best performance and from which the greatest growth is expected. But not all systems offer the highest security standards. There are some whose technology is not well developed and that make mistakes in the identification of users and therefore can be easy to hack. And this was exactly our point when earlier we mentioned the access control giants Hikvision and Dahau. Thus, as we'll tell you all about in this article, it's important to distinguish between what the different systems on the market can offer. Because a mobile sensor is not the same as a biometric sensor when it comes to securing your company or home.

How do we do it at NÜO?
At NÜO, our commitment is focused on applying the best technology in pursuit of excellence in our systems without losing sight of the main objective: security.
A good example of this is that our access control systems incorporate readers that are controlled centrally from the secure area of the facilities and are guaranteed to work 24/7. Even if the reader's connections are tampered with or if it is ripped out of the door, company security will remain intact. A problem that happens frequently in the case of standalone readers.

Another example are the biometric readers we have developed with the latest in multispectral imaging technology, which allows fingerprints to be recognised even through a latex glove and also solves the identification problems that come with other brands such as in the case of wet, dry, worn, dirty or greasy fingers, etc. A problem that is ever so common in labour-intensive work environments such as in healthcare or industry.
Finally, at NÜO we prioritise the use of noble materials over other types of materials, reducing the use of plastic in all readers and prioritising machined aluminium casings with a treatment to harden their surface while the front is made of tempered glass; materials that are easy to clean and resistant to breakages and scratching. A clear commitment to durability and sustainability.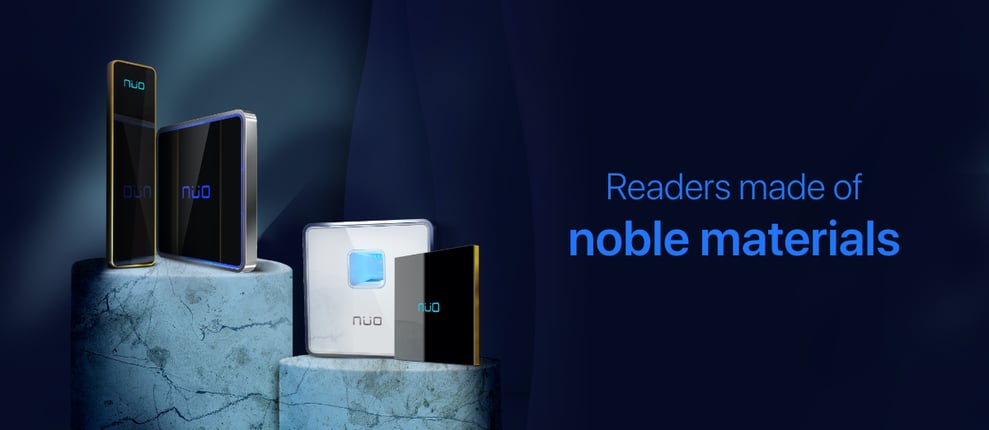 In most cases, companies specialising in access control do not have their software and hardware developed by the same provider. What this means is that it ends up being a headache for the installer due to incompatibility issues, but also for the client because of what it implies at a security level, since in most cases, apart from being easily damaged, they can have security gaps that are easy to breach, putting the security of the organisation at risk. In addition, they usually have fairly expensive licences for maintaining the solution.
It is for this reason that at NÜO Planet we always like to draw attention to the fact that the software and hardware are both fully developed by us, and that we do not ask for any type of licence. The client will pay for the system once and that's it.

Another problem that is solved with the biometrics that our systems incorporate are the identification problems if the finger is very dry or very wet. For this reason, multispectral imaging technology has been developed which, by means of illumination with various wavelengths, a much deeper reading of the fingerprint is achieved, reaching the subdermal layer.
All this makes it one of the most innovative and secure fingerprint recognition systems on the market.
There's no question that these are the innovative trends in access control and security projects that you should be using as an installer if you want to offer your clients the best solutions and maximise the profitability of your business.