In the contemporary real estate market, new trends have emerged in regard to client requirements. Increasingly, end clients are seeking turnkey buildings that include all the services, features and amenities necessary for maximum comfort and convenience from the very first day they move in.
This trend has forced architectural firms to rethink their designs and to include a number of unconventional features in their plans. One of the most in-demand features in commercial, industrial and residential buildings is physical security and access control systems.

Incorporating these features has posed an enormous challenge for architects because installing these systems can go against concepts of aesthetics, harmony and balance in architectural design. In fact, seeing how the addition of these security systems can dramatically disrupt the conceptual design of their carefully crafted projects is a source of frustration for many architectural firms.

With this in mind, and given the growing demand to provide the end client with comprehensive solutions as if they were an all-in-one package, finding electronic security and access control solutions that combine design and aesthetics with the functionality demanded by the market has become essential.
NÜO Solutions have been designed to balance aesthetic considerations with efficiency and functionality in a way that preserves the harmony of modern architectural design.
Why should you choose access control and electronic security solutions which are in keeping with the aesthetics of the project design?
Starting with the first sketches of a building, architects must seek to create a design that achieves harmony, balance, aesthetics and functionality for the end user. In the past, they have been able to successfully incorporate lifts, parking spaces and other requirements into the design in a naturally harmonious manner. But now, with the high demand for access control systems - devices which are placed in highly visible locations such as on façades or door frames - the last thing architects want is for these devices to attract all the attention, especially when it comes to historical, minimalist, or sustainable buildings.…

Why have something ugly as the first thing people see on the façade of a building, when you can have an elegant, beautiful and fully customised device that is completely integrated into your space? The key is to always choose devices that integrate fully into your spaces and that enhance and respect your design.
To do so, we need to find solutions that prioritise aesthetics and beauty of design in an organic manner and with minimal disruption to the architectural concept. Technical advances, nanotechnology and IoT have led to the creation of minimalist systems that can be integrated into any architectural design.

With their architecturally-friendly approach and focus on the importance of aesthetics as an integral part of functionality, NÜO Solutions can fulfil this growing need among architects.
Why choose NÜO Planet as the electronic security and access control system for your architectural design?
Choosing the right electronic security and access control partner for buildings is essential in order to optimise the efficiency of the facilities within an integrated architectural approach.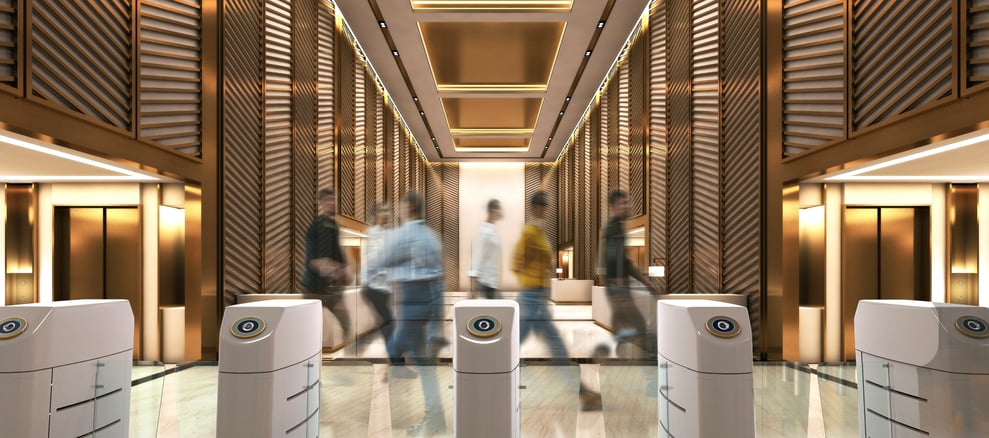 NÜO Solutions are designed to integrate harmoniously into all designs, regardless of the style, size, use and complexity of the project. Our devices integrate and adapt to the overall style of your project in a natural way, appearing as just one other architectural feature among many others.
With a style that respects the building's original design, NÜO readers have been created as a timeless feature, with minimalist, elegant lines and luxury customisable finishes that make it easy to adapt to different surfaces. The overarching concept is one of architectural camouflage, without affecting the aesthetics of the building.
NÜO security and access control systems have a number of advantages when it comes to architectural design, such as:
Resistance and durability that stands the test of time::Our devices are manufactured using noble materials, which retain their external appearance over long periods of time, thus ensuring that they do not detract from the aesthetics of entrances, checkpoints, car parks, façades, lifts and lobbies of residential or commercial buildings.

Adaptability

All our devices can blend in perfectly with any type of surface, including concrete, wood, stone, steel, aluminium and stone cladding.
| | |
| --- | --- |
| | |
| Sustainability and ergonomics: NÜO's creations have been designed for maximum sustainability. They have also been designed from the perspective of ergonomics for the end user, providing the highest level of comfort and user experience. | Modernity, elegance and innovation: The functionality of our systems includes as part of its features the exterior design, texture and colour adapted to the overall style of the building. |
Customised and scalable!
CWe create solutions to fit the project, not the other way around, because we understand that every project is different. Our engineering team can advise you on how best to incorporate security within your project with a view to the long term. Our solutions are scalable: we can help you to implement the security you need now and, depending on the growth of the project and its different phases of development, the system can easily be expanded.

NÜO Planet is your architectural partner in all your projects, providing comprehensive, personalised advice tailored to each project, delivering a perfect combination of balance, functionality and elegance in all your designs.