The demand for sustainable architecture is on the rise. An increasing number users are choosing to buy and acquire goods and products that are environmentally friendly, and this also includes the construction and architecture sector. The demand for buildings that are sustainable and integrated with the environment is an increasingly latent need.
That's why firms that are committed to sustainable architecture will have a huge competitive advantage, becoming more profitable with good growth projections in the future.
But... How can you get sustainable projects in your architectural firm?
Sell yourself as a sustainable architectural firm

Sustainable architecture is becoming increasingly fashionable, but not all firms are committed to this type of architecture. Therefore, you must advertise it and manage to relate your brand with sustainability so that users who are interested in a building that meets sustainability standards see you as a good option for carrying out their projects. However, to do so, it's important to have projects you've completed appear on your website, explain why your firm is based on sustainable architecture, what materials you work with, the level of energy efficiency, what technologies you work with, what companies you collaborate with, etc.

For example, at NÜO Planet we offer security and access control systems that are made with 100% sustainable materials such as aluminium or tempered glass, and that can be customised to be integrated into any surface.

When a user is committed to sustainable architecture, they also want the rest of the elements that make up the building to be ecological and environmentally friendly to the greatest extent possible.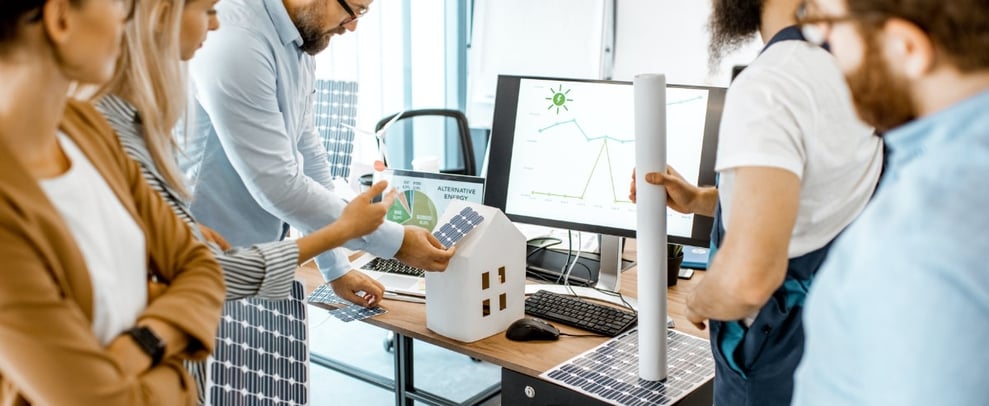 Show your projects in 3D on your website and on your social media platforms

A fundamental aspect to take into account when landing sustainable projects is to make sure that you fit the profile of the person who is going to commission the project. However, this is something that the potential client can't possibly know if they haven't had the opportunity to see how you work.

Demonstrating what you do and how you do it is essential to getting a potential client to show interest in you. If they don't know what you can offer them, they won't commission a project. In this regard, posting your most important projects on your website, as well as getting them seen on social media, will give you more visibility and attract the attention of potential clients.

Why are you sustainable?

Saying you're a sustainable architectural firm isn't enough, you have to prove it with facts. Selling words is easy, but they need to be backed up.

You need to explain the type of materials and suppliers you work with, how you develop your projects and all the processes that you follow and that help preserve the environment.

To give you an idea, we're going to give you an example of how we treat sustainability at NÜO Planet. We minimise the use of plastic to the maximum and, instead, we opt to design our devices with materials such as aluminium, steel or tempered glass, which are also 100% reusable and ultra-resistant. As for their packaging, it is also 100% sustainable, opting mostly for cardboard. We are a 100% Green Design company.
The arguments you use when selling yourself will be essential to landing new projects. Therefore, it will be essential that you highlight the advantages of having a 100% sustainable building and why the client should opt for this type of architecture.

Commit to customer loyalty

It's easier to land a client who has already commissioned a project from you and has been satisfied with your work and doing it again, rather than getting a new client to take a chance on you.

One advantage of working or carrying out projects for businesses is that they tend to grow, having to expand their offices or headquarters. Something that is very positive since, if they have already worked with your architectural firm previously, they will likely use your services again in future projects. That's why taking loyalty actions and remembering your old clients is a good way to get new projects.

Another way is by trying to improve the projects of former clients who had not taken sustainability into consideration, offering them the opportunity to modernise and adapt their building to the current day. A facelift is always positive for renewing the brand's image and adapting it to current market demands, which are always changing.

By carrying out the aforementioned actions and following these tips, you'll undoubtedly be able to increase the number of sustainable projects in your architectural firm.

What about you? How do you land sustainable projects?