Imagine for a moment that one of your employees could walk into your office, make a copy of that important project you have been working on for months, and offer it to your main competitor.
For many business owners, industrial espionage is the stuff of science fiction or only happens in high-tech companies. However, while it is true that the most famous cases of espionage have occurred in large corporations, small businesses are even more vulnerable to its effects.
Security in offices, corporate buildings and industrial premises tends to focus on preventing the incursion of burglars, intruders, or unauthorised persons. However, this kind of security is useless in the face of attacks by people with authorised access, keys or entry codes. Did you know that one in three thefts worldwide occur within companies and are committed by 'trusted employees'?

As a result, more and more companies are taking care to secure critical areas of their business - such as offices, data centres, server rooms, warehouses, or manufacturing plants - against intruders and, at the same time, against attacks carried out by internal staff.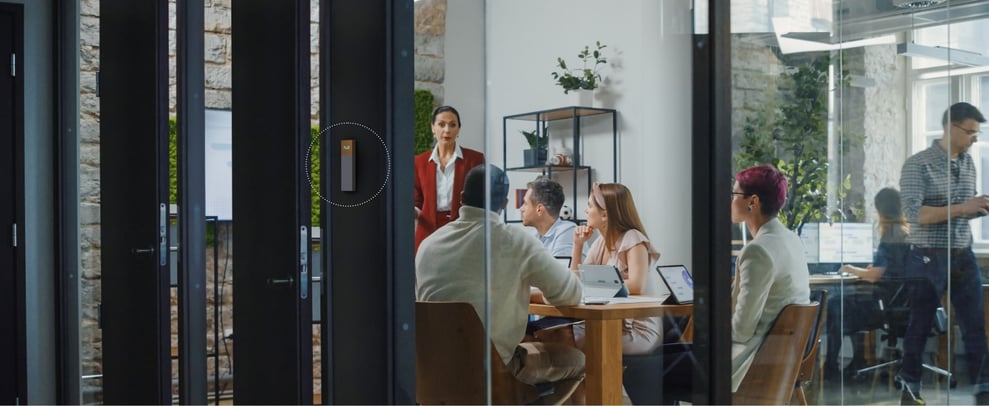 For more than four decades, NÜO office access control systems have helped companies in different locations and sectors and of all sizes to optimise their security without reducing their operational flow or internal circulation and providing comprehensive protection for their corporate assets.
How do access controls protect your offices?
Conventional security is based on the creation of physical, analogue barriers that are designed to deter entry by people who are not part of the company or as a mechanism to block entry by unauthorised persons. However, the major weakness of this system lies in the fact that the means it uses to deter or block entries are easily duplicated, transferable or vulnerable, and therefore do not provide complete security.
A person in possession of a key, ID, or entry code can freely enter any area of the company. CCTV systems, alarms and other surveillance systems are reactive, i.e., they react once an intrusion has been committed.
Traditional access controls inhibit the flow of people within the company. This in turn impedes the operational agility that is essential in order to keep up with the demands of today's market. This particular feature of traditional access controls represents a major hindrance for management and office managers.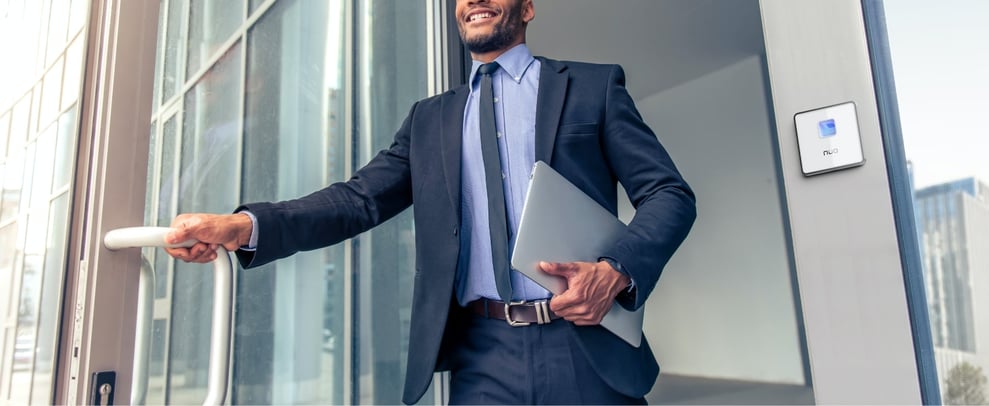 Biometric access controls for businesses are the most efficient, versatile, and secure solution when it comes to controlling entry to critical areas without affecting mobility. This is because they are based on reading fingerprints, which as a form of identification represent the most secure, unique, non-transferable, and non-replicable method in the world.
As we can see in our article: 'Office access control: The new generation in business security', office security based on biometric access control systems is the most effective solution when it comes to protecting your office while optimising the operation of your business.
The beneficts of biometrics for your company
NÜO access controls allow you to monitor and optimise the daily flow of people within your corporate facilities, maximising security and ensuring the efficiency of your processes.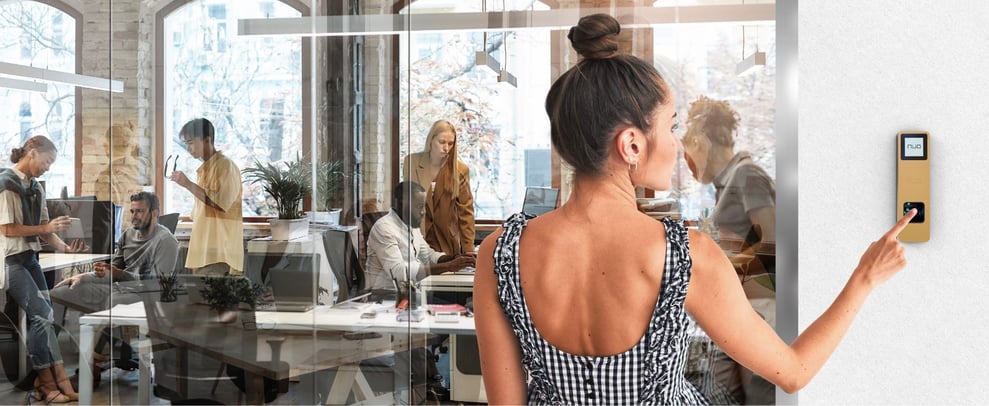 The innovation and cutting-edge technology involved in biometric access controls allows you to create environments which are 100% secure, spy-free, proactive and easy-to-manage. Biometric readers transform each employee or associate into their own key, a key by which they can be unequivocally identified in fractions of a second and with maximum efficiency.
NÜO Solutions for office access control allow you to customise the security level of each user by establishing an access restriction protocol that management can modify any number of times according to operational requirements and in real time. Management can establish the entry permissions of each user according to their role, operational area, working hours and days off. Reports can be sent according to entry points, zones, schedules, or time periods, allowing management to monitor entries, exits, usage times or any other variable required.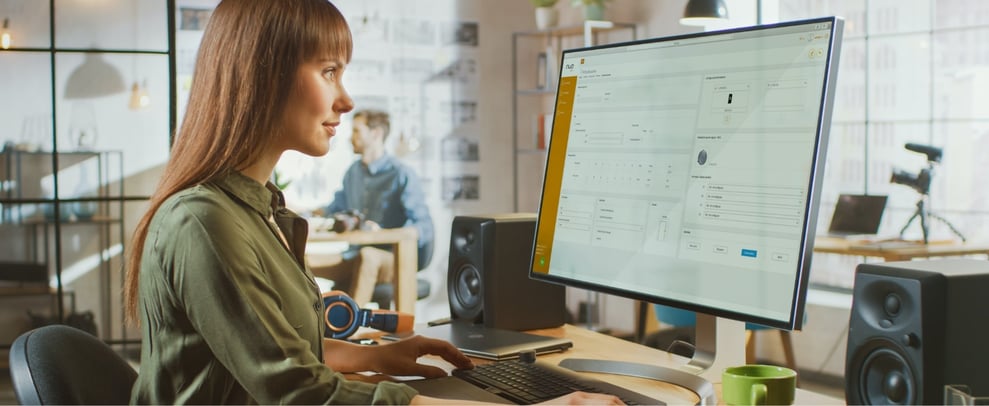 NÜO Fly, the cutting edge of office security
NÜO Planet's research and development centre has come up with the latest innovation in office access control: NÜO Fly® contactless fingerprint readers, the ultimate in contactless biometrics.
This unique NÜO technology allows companies to identify a fingerprint in a 100% hygienic manner. Fingerprints are read "in the air", and so the person does not have to come into contact with any surface. It takes less than 0.5 seconds and is done with absolute precision.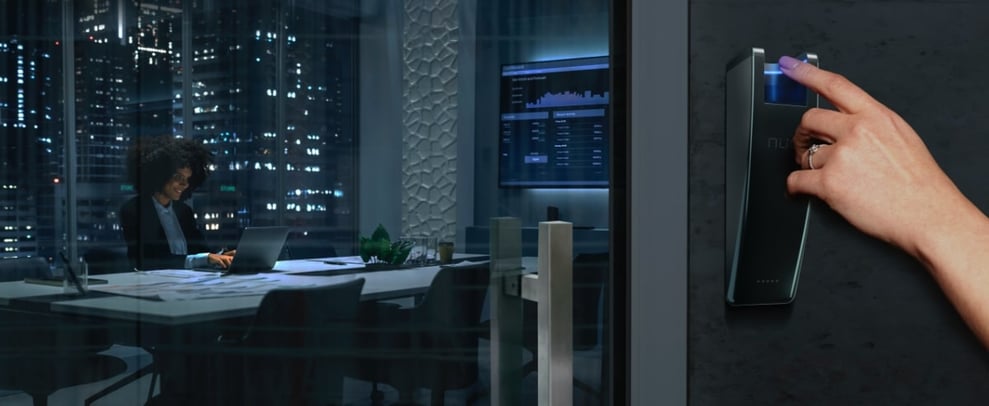 In addition to ensuring health security, NÜO contactless biometrics use state-of-the-art artificial intelligence, with an anti-spoofing algorithm capable of detecting all types of false fingerprints, as well as live finger detection technology.
In addition to all these advantages, NÜO access controls are made of the strongest materials on the market, compatible with hundreds of architectural designs and with sustainable manufacturing.
Behind NÜO access control systems is the best technical support in your language, close at hand and always ready to help. Try our solutions with a free demo and experience the greatest change to the security and operational fluidity of your business.