Mobile devices are present all over the world and their use is becoming increasingly widespread. Sending emails, checking information instantly, using it as a means of direct communication, access to events, concerts, the train or plane with QR codes that are saved on the device... These are just some of the uses that currently exist. The "Ericsson Mobility Report Q4", carried out in 2016, predicted that, in 2020, 70% of the world population would be using smartphones. A forecast that has been more than fulfilled, reaching 73% as explained in this news article.
Companies are beginning to take advantage of this trend in the use of smartphones, using them to secure their spaces (from their businesses to their homes) through mobile credentials for their access control systems, replacing old credentials such as keys, codes or access by cards with electronic key fobs integrated into their smartphones, tablets or even smartwatches.


Access control via smartphone provides numerous advantages and high levels of security, since it works through complex communication encryption algorithms and is non-transferable. Would you leave your mobile phone with your boss or a colleague? That's why NÜO's access control using mobile phone incorporate the latest in NFC technology and communication capabilities, allowing you to gain access through smartphones with both iOS or Android operating systems. In addition, our readers are multi-technology, in other words, they work simultaneously with mobile phones, with MIFARE Plus® high-security proximity cards and with biometric technology through fingerprints. 100% secure systems thanks to all the advantages that we'll take a closer look at below.


Advantages of access control using
access control using mobile phone
Higher level of security
It is important to note that there are many types of proximity cards for access control. They go all the way back to the now obsolete 13.56 MHz high frequency proximity cards, or the iClass or MIFARE Classic - all of which are considered easily vulnerable and insecure -, as well as the 125 kHz low frequency cards, a technology developed more than 25 years ago, which can easily be hacked with card cloners that you can easily buy on the internet for 15 euros. Regarding the latter, it is a good idea to look at the data that appears in the survey on trends in access control systems by the Security Management 2019 magazine, which highlights that 51% of companies with access control systems still use obsolete and easily hackable 125 kHz low frequency cards.
In addition to these risks of intrinsic vulnerability associated with RFID cards, there is also the risk that comes with the possibility of losing or letting other colleagues or friends borrow the cards.
On the other hand, we have the MIFARE PLUS contactless smart cards that guarantee the highest security standards, including improved reading speed and a reading distance of up to 10 cm, making them a very popular option for critical applications, having been selected by large payment companies. These are the cards used by NÜO readers.
All of this, coupled with the fact that mobile phones are now fully integrated into our daily lives, has led to an increased demand for mobile credentials that have become very attractive. Added to this is the convenience of the solution, as no one feels like carrying around so many plastic cards with them. People prefer to have everything on a single device, their smartphone, which we always carry with us and we almost never forget, in addition to being difficult to clone or transfer.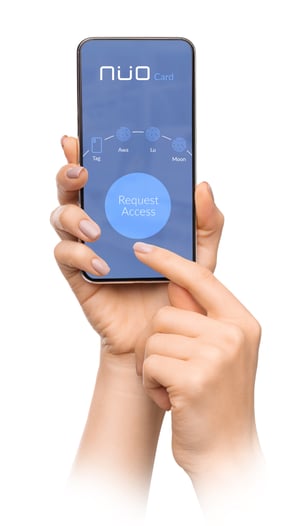 But why is the mobile credential high security? Are there differences compared to a MIFARE PLUS card in terms of security?
We are going to answer these questions below:
Firstly, mobile-based access solutions, such as the NÜO CARD mobile credential, which is a high-security credential compatible with Android and iOS terminals, is encrypted with a complex AES communication encryption, which is generated by the readers of the access control system themselves.
It offers high protection against any attempt to fraudulently access the data, since the data transmission between both devices (the reader and the smartphone) is encrypted, creating a secure communication channel. The mobile terminal (once the app has been installed) generates a unique identifier for the device that is directly linked to the encrypted access credential of the reader itself and is totally unknown by the app. This allows all the information to be protected with a unique key generated in the secure element of the smartphone. A great way to ensure the security and integrity of the stored data.
At this level of security that is typical of a mobile credential solution, it's also important to add that telephones - unlike cards - have two layers of security in the security system of the smartphone itself, such as the locked screen that is accessed by password, code or biometric characteristics. These characteristics can be leveraged to ensure that a lost phone cannot be used to gain unauthorised access.
One of the best advantages that the NÜO CARD mobile credential solution has to offer compared to the use of proximity cards is that the logistics involved in delivering and collecting the cards is avoided, thus saving costs and time spent by personnel.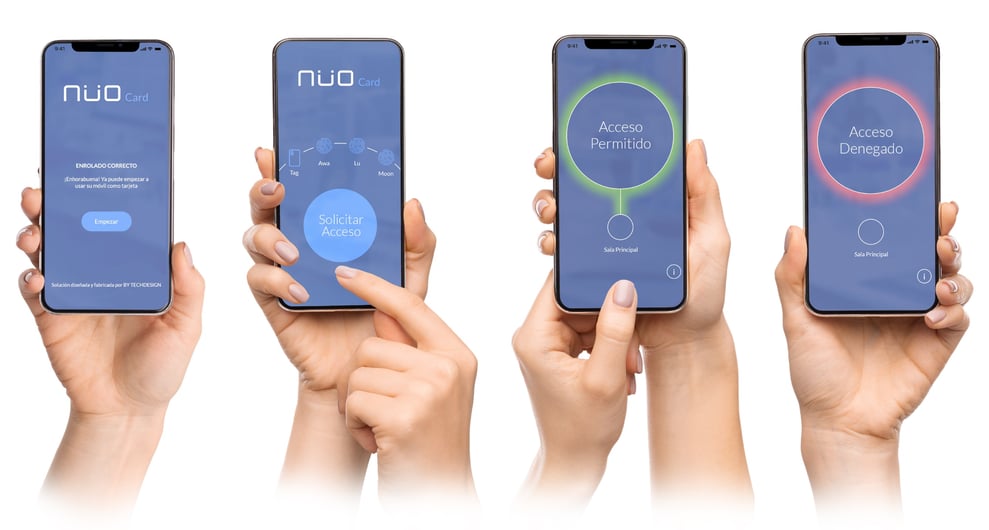 Greater ease of use and a more pleasant experience
With the use of mobile credentials for access control, the user experience is unbeatable. Users can gain access with their own phone, which they have been able to select and choose themselves based on their tastes and preferences. Furthermore, there is no need to carry around an additional card, rummaging through your purse or wallet to find it, or even having problems when you forget your card at home. Instead, the access is done in a much more agile way from your own smartphone, which is always with you and you always have it located.
Fully remote management
Mobile accesses are managed from a simple web application. A great way to obtain reliable data in real time. In addition, it allows you to cancel, issue or change accesses instantly, with the modifications taking effect in real time, granting access from any place and at any time.

Easy to configure
Installing and configurating is the same as any other application. It doesn't require any previous training or knowledge. You'll understand how the app works in no time and you'll be able to manage the entire access control system in any type of company.
---
As you can see, access control systems through mobile phones provide numerous advantages, both for your company and for your employees. At the following link you can see all of the NÜO readers, in order to find the solution that best suits your needs and type of business.
For more information on access control using mobile phone, please feel free to contact us. We will be happy to help you.