The accelerated digital transformation that our society has experienced in the wake of the pandemic has generated a high demand for professional profiles with extensive technical knowledge, especially those related to engineering, as explained in this Randstad article: Engineering, a Key Sector for Talent in 2021.
We could say then that it's a booming sector, but that only companies engaged in engineering that are capable of taking advantage of the opportunities presented by this market for the coming years will be the ones to really grow. But what are these opportunities? Throughout this article we will talk about how you can boost the growth of your engineering company to position yourself in new markets and penetrate new sectors.

How to grow your engineering business
Have engineers to face the challenges of Industry 4.0

Automation, robotics, sustainability, technical specialisation and technological knowledge in the field of digital transformation are just some of the challenges presented by Industry 4.0.

The need for certified engineers specialised in new technologies will be the key for an engineering company to prosper. Challenges and demands that were presented at the event: Challenges and Success Stories of Industry 4.0 in Spain, held in Bilbao in 2019.

Technology, like society, is in a process of constant change and evolution. For this reason, having engineers that specialise in NFC technology or in biometrics, which is growing by leaps and bounds, will become an indispensable requirement and demand for engineering professionals.

Skills to generate new business opportunities

Although it may not seem like it, an engineer must also have sales techniques and skills.

For example, in the case of security and access control systems, which is the sector that we, at NÜO, are experts in, we know that there are hundreds of different solutions on the market. The engineer must be able to detect the most appropriate solution for their client that is able to meet their needs. To do this, they must be able to explain to the client why they should go with one solution and not another.

As this news article by Ventas de Alto Voltaje explains, one of the main problems that engineers have is their sales pitch. The pitch is based on selling complex solutions, focusing on the technical characteristics of the solution, whereas, in reality, they should be talking about the tangible benefits and quantifiable results that this solution, instead of another, has for clients.

When you speak the same language as the client, leaving aside the technicalities that do not add any value, it's when you can really reach agreements that are beneficial for both parties and thus expand your client portfolio.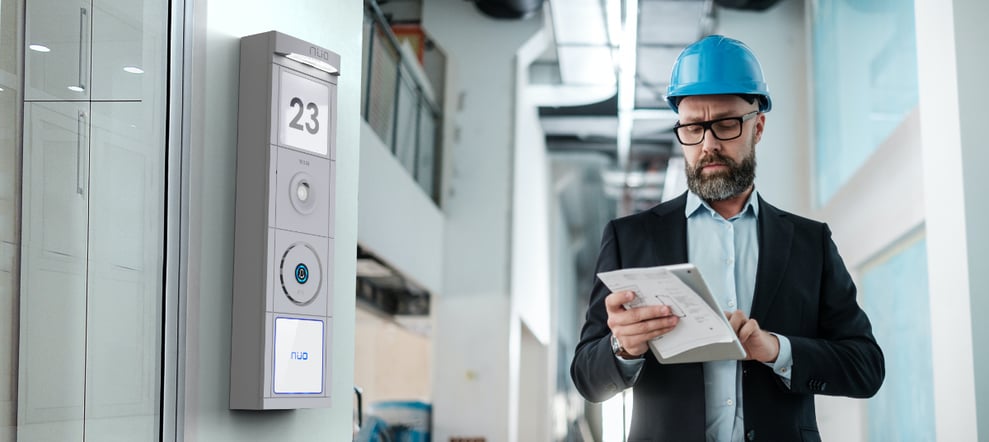 Opt for solutions with the latest technology, capable of facing the challenges and demands of the current market

In previous paragraphs, we talked about NFC technology and biometrics. Continuing with the example of access control systems, these two technologies are of the utmost importance due to the high level of security they offer, in particular fingerprint biometrics, since they are impossible to imitate and clone, as well as being non-transferable.

When a client needs to implement these types of solutions, their biggest concern is security. However, there are other aspects that must also be taken into account, such as sustainability, perfect integration with other systems, as well as the design thereof.

Your mission as an engineering company is to meet these needs. To do so, you must be familiar with the latest market trends, not only with regard to technology but also in electronic security devices. A vertical that is booming and that is increasingly being requested in these types of projects.

For example, at NÜO Planet we offer systems that work with cutting-edge technology such as biometrics, manufactured with 100% sustainable materials such as aluminium and tempered glass, capable of withstanding sudden changes in temperature due to their high level of IP protection (IP67 and IP65) and an IK08 level of resistance.

Another factor to take into account is that opting for the latest technology is a guarantee that it will not become obsolete, capable of meeting client expectations, offering durable solutions that require minimal maintenance and thus cutting down on additional costs. A great way to ensure their satisfaction and increase the chances of them recommending or re-hiring you as an engineer, thus enhancing the growth of your business.

Furthermore, at NÜO Planet, everything we give you is ready to go for an easy and fast execution, ensuring that everything works and fits together first time round. We offer bespoke advice and, thanks to the more than 40 years' experience of our Projects Department, we will help and support you with everything you need, no strings attached. From the feasibility study and the analysis of special requirements to designing and preparing the project.

In short, to guarantee the growth of your engineering company, you must turn to certified engineers, with sales skills, who are up-to-date with the latest market trends in terms of technology. Only in this way will you be able to tackle the present and future challenges posed by digital transformation and automation.