The evolution of security technology has led to the appearance of multiple types of access control that need to be understood before choosing to install a certain type.
Considering the fundamental role of the access control system in security for both individuals and businesses, choosing the right system is a key decision, as not all of them provide the same level of protection.
Among the latest trends in security are the different types of biometric access control, and real-time and unified control, in addition to the continued growth of this type of technology.
Es más, se anticipa que su valor de mercado grow at a CAGR of 6% between 2022 and 2028, driven by rising demand for these systems.
We have prepared a brief guide on the types of access control, detailing the benefits and potential security commitments of each one.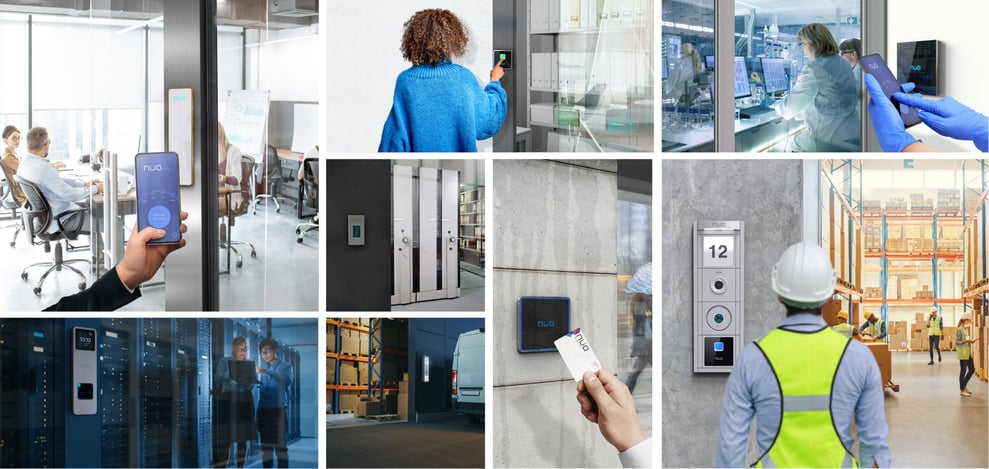 What is access control?

Access control systems include all the mechanisms responsible for authorizing or restricting the passage of people or vehicles to certain physical facilities, based on their identification and authentication.


The different types of security access control are based on two types of technologies, to carry out identification readings; and to control physical access, including doors, turnstiles, elevators, parking lots...
Main functions of access control
| | | |
| --- | --- | --- |
| Identification | Authentication | Authorization |
| This step assumes that the person who wants to access the premises is recognized. To do so, there are different methods that we will describe below.. | Authentication is responsible for verifying whether the person who has already been identified has permission to access the facilities, and whether they form part of the database of that specific access control. | The third step determines if access to the premises should be allowed, based on identification and authentication. |
Types of access control according to the layout of the system and its components
Autonomous systems
The main characteristic of these systems is that they are not connected to a central system: they usually consist of a reader connected to a door, capable of registering certain users and allowing their access.
Whilst it is a simple system, it has several limitations. For example, it does not keep a record of accesses and events; In addition, most systems in this category do not have the ability to limit access based on schedules, or to coordinate different door systems..
SCentralized systems

In the types of centralized access control, a single system is responsible for controlling the entries and incidents across multiple access points. This also assumes that the different readers for identification, authentication, and authorization are connected to each other..
SDistributed systems
EIn this case, different access doors are controlled from a single point.

In both centralized and distributed systems, wired systems can be put into operation. At this point, it is
iimportant to understand the advantages of wired access control::
All input and output data is recorded in real time. Compared to other systems, such as those based on radio frequency, the wired system allows constant and immediate monitoring of the status of all access points.


The information is shared between the different elements of the system, generating intelligent ecosystems which securely store the information. The wired system generates a "brain" inside the building, in a secure and protected area, instead of giving key information to decentralized readers. Through the application of encryption systems, this data is adequately protected..

Types of access control according to the identification method
Manual

These types of access control do not use any technology - but rather a person who is in charge of identification, authentication, and authorization.

The manual access system is currently obsolete due to the low level of security it provides, due to the potential for human errors. Fake IDs and the lack of a reliable record or history are two of the most serious vulnerabilities.

Keypad

In this case, a code is used that is entered on a keypad to allow access to the facilities. Again, it is considered one of the vulnerable types of access control and brings several security problems::

It is easy for credentials to be intercepted by unauthorized persons. This includes the ease of sharing the credentials, to the simplicity of observing them from a distance to use them.
Users often forget the codes. As a result, excessively simple credentials are often chosen (e.g. "1111"), which are easier to memorize, but far less secure
Es común que los teclados dejen de funcionar con el paso del tiempo, generando una inhabilitación general del sistema

Fingerprint

The fingerprint stands out today as the most secure of all types of access control.

The fingerprint stands out today as the most secure of all types of access control.
In this case, it is a biometric technology, responsible for converting a physical part of a person into their own access key. As the fingerprint is impossible to imitate, clone, or transfer, it is currently the most reliable and secure system.

Facial recognitionl

EFramed among the types of biometric access control, facial recognition is a more vulnerable option than fingerprints, as it is easier to subject to fraudulent practices.

Specifically, it is easy to use static images (for example, a picture of the person who must be identified) to circumvent the system on some low or mid-range devices. With the proliferation of personal images on social media, this is a particularly significant danger today. High-end devices are currently not very competitive in price and are not yet fully developed in terms of security.

Identification card

This system uses identification cards, radio frequency, and specific readers (today, often contactless and remote) to operate.


In this case, there are different levels of security depending on the type of card that is chosen, which can range from very secure to not at all secure. Low-frequency proximity cards (125 kHz) represent an outdated and easily cloneable system, offering no guarantee of security.


The most modern high-frequency proximity cards (13.56 MHz) have, on the other hand, some vulnerable models and other more secure ones.

The high security MIFARE Plus®, proximity cards stand out as the most secure models in this area, offering the greatest guarantees compared to other more dubious systems.

Via mobile

These types of access control systems represent an evolution of the high frequency proximity system. This technology uses a person's personal mobile phone in communication with a nearby device to identify, authenticate, and allow access.

Entre las The advantages of access control via mobile phones include the higher level of security they offer, as they have not only the encryption created for radio frequency systems, but also the security system of the personal mobile device itself.
Do you want to know more about the types of access control available today and which one suits your needs?
At NÜO Planet we can help you:
Download our Trends in Innovation in Access Control and Securityreport for free to discover all the current possibilities in this area; or reach out to us so that we can study the needs of your project and talk about the system best suited to the security that you are looking for.