Modernising a historic building without losing its essence by implementing technology and electronic security systems to adapt it to people's current needs is a major challenge faced by both architects and engineers, in particular when making changes to either the facade or the interior walls.
The implementation of electronic security, in particular in historic buildings that often end up being turned into offices, museums or official buildings and public administrations, require access control systems that make it possible to control the high influx of people to guarantee both the security of their employees and visitors, as well as the assets and information that are stored inside.
However, when we hear people talk about access control systems, quite often the client imagines a monstrosity soiling the building's facade and taking away the historical beauty that characterises it, making it the first thing to be seen by the individuals who enter the building as soon as they arrive.
However, there are some security solutions whose product designs pay a great detail of attention to providing architects and engineers with solutions that blend seamlessly into their buildings, achieving a result that complements and adds value to the beauty of the building itself.
Ideal access control systems for historic buildings
NÜO solutions, why they are ideal for historic buildings
For NÜO Planet, security, ease of installation and design are everything. For this reason, we offer different types of access control systems designed to adapt to any type of building and surface. It's not the building that has to adapt to the solution, but the solution to the building. That's why NÜO solutions are 100% customisable and adapt harmoniously and elegantly to the building project.
​​NÜO has been created to make spaces beautiful while guaranteeing the maximum security and functionality that the end customer needs, securing their pedestrian and vehicular entrances and all types of interior accesses with the latest technology and avant-garde design.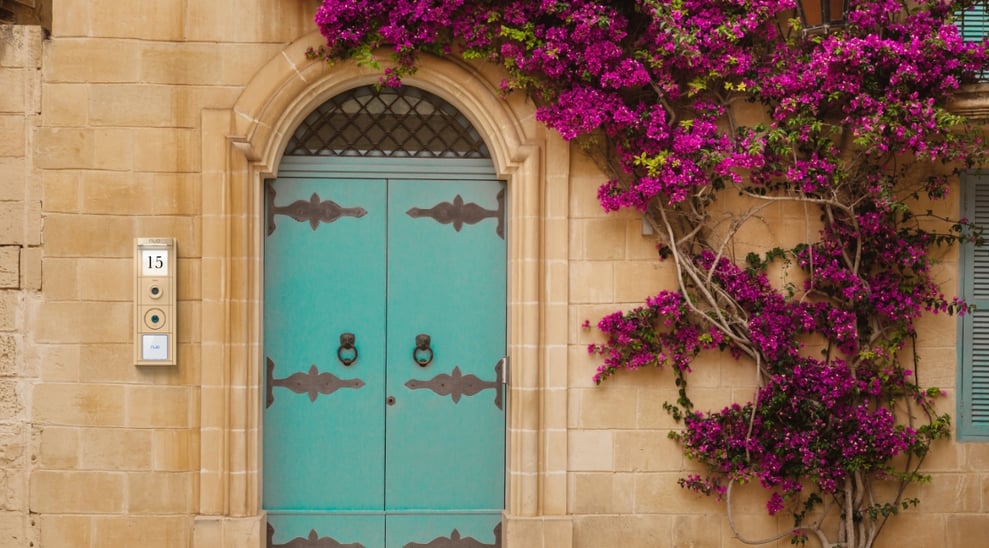 We guarantee impeccable finishes with a modern, minimalist design and a range of colours that is 100% adaptable to the surface where the reader has to be placed, ensuring it goes completely unnoticed and does not spoil the historical essence that every owner of this type of building wants to maintain. Because in the end, an element that is out of place can completely detract from the original essence of the building or facade.
For example, after many years designing security solutions for unique, historic buildings, we know that it's of the utmost importance to protect the architectural design, respecting glass facades, special protection structures or designer facades, where nothing can be placed on the wall, as would be the case with a traditional reader. For this reason, at NÜO, we have designed special products that are perfect for this type of historic and avant-garde building. For example, the Sky Poles range are pedestals anchored to the ground and located next to the facade, but without touching it. It is ultra-resistant, made of the highest quality aluminium and perfect for using outdoors. Furthermore, we combine video intercommunication and access control in a single device. The perfect solution to make a great first impression (without touching or damaging the building's facade).
Another very important point is that we work with ultra-resistant and ecological materials, such as aluminium and tempered glass, obtaining an impeccable and minimalist finish that offers maximum durability over the long term. What is more, at NÜO Planet we minimise the use of plastic to the greatest extent possible, because we know how harmful it is for the environment. And all our outdoor solutions have an IP protection of between IP65 and IP67 to withstand sudden changes in temperature, and an IK08 resistance level that makes them highly impact resistant.
Click on this link to find out how you can integrate NÜO solutions into your project.
Another advantage that NÜO solutions offer, especially for engineers, is that we make the whole process easy for you. That is, we accompany you in each phase of the project and offer you the bespoke advice you need: from the comprehensive analysis of the facilities and the identification of possible determining factors, to the design and development of your project on paper, made to measure and with no strings attached.

Some of our access control systems for historic buildings
Sky Poles:
The pedestal that respects your building
Sky Poles is a solution designed for controlling the access of both people and vehicles and is mounted anchored to the ground in the form of a sophisticated pedestal. Sky Poles is located near the facade but without touching it, meaning the integrity of the building will be fully respected with this solution.
Sky Wall:
All-in-one, wall-mounted solution
If what you're looking for is a terminal that you can customise with different colours, modules and even include the building's logo, then the Sky Wall is for you. It can be surface-mounted or flush-mounted, and it is the perfect all-in-one solution, with the ability to manage employees and visitors from a single terminal.
NÜO Polo:
The most discreet solution for interior entrances
NÜO Polo offers plenty of power and a minimalist design with an extra-flat front that's just 8 mm thick. It's the ideal reader for your architectural design project, since NÜO Polo integrates seamlessly onto any surface. Customise it with luxurious finishes: choose between black or white glass and combine it with profiles in gold, aluminium, rose gold or black. It works with mobile credentials and maximum security cards.
NÜO Lu W:
Harmony and simplicity in an optimised size
NÜO Lu W is a high-end biometric reader, prepared to manage hundreds of fingerprints with maximum security. With a narrow and elongated profile, and finishes that come in gold, black and aluminium, its elegance and minimalism will enhance your project's beauty.
NÜO Awa:
The most advanced biometrics outdoors
NÜO Awa is the most versatile reader, equipped with a state-of-the-art optical sensor, which captures sharp images of the deep layers of the finger surface, guaranteeing the correct identification of people with problematic, dirty, dry, wet or worn fingerprints. And, of course, it prevents fake prints from gaining access. The perfect reader for your building's facade.
Want to know more about our access control systems? We invite you to request a DEMO. You'll be able to see all of our readers and how they work so that you can find the solution that best suits your, as well as your client's, project.