Industrial buildings are often the target of thieves. This is due to the fact that they contain valuable machinery and products that can be easily sold to obtain performance and profit, such as: trucks, tools, electronic equipment, stored merchandise and raw material, etc. The machinery found in industrial buildings is of great economic value and thieves know it. To prevent this type of situation from occurring, it is important to secure the entire area in order to guarantee the safety of employees and visitors as well as the entire industrial perimeter as well as the property, assets and information they protect.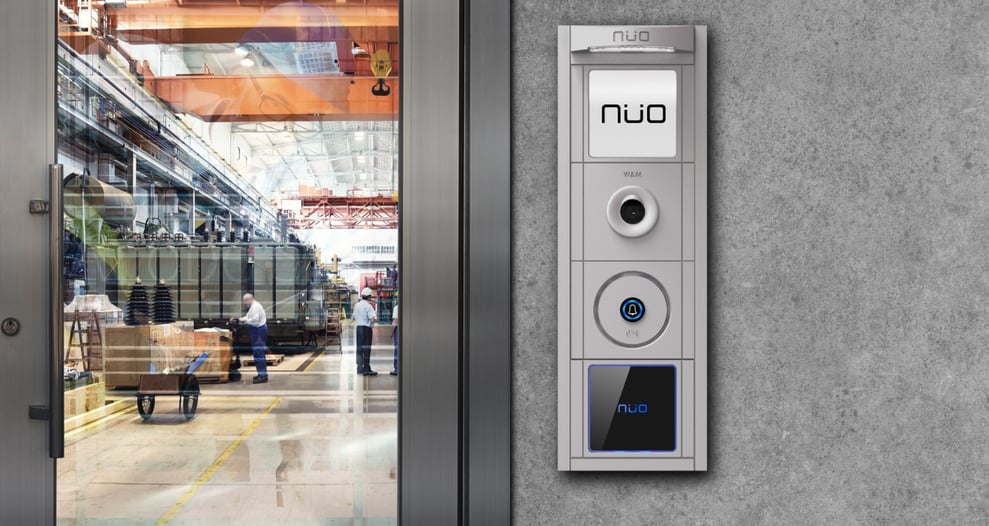 In this regard, the implementation of an access control system to control the influx of personnel (entrances and exits) becomes essential in order to control mobility through the warehouse or the various warehouses. When we talk about industrial buildings, the flow of people is very high, as are the different levels of hierarchy and spaces in need of protection.
For example, an operator whose job involves transporting merchandise will only require access to the warehouse and logistics areas. On the other hand, an operator who works in the first phase of production of the goods will not need to have access to the lacquering area, for example, and much less so to the administration area.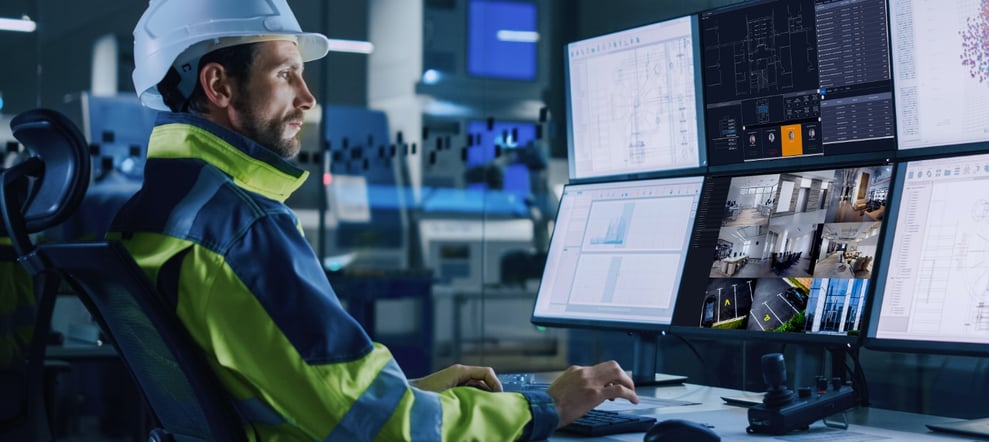 In an industrial plant, not only is it important to secure spaces by authorising and restricting access to the different areas, but the operators' work schedules must also be taken into account, authorising their access based on shifts and holiday calendars. For example, a modern access control system will inform you if a worker has tried to access a specific area outside of their assigned hours. Imagine that a production worker tries to enter the warehouse at 2 a.m. when the factory is closed. The first thing that will happen is that their attempted access will be blocked, and the second is that the system will inform you of the attempt so that you can take the appropriate measures.
Access control systems: Everything you need to know to secure industrial buildings
There are various specific aspects that must be taken into account when choosing the access control system, since it must have specific requirements that are less important in other industries.
What must be taken into account to secure an industrial building?
Entrances you want to control
An industrial warehouse is full of different entrances, both for people - employees and visitors - and for vehicles. Therefore, it is important to be clear about which entrances you need to control. If you want to manage the entry of trucks and transport, the best solutions are the posts from the a NÜO Sky range that include readers for managing authorised employees (these can be remote UHF card readers, license plate readers or even biometric readers). In turn, the post includes a video intercom module if trucks that are not registered need to enter the facilities. These posts can control access to logistics areas, material loading and unloading areas or warehouses, with customisation options according to the client's needs, including barriers, traffic lights, configuration on an island with two-way traffic, etc.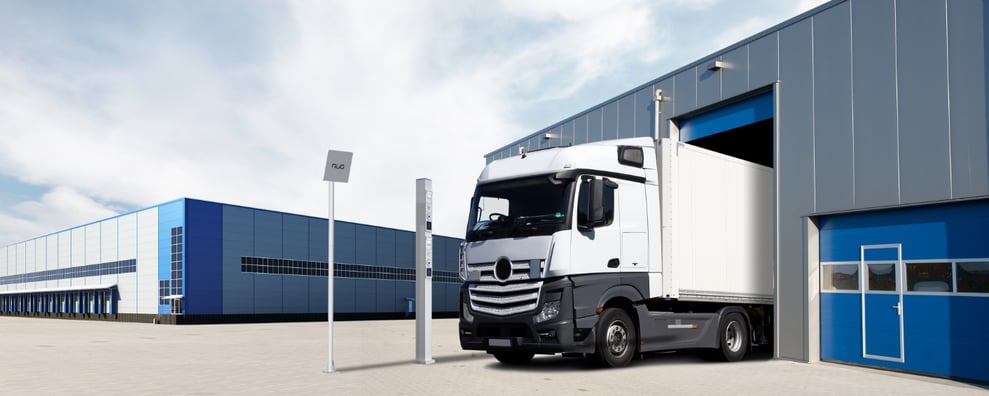 Furthermore, at NÜO, we offer special solutions for the management of vehicles in the industry. We know that not all transport vehicles are the same, which is why we have designed the Sky Two, because the height of a truck isn't the same as a car or a van. The Sky Two duplicates all the modules at different heights, on a single post.
For pedestrian access, NÜO offers multiple device options, many of which work through fingerprint biometrics, ensuring that each access is unique, non-transferable and that there is no danger of identity theft. Using biometría in industrial environments is the right choice, as you will have no questions as to who has accessed each space, and you will avoid the major risk of employees sharing their access cards, or employees who give their card to third parties who are not part of the organisation, or even lost or stolen cards.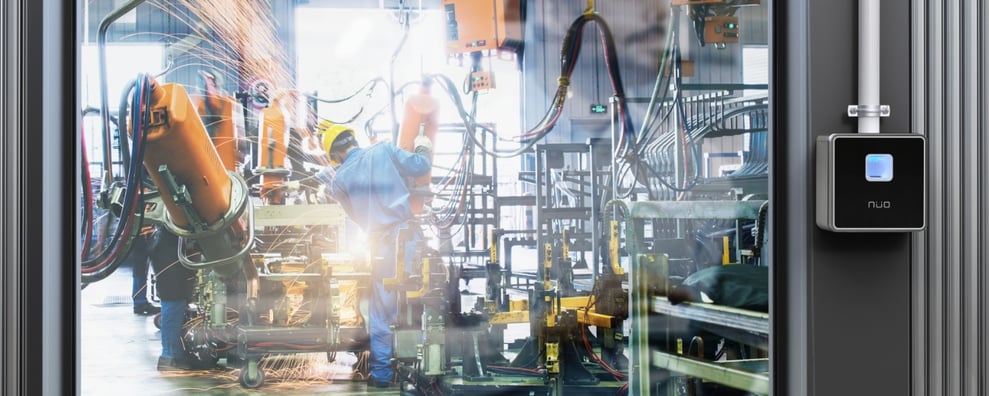 Strength and durability
Industrial buildings are subject to a lot of activity and their entrances are usually located outside. For these reasons, the access control system must be durable and resistant, made with the best materials, in addition to being able to withstand extreme temperature changes and changing environmental conditions such as rain, wind, snow, sun, saline environments... That's why it is important for the equipment that is installed in industrial environments to have a high level of IP protection and impact resistance.
For example, NÜO has a comprehensive range of devices specially designed for outdoor use with IP67 and IP65 levels of protection and IK08 impact resistance, made with noble and ecological materials such as aluminium and tempered glass, minimising the use of plastic as much as possible. In this way, we guarantee its resistance and durability and that its appearance will remain intact over the years.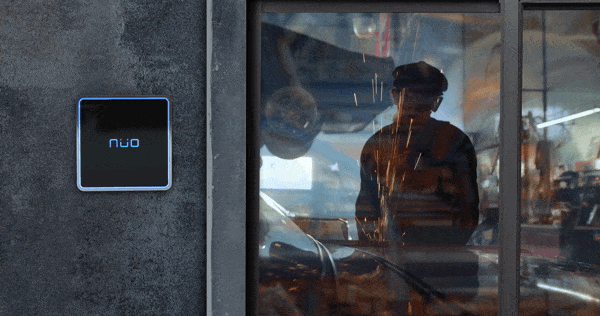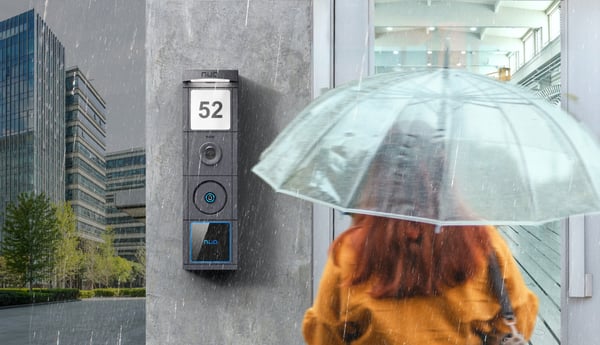 Furthermore, NÜO has been designed with the characteristics and features of the industry itself in mind; extremely hot or cold environments, excessive noise, drafts, vapours, vibrations... A clear example is the NÜO Awa biometric reader.
As mentioned earlier, in industrial environments it is a good idea to choose biometrics for greater security. In an industrial warehouse, where the mobility and influx of people is very high, knowing that employees can't share their credentials or that they can't be taken from them is a great source of peace of mind, for them and for the company itself.
However, one of the main obstacles encountered by the industry in fingerprint access control systems is that operators often have their hands full of dust, grease, dirt or scars, or they have corroded skin from the use of chemicals, causing the reader to not be able to detect their fingerprints. At NÜO Planet, as an innovative company, upon detecting this problem we have created solutions that work with dirty or greasy fingers, as well as with latex gloves, thanks to the cutting-edge multispectral technology that our NÜO Awa reader incorporates. The perfect reader for the industry.
Discover all our readers and the advantages we can provide by requesting a free DEMO. We will advise you on the solution that best meets the needs of your industrial plant.
Securing your industrial warehouse is of utmost importance when it comes to protecting the physical elements inside it, such as machinery, vehicles, tools... as well as the information of the company, its employees and visitors.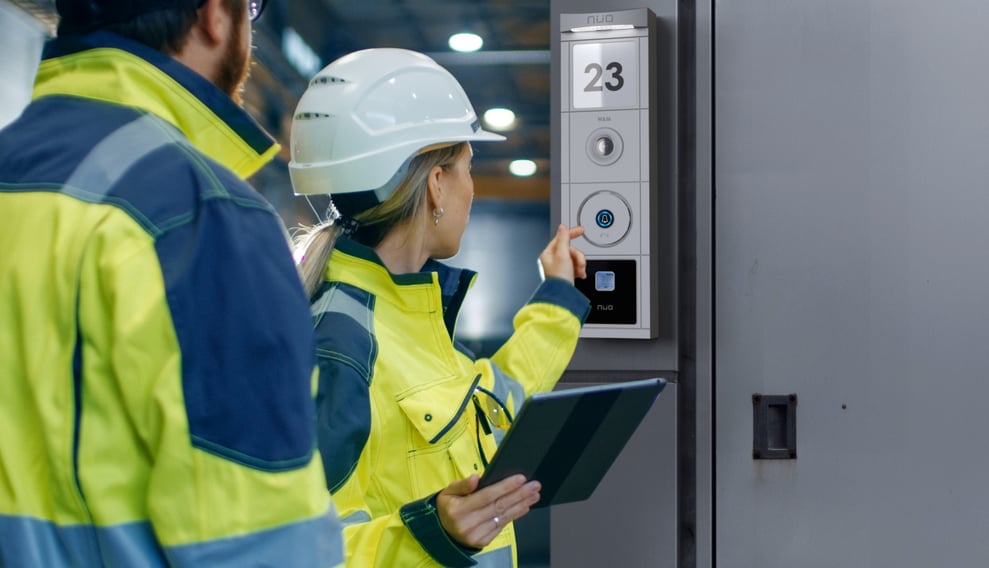 In a space with a high influx of staff and the constant entry and exit of vehicles, it is important to have a system that allows you to know who has entered the premises at all times, along with what time they entered and who they are. This allows you to control all of those suspicious entries or exits you detect.
Taking into account all of the above aspects, your industrial site will be 100% secure.
For more information, you can contact us, no strings attached, by clicking on this link.