Smart buildings are born from the moment the initial architectural design and construction is envisioned. It is in this phase of architectural design and planning that the systems to be integrated are analysed and selected: the different home automation devices, the energy optimisation system, the security systems…
Consequently, it is important to know what a building must incorporate in order for it to be classified as smart, and how important its design really is.
Below, we have provided detailed information on the main features and benefits of smart buildings. We've also given you some ideas on building security trends and solutions to help you decide.
What are smart buildings?
Smart buildings are structures that are equipped with innovative technology, devices, software, and digital platforms that facilitate the automation of their systems and installations.
They are buildings that manage, control, and supervise their own energy consumption processes and their security and comfort requirements in an integrated way, in order be as efficient as possible and improve the safety and usability of their spaces.
A smart building is one that integrates an intelligent technological ecosystem in which multiple technologies can be implemented. For example, the Internet of Things (IoT), through the incorporation of intelligent sensors that regulate temperature and lighting, among others.
Characteristics of smart buildings
In order for a building to be classified as smart, it must present the following characteristics:
| | | |
| --- | --- | --- |
| Constant monitoring | High security | Sensors throughout the building |
| | | |
| --- | --- | --- |
| A smart building has state-of-the-art technological systems and devices with the ability to continuously monitor accesses and various spaces. These systems offer information in real time, thus reducing the structure's vulnerabilities. | A smart building integrates advanced security systems, which merge artificial intelligence, machine learning (ML) and IoT to provide high levels of security | The technology in smart buildings includes the use of sensors in a wide range of different areas, rooms, and elements of the structure. It is through these sensors that smart systems can capture the information they need to optimise building efficiency. |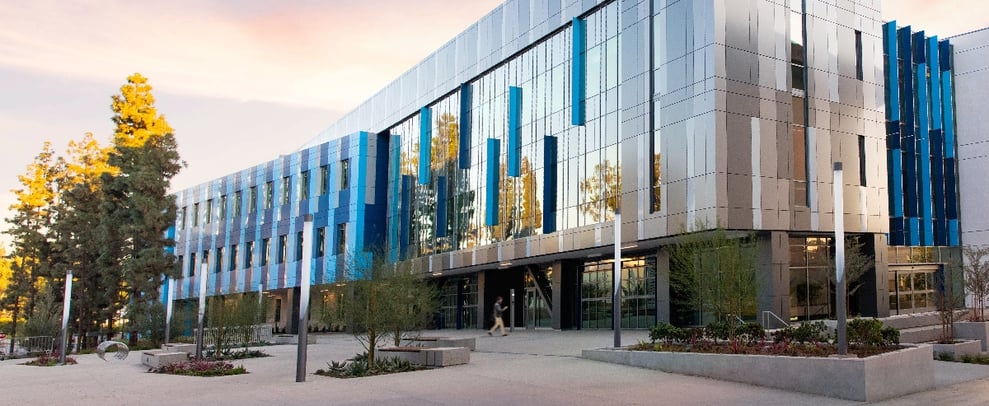 Advantages of smart buildings
What is a smart building for? Let's take a more detailed look at the main advantages of a smart building:
They save energy

Smart buildings provide maximum energy savings. Their integrated systems are constantly measuring humidity, temperature, lighting, and movement in order to optimise energy resources.

Normally, a smart building can save up to 70% of energy, compared to that consumed by traditional buildings. In addition, it has a self-sufficient energy system for the cooling, heating, and lighting system.

For example, they can have solar panel systems installed on the façades and roofs, or systems capable of capturing which spaces in the building are being occupied or used, to make the necessary adjustments or modifications to the lighting or air conditioning.

Predictive maintenance

Thanks to the data obtained by the sensors, the building's comprehensive system has the capacity to analyse this data and make predictions for the optimisation of resources, which includes the activation of tasks for preventive maintenance.

Predictive maintenance actions can be programmed in a computerised way, where the system itself is the one to issue a notification regarding the need to carry out the inspections. Without a doubt, this minimises breakdowns and the corresponding corrective actions, translating into significant cost savings.

Very flexible system

Smart buildings have the necessary flexibility in their structure and system to incorporate various technologies. They adapt perfectly to the latest technological innovations in security and other technologies that facilitate increased efficiency, safety and comfort.

In addition, these buildings represent an ecosystem in which the systems of different brands or protocols can converge and interact.

Increase in the building's value

When designing and building a smart building, the aim is to achieve maximum energy efficiency, while providing its inhabitants or workers who use it with the greatest level of comfort, well-being, and safety.

In this way, a smart building is synonymous with a better quality of life and high productivity in the work environment. This, in turn, gives the property a higher market value.

Security systems

In smart buildings, security is essential: no smart building is designed without a high security system. In addition, these systems are perfectly integrated into the building, without altering the aesthetics, elegance or concept of the architectural design.

To guarantee this security, it will be key to have an access control system to record and monitor the individuals who enter and leave the building in real time. This will allow you to prevent and resolve any criminal conflicts that occur inside the building, from a double perspective: both to protect the building against the entry of unauthorised people and to prevent theft or improper access to critical spaces in the building by employees themselves.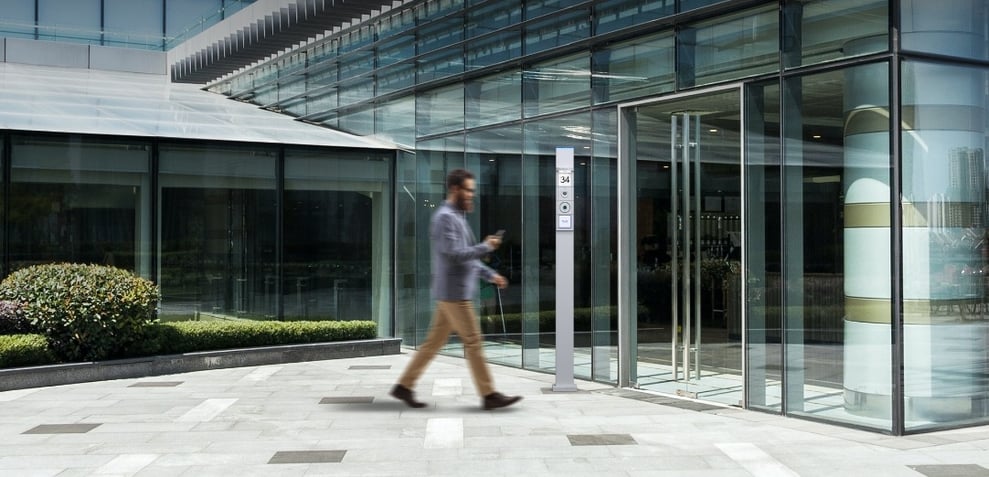 NÜO Planet: the most innovative technology to guarantee maximum security in buildings
NÜO One is an innovative technological solution that guarantees maximum security in buildings, while integrating perfectly into the architectural concept through its exclusive, simple, and elegant designs.
It consists of a special access control system for corporate buildings, shopping centres, industries, and buildings for educational or scientific purposes. It manages thousands of doors and users, fully controlling entrances and exits and monitoring all types of doors and spaces: lifts, car parks, turnstiles, exterior entrances, main entrances, offices, etc.
NÜO One incorporates a video intercom system, and you can choose from a large number of readers according to your needs: size, type (card, mobile or fingerprint), location…

Our fingerprint readers are a highly functional solution with a distinguished design. Write to us and we'll help you choose the ideal reader for you. One of the most high-tech readers is NÜO Fly, a contactless fingerprint reader. This contactless biometric fingerprint reader detects the proximity of the user's finger and is capable of identifying the fingerprint from a distance.
| | |
| --- | --- |
| | In addition, NÜO Fly offers its indisputable elegance, having received the global Red Dot Award recognition, one of the most important design awards in the world. |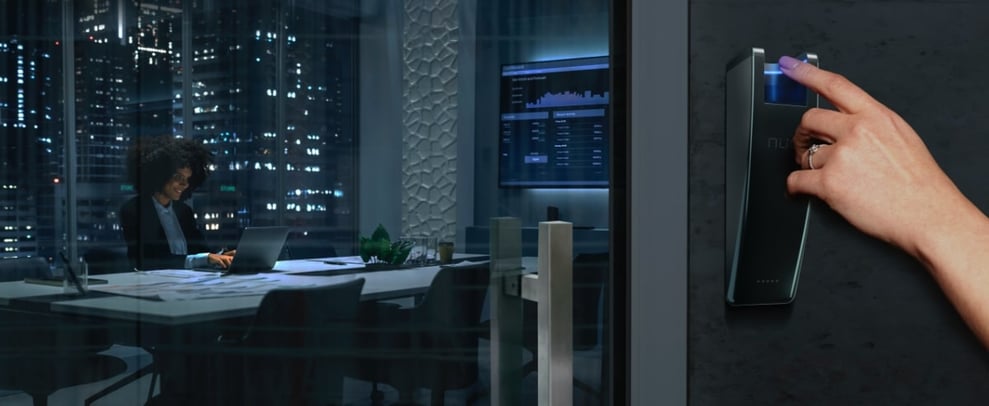 Without a doubt, NÜO One is a complete access control system that offers high levels of security for buildings. Request a demo: we'll show you all its features and will be able to answer all your questions.
For more information or advice on security systems for smart buildings, contact us. At NÜO Planet we can assist you in choosing the access control system that best suits the needs of your project.