How much time do your employees, management, suppliers, and clients waste every day passing through security at your corporate headquarters? Are queues and waiting times in the reception area creating a bad impression among clients and visitors? If every minute of your production cycle costs you money, how much is your company losing annually due to obsolete, slow, and inefficient security systems?
Regardless of sector or size, companies in the 21st century are facing the difficult task of optimising each of their processes in order to streamline decision-making and maximise productivity.
Accordingly, companies are working on a daily basis to find solutions that increase the operational times of their workforce, without neglecting the overall safety and security of the company. Here, corporate building security is key.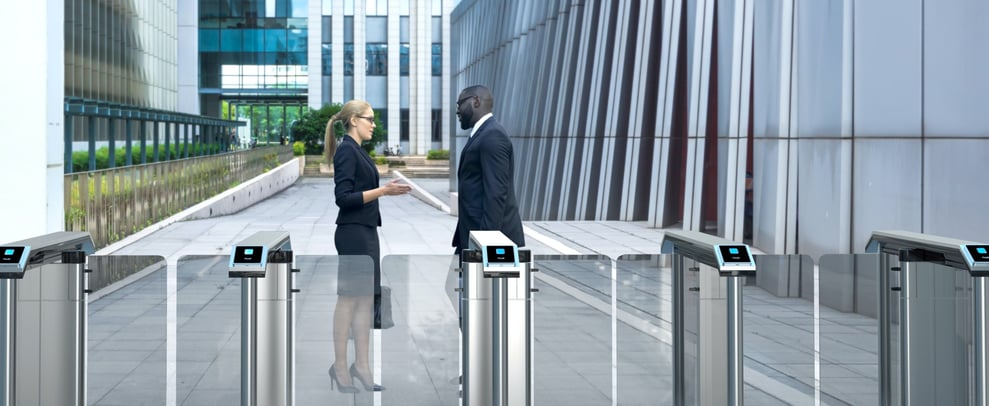 Security in corporate buildings which is based on guards, physical access, keys, analogue turnstiles, magnetic cards, or entry codes, leads to unnecessary delays in access flow, directly affecting the company's profitability and its reputation.
Implementing access control for buildings that are based on biometrics is the only way to guarantee fast and smooth entry/exit with maximum security, efficiency and cost-effectiveness. Keep reading to discover the latest corporate security trends.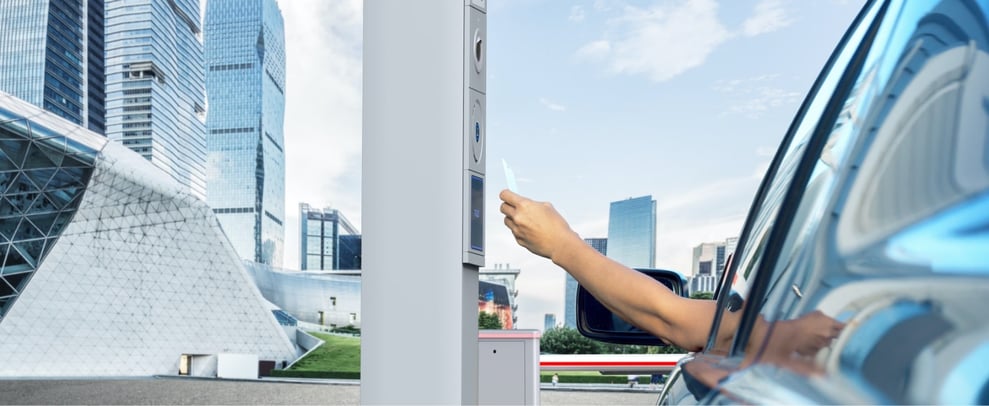 The new challenges regarding

corporate building security
The way business is understood in the 21st century is radically different from how it was viewed traditionally. All of today's operational processes rely on communications, IT solutions and connectivity between systems. Similarly, the approach to work has changed radically over the last decade. Teleworking, flexible working hours, target-based evaluation and on-demand production have radically streamlined business operations.
These innovative approaches have represented a challenge from the point of view of security for corporate buildings.
Company staff often rely on the work of outsourced employees and temporary service providers who need to have access to certain zones, IT centres and operational areas. This exponentially increases the risk of industrial espionage, data tampering, theft, and damage to company assets. In addition, the increased reliance on ICTs as the basis for operations creates vulnerabilities where errors, malicious actions or theft of data, know-how and critical business information can occur.
It is virtually impossible to adapt traditional security systems to this new scenario without slowing down, hindering, or disrupting the dynamic performance that the market demands of modern businesses.
The only solution is to implement a new approach to security for buildings that allows management to prioritise access permissions and security levels, make real-time decisions, open, or shut down access points instantly, and monitor the entry/exit of everyone involved in the company.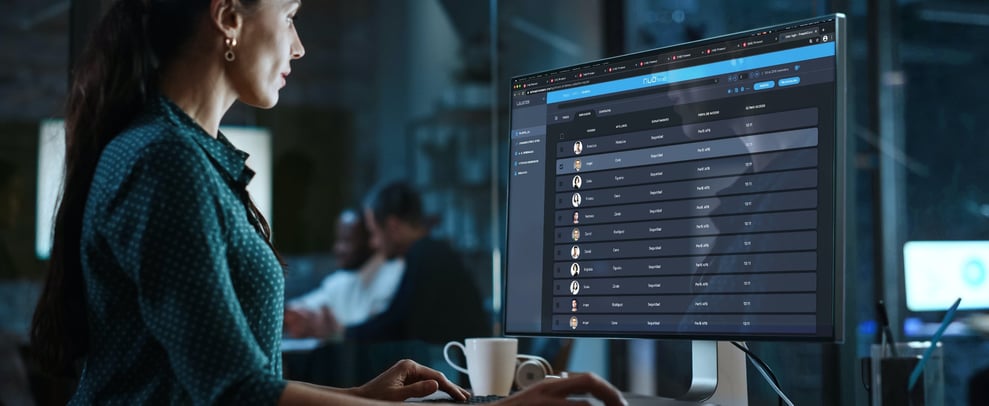 Biometric access controls as the 21st century company's best friend
Fingerprint biometric access controls are the solution which is most suited to modern business dynamics and new approaches to production.
As you can read in "Why fingerprint readers are the most secure systems for your company", the fingerprint has established itself worldwide as the only biometric parameter that is individual, irreproducible, non-transferable, and uniquely identifies a user, being key in the most advanced corporate building security.

An access control system involving biometric fingerprint readers identifies a user according to a unique pattern, which cannot be lost, loaned, or stolen like a physical ID (cards, key fobs, keys...). This allows management to implement a personalised and efficient user access system, creating different levels of restriction according to the user or groups of users, or according to timetables, shifts and holidays, or areas and spaces, such as:


Biometric access turnstiles

Access control to the company car park
Lift access control with floor restrictions
Reception and management of visitors and contractors
Ultra-rugged outdoor access control
Server rooms or

data centres

Valuable material warehouses, depots, and logistic areas
Archive rooms, financial areas, and cash deposit areas
Management offices and any sensitive areas that need to be protected.
By using a single-entry key, a user will only be able to access areas which pertain to his or her duties, and access to areas outside his or her work environment will be blocked.
Each employee or visitor will have individual access permissions that can be modified in real time and with a single click.
In addition, each entry/exit point generates detailed reports regarding users and the dates and times of their successful entries, but also of failed entry attempts by unauthorised or out-of-hours persons. This is of particular relevance since, as we reported in our last article on security vulnerabilities in large companies, one in three thefts occur within companies and are committed by "trusted employees" during daytime.
NÜO, the access control partner for large companies
The security of your corporate building must be in complete synch with your company's needs as regards operational fluidity. There must be harmonious integration between the access control system, the safeguarding of information and your assets, and the agility demanded by the market.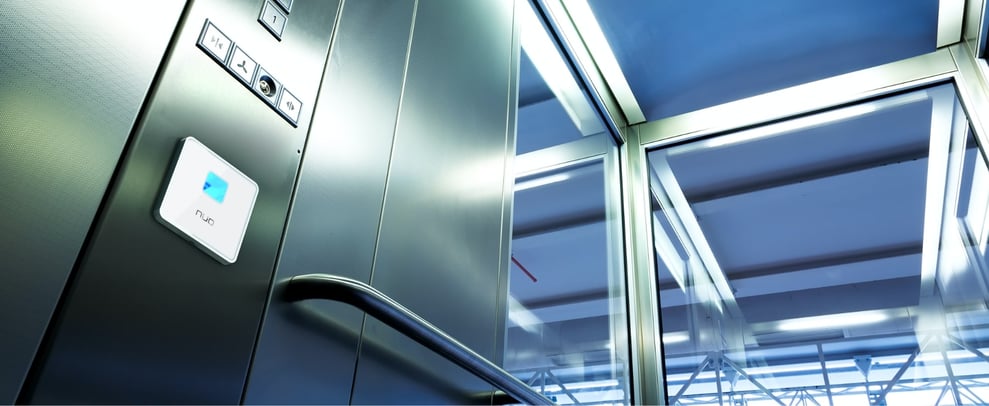 For this reason, NÜO building access controls can be comprehensively customised to your operations, creating zones with different levels of security, individualising access for each member of your company and providing 100% agile and effective information and monitoring for operational decision-making.
Innovation and adaptability to each company's needs are the cornerstone of the new approach to security that is so necessary for your business. We focus on creating unique access solutions that are 100% tailored to your needs. Because every company is different. That is why NÜO is behind some of the most secure buildings in the world
Top security trends 2022
The NÜO access control system for buildings provides the ideal combination of dynamism and security, with cutting-edge technological systems that are adapted to current business requirements and are as easy to use as possible. Here at NÜO, we have identified the following as the latest security trends for 2022: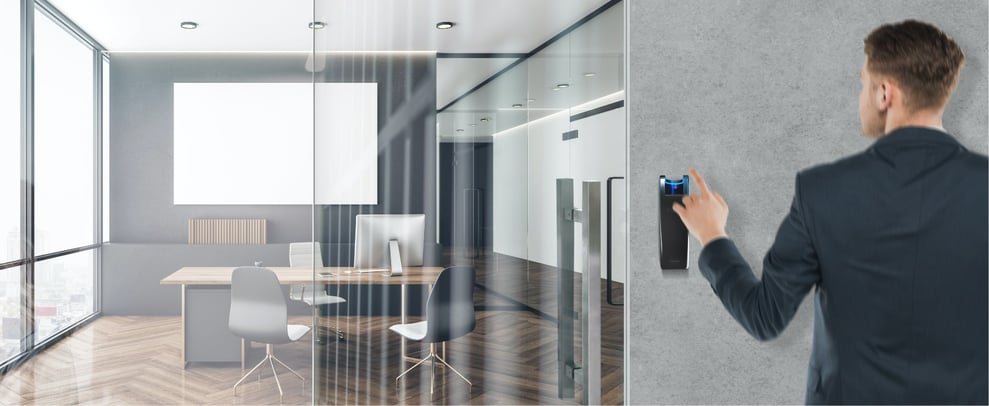 Contactless biometrics

We are industry leaders when it comes to research and development of the most advanced biometric readers, including contactless biometrics, the key security trend for 2022. We have recently introduced NÜO Fly to the global market. This is an iconic contactless fingerprint reader using technology that is unique in the field of access control and 100% developed in-house. It is able to identify the fingerprint without any physical contact with the reader, with a sensation of it being read in the air. Moreover, it does all this with the greatest speed and maximum performance, in less than half a second.

Sustainability

Sustainability is the order of the day in absolutely every aspect of our lives, and especially in the world of construction and architecture. As we explained in a recent article on the advantages of working on sustainable construction projects, the benefits of this trend, which has been with us for some years now, are many. In addition to reducing waste and residues, using long-lasting materials, and making the most of natural resources in the construction of new buildings, we also need to take sustainability into account as regards the various features that make up these buildings, from furniture and lighting to the access control system for your corporate building.

At NÜO Planet, we are committed to sustainable systems that help protect the environment, incorporating R&D and "Green" manufacturing processes, recyclable packaging, and manufacturing with 100% sustainable high-quality materials such as aluminium and tempered glass. We also aim to minimise the use of plastic as much as possible. In this way, we provide solutions that are more durable and ultra-resistant as well as sustainable.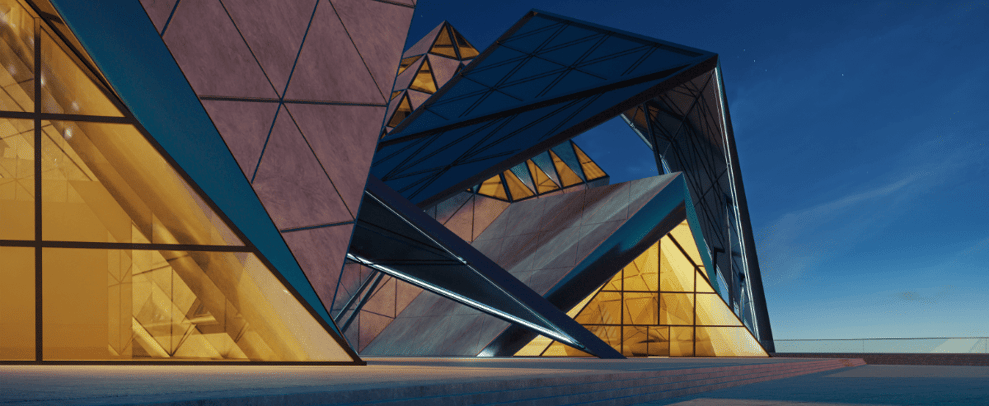 A major new challenge to architectural design

Newly constructed corporate buildings have often been designed by an architectural firm that has taken the utmost care in the design of each item. First of all, it is important to bear in mind the importance of including plans for the security system at the design stage, rather than after the fact. This will bring benefits in terms of cost savings, as well as in terms of the architectural harmony of the building.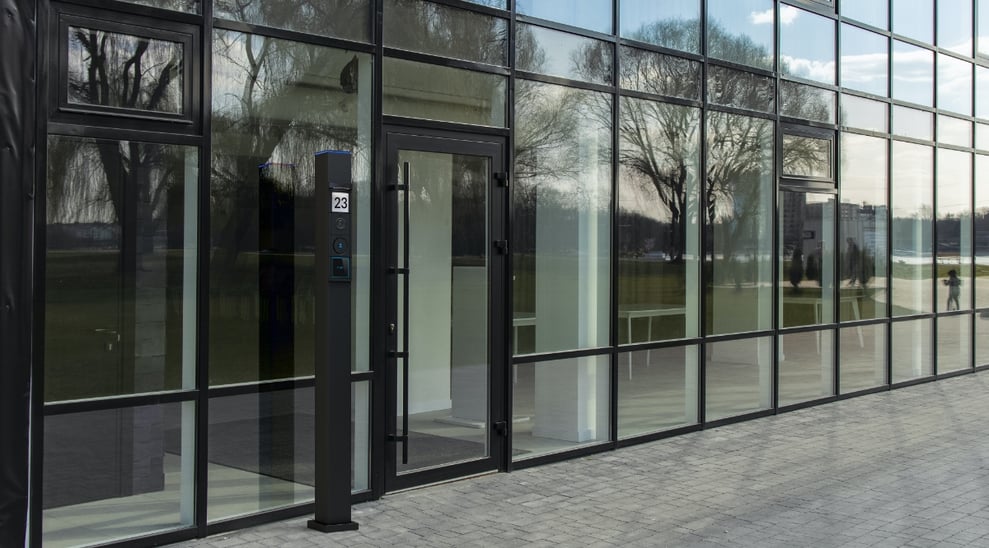 It is common to find custom-designed buildings that contrast their elegance and avant-garde style with clunky, large, attention-grabbing security features. This is why the design of access controls is so important. Another great example is the difficulty of adding security features to historic or specially protected buildings, as we explain in this article.
At NÜO, we are very aware of the need for carefully designed building access control systems that are 100% respectful of the building. This is why we offer the widest range of readers and devices on the market, as well as specific devices designed for glass façades or custom-designed buildings, such as Sky Walk: a sophisticated aluminium pole that sits close to, but not touching, the façade.