Security for corporate buildings, offices and public access areas is among the most in-demand service in today's market. Companies from all sectors and of all sizes increasingly require systems which optimise access control in a way that is secure, efficient, fast and aesthetically pleasing. A clear example is lobby security systems.
One of the major concerns of the end client is in regard to how to optimise security without disrupting the daily operational flow and without causing additional inconvenience to employees, visitors and users of their corporate sites, more specific on how to optimize office turnstiles.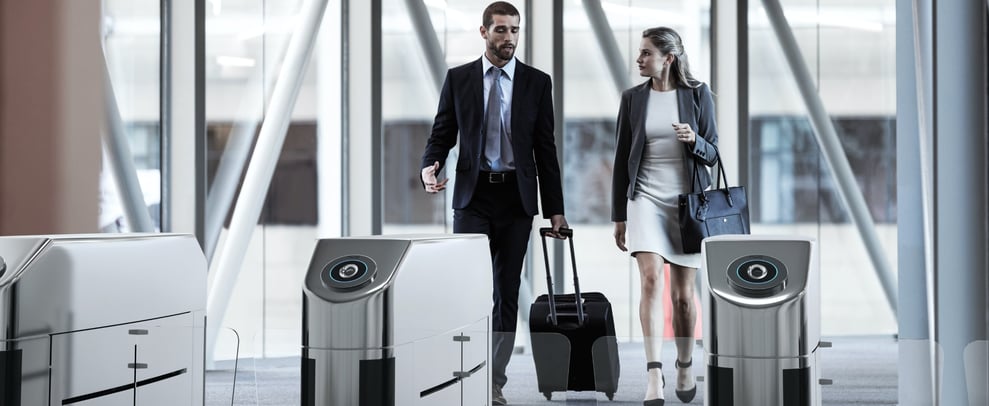 One of the shortcomings of traditional access control systems is that they are unable to combine optimal security with increased operational flow in a well-balanced manner. Conventional physical security creates bottlenecks, delays at entrances, and inhibits the efficient movement to and from corporate lobbies.
NÜO Solutions provide access control systems for corporate buildings, indoor areas and restricted access areas for companies regardless of the sector, traffic and size, featuring superior lobby security system via the installation of employee entrance turnstiles.

With a perfect blend of innovation, tailor-made solutions, easy installation and aesthetics, you can provide your corporate clients with comprehensive electronic security turnstiles. Our systems are made by and for the installer with a streamlined, intuitive, scalable and cost-effective system that can be installed in a fraction of the time required by other smart access control systems, and without the mess of cables that a conventional lobby turnstile system requires.
What is the difference between NÜO Solutions and other
lobby security system

?

NÜO Planet is a company with more than 40 years of experience in the design and development of comprehensive security solutions, specialising in lobby access control with the most stringent security parameters on the market.
Our lobby access management systems are designed to facilitate rapid installation with minimal technical requirements, and with intuitive, scalable and streamlined systems. Unlike other lobby security systems on the market today, NÜO Solutions allow you to: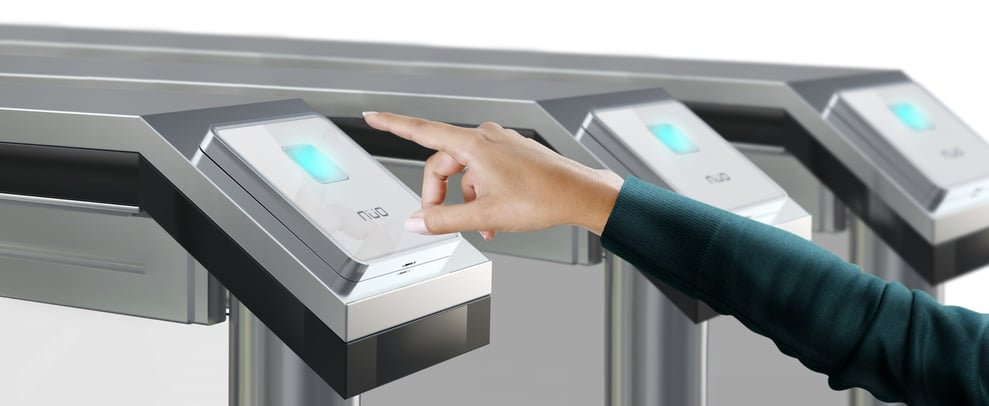 Install customisable entry and exit turnstiles for employees and visitors with integrated biometric fingerprint readers, or proximity readers with high-security cards or mobile IDs. NÜO readers are equipped with the most advanced technology to guarantee fast and efficient access to your corporate lobby, preventing congestion and enhancing your company's image.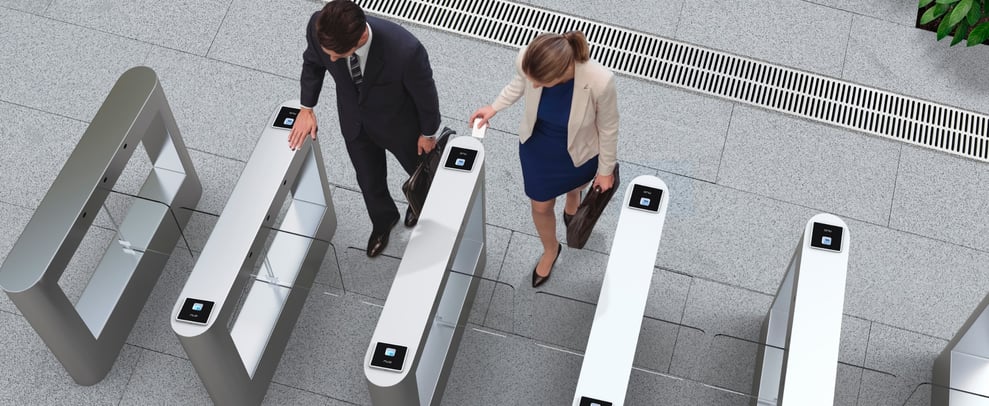 Manage non-accredited visits with a pre-registration system in the web application, so that each department manager can authorise access for their own visitors. Alternatively, you can centralise the lobby management of visits through your corporate reception with a specific operating station, which will facilitate your work and save time for your reception staff.


In addition, you can further optimise your corporate lobby security with NÜO TT, a stand-alone business card identification, retrieval and storage system specially designed for the lobbies of corporate buildings. For security reasons, visitors need to carry visible identification when walking around a corporate facility. NÜO TT thus facilitates the visitor's exit and ensures that the card - including the holder and the clamp - can be retrieved upon leaving the premises.

NÜO's office turnstile solution is 100% integrated with the rest of the lobby security system, meaning you will have automatic integration with all other devices. Moreover, all data and information is centralised in the web application, eliminating third-party integration processes, additional configuration and compatibility errors.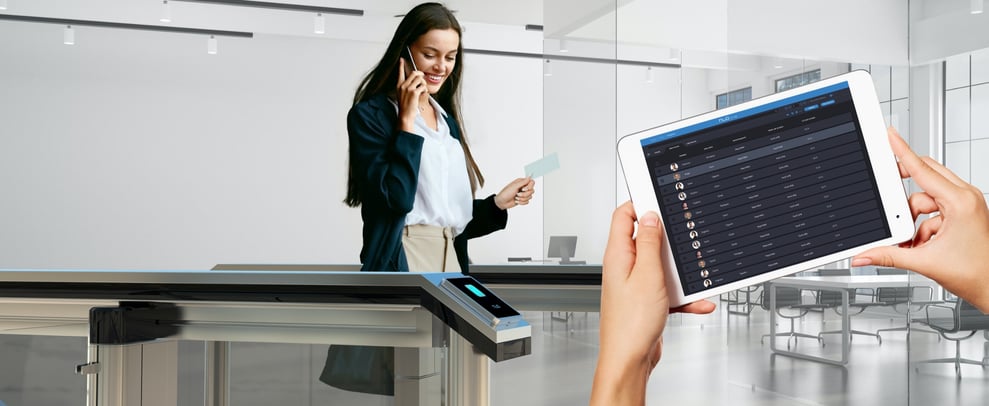 Lobby turnstile configuration is included in the web application, which means that you can increase the range of services you provide, without incurring extra licensing costs. NÜO solutions allow you to add users, entry points, zones and new devices without additional payments or extra licenses.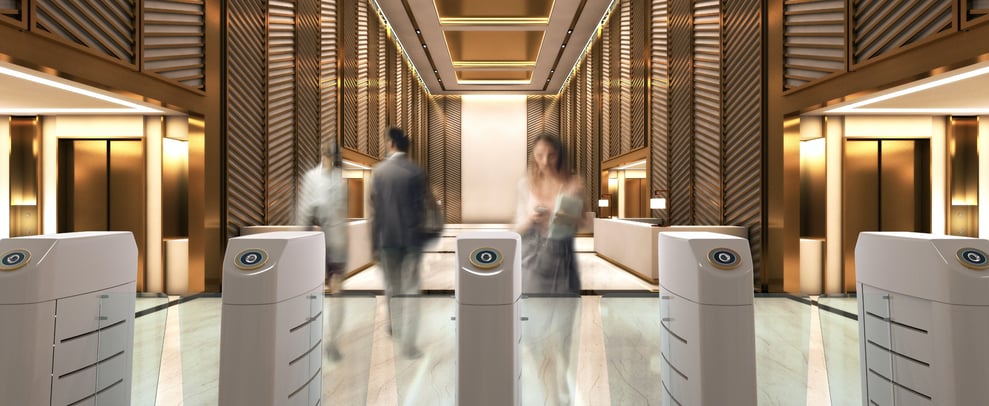 Far from being a piece of equipment that takes up lots of the space, NÜO office turnstile solutions integrate seamlessly with your corporate lobby. Our Projects Department will help you to find the solution that best suits the style and needs of your entrance hall. NÜO offers the widest range of designs to suit a multitude of architectural styles and interior designs for your clients. Our systems perfectly combine aesthetics with functionality.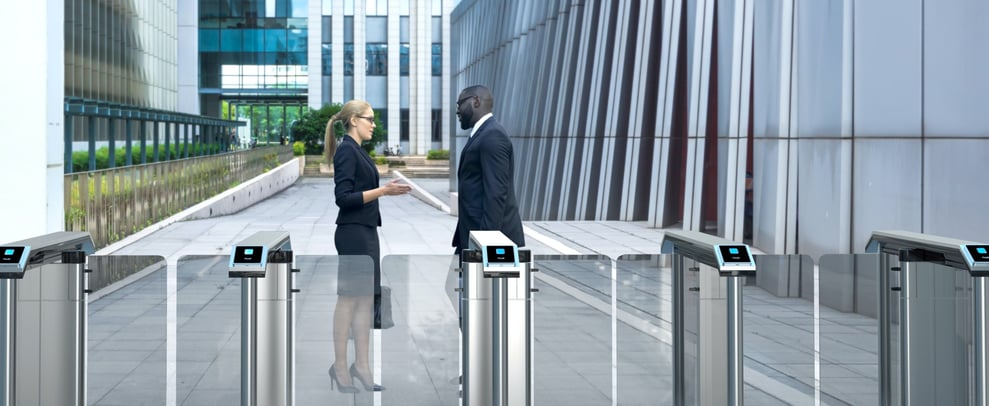 What are the advantages for the installer of offering NÜO Solutions for

corporate security turnstiles

?
As you will see in our Technical Training Certification Programmes, our systems are designed to optimise technical operability and maximise cost effectiveness for the installer.
At NÜO Planet, we firmly believe that by providing comprehensive support to the installer, we can achieve sustained growth alongside today's best professional installers.

That's why we have designed security solutions which are more user-friendly from a technical point of view and which enable the installer to thrive in multiple markets, offering the best services and achieving sustainable development over time.
All NÜO Solutions are designed and developed according to the same principles::
| | |
| --- | --- |
| | |
| Faster, more streamlined, intuitive and efficient installation with plug & play systems and multiple features as early as the design phase to reduce installation times. There is the option of increasing the number of services provided for horizontal growth with a greater variety of customers in all industrial, corporate, commercial and residential sectors. | The ability to handle a larger number of installations simultaneously with systems that are quick and easy to install and require minimal maintenance. |
| | |
| Systems and devices with minimal risk of technical incompatibilities due to the fact that both hardware and software are designed by the same manufacturer. | Ongoing technical support and pre-sales advice for project design with the assistance of our engineers and technical specialists. In addition, receive the best marketing support with the best tools to grow your business in a sustainable manner. |
With NÜO Planet, you gain a technological, technical and marketing partner that will enable you to maximise the growth of your business by providing a wider range of services while at the same time enhancing your prestige among your customers.
Contact us and join the new generation of installers with the best services, including lobby access management, and the most comprehensive support available today.