For optimal business management, guaranteeing security in the office is crucial: to protect assets, confidential information, and ensure the well-being of staff.
It is key to protect the facilities of the corporation, industry, or business by preventing theft or other criminal acts that jeopardise the company assets. In addition, it prevents industrial espionage and the consequent theft of valuable information.
But what actions should be taken? Are such actions really necessary? In this article we provide the 7 rules that must be applied for successful office security management.

Office security: why it's essential
When planning security regulations in the office, the installation of systems that restrict access by controlling entrances and exits must be considered, while always considering the external and internal protection systems in place.
External protection systems control access to the company's entrance and exit areas, preventing unwanted entry by strangers and possible criminals. Internal protection systems shield critical areas containing data, equipment, and key systems, preventing internal attacks from being committed by the work team itself.
Contrary to what is commonly believed, a large percentage of information robberies or thefts are carried out by thecorporation's own employees.Specifically, in the retail sector, as confirmed by this report by the AECOC, every year there are annual losses of 1.78 billion euros throughout Spain, of which 23% are due to theft by store personnel.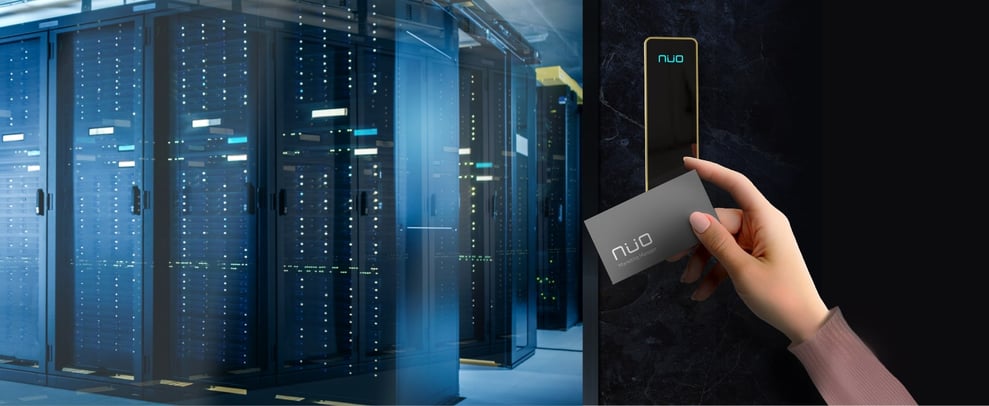 This is due to open access to server rooms, data centres, laboratories, warehouses, etc. This often happens in both large corporations and small business.
It is also vital to restrict the access of outsiders to the company or industry facilities, to prevent the presence of intruders and anyone with suspicious behaviour.
How to guarantee security in the office
To guarantee security in the workplace, it is important to implement access controls that allow the flow of people in the corporation to be monitored.
Con esto nos referimos a implementar un sistema de control de acceso en las entradas y salidas de la empresa, así como en las áreas internas críticas. Sistemas que permitan o restrinjan la circulación de acuerdo a las funciones y grado de confianza de cada empleado.
Below we have outlined 7 rules or controls that must be followed to create safe work environments, free from the risk of robbery, theft, or industrial espionage.
To learn more, discover the 2022 Trends in Security and Access Control in this presentation:

1. Record who enters and exits the different rooms
Use an access control system that allows each employee to be identified, either through a high security card, using their mobile device as a credential or with their biometric data. Consider that biometrics is the most highly recommended mechanism for security applications. Do you want to know why? Read this article: Why is the use of biometrics recommended for security applications?
According to the roles, hierarchies, schedules, shifts, and other factors that you think are convenient, you can customise the security profile for each user. This allows you to restrict access to facilities or areas that require special protection, such as:
| | |
| --- | --- |
| | |
| Offices and meeting rooms | Server rooms |
| | |
| Private company car park | Reception area |
| | |
| File rooms or confidential material | Merchandise warehouse |
In this way, the system will record who enters and who leaves the different areas. It will even record unauthorised access attempts or attempts to enter the facilities outside of work hours or shifts.
For example, you will know in real time that an employee without permission has tried to access the office at two o'clock in the morning, through the main door. Access will be denied, and you will be able to see the failed access attempt in the app.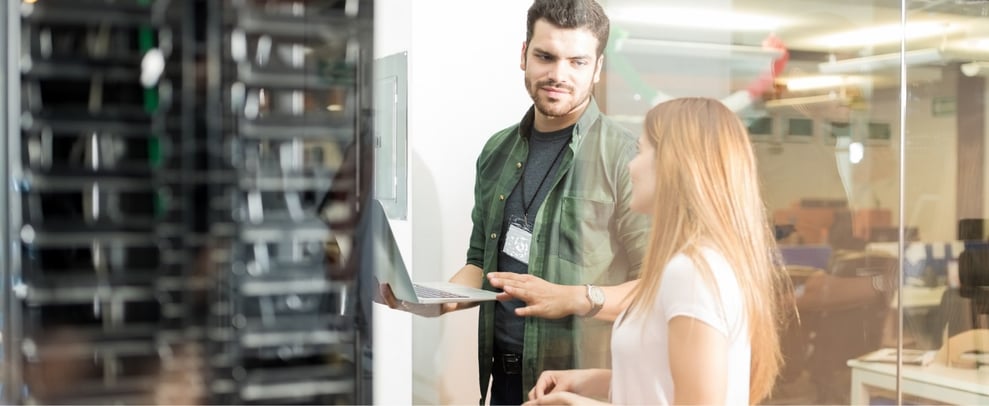 2. Implement a "Supervisor" mode security control
Depending on the spaces you need to protect, it may also be necessary to install an access control system with special security features. These functions offer you the solution to complex problems.
For example, by using the Supervisor mode security control, you can allow authorised personnel to enter restricted areas only under the supervision of a manager. That is, authorised users will be able to access a certain protected space, only if another user with a Supervisor profile is inside. This Supervisor mode is typically used for access to sensitive areas such as a laboratory, a storage area with high-value goods in a jewellery store, a cash storage room in a casino, etc.
3. Authorise or cancel access permissions in real time
It is always important to have a security system in the office that allows you to cancel or activate workers' access permissions in real time.
For example, when an employee is on holiday, you can temporarily cancel their permissions, as well as activate the access of the person who is going to stand in for them. And in the event of dismissals or problems with an employee, you will be able to easily and immediately prevent them from being able to access the corporation's facilities.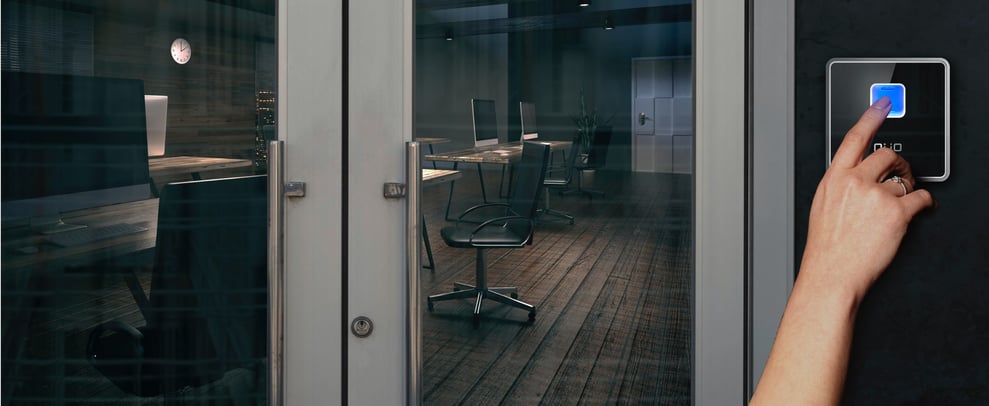 4. Have an alarm system
Another of the rules that must be followed to guarantee security in the office is to set up an alarm system in order to detect risk situations that occur once the office has been closed.
A good solution is an access control system that can communicate with the alarm system in a simple way to facilitate the activation and deactivation of the alarm at the time of opening and closing the office.
For example, the advanced access control systems allow the alarm to be activated and deactivated simply by placing the fingerprint of someone with the right permissions on the exit reader, making codes a thing of the past, as a code-based system is highly susceptible to breach and offers few security guarantees.
In addition, the system that is implemented to restrict access must also offer the ability to configure how doors are to act according to evacuation routes for risk events or emergencies. In other words, the system allows you to configure which door must be opened to evacuate personnel and which must be kept shut to prevent theft or robbery. This is vital: it is one of the most important security rules to consider in the office.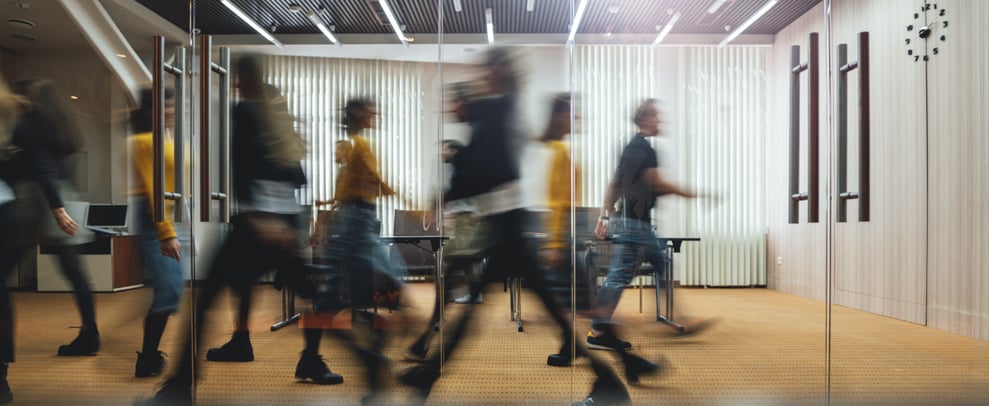 5. Capacity control
For maximum security guarantees in the work office, it is essential to have access control systems that offer capacity control, through APB antipassback zones.
When the control over the flow of people is implemented using the APB mechanism, it is possible to manage the capacity of a given space by restricting the maximum number of people who can access it simultaneously.
At the same time, it also prevents the same credential from being used by more than one user. Consequently, if a user accesses the APB zone, the system records them and blocks the entry permission of said credential, until it records a valid exit access of that same credential.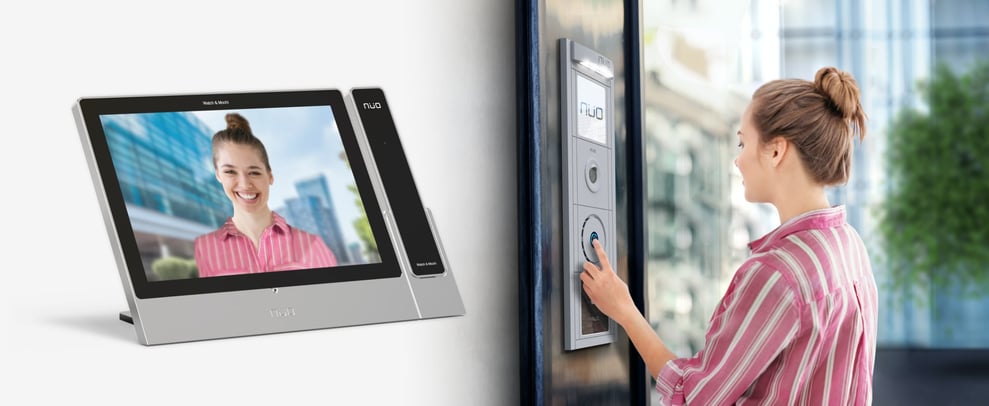 6. Implement greater perimeter control
One of the vital measures for security in the office and in all the company's facilities is to implement a comprehensive perimeter control system, both for pedestrian control of employees and visitors and for vehicle access control to the office's private car park.
These perimeter control systems must offer video intercom mechanisms in order to effectively control non-accredited visits to the facilities. In addition, they must facilitate their installation on the facade - in the most natural way possible - and they must be made of materials that can withstand external agents to ensure their durability and avoid possible breakdowns.
For example, depending on the characteristics of the company's facade, you can opt for a surface-mounted, flush-mounted (with the wall), or pole-mounted pedestrian control system. The latter is widely used on glass facades, in buildings of complex architecture or in order to avoid having to modify the building's structure.
7. Incorporate the reader that best suits your needs
In access control systems, you must always select the reader or readers that best suit the needs of the organisation. Keep in mind that it is the only element of the system that will be visible.
You can choose readers with different types of technology and designs:
Biometric readers

(fingerprint), mobile access readers or maximum-security card readers.

State-of-the-art biometric fingerprint readers,

which guarantee the correct identification of personnel wearing gloves or who have problematic, wet or dirty fingerprints. This is particularly suitable for laboratory areas, industries, or for maintenance personnel.

Readers for outdoor

or indoor areas

Readers for

installation on turnstiles

or for vehicle access controls.

Wireless or wired readers

.


Do remember that only wired systems guarantee total security.

Lectores con display táctil.



NÜO Planet: maximum security in your office

At NÜO Planet, we have developed a comprehensive access management solution that guarantees security in the office. NÜO Go! is a solution that merges hardware and software with state-of-the-art devices and without any compatibility problems.
NÜO Go! is an access control system that guarantees compliance with each of these rules. It offers simplicity and high levels of security, it has a logical and secure structure, the license is free and for life, and you can manage it from anywhere with a simple app.

The NÜO Go! system allows you to manage up to 8 doors through a wired system, 4 doors with video intercom and 48 offline doors. In addition, it allows you to register and manage up to 250 users, through the use of cutting-edge biometrics, high-security cards, or the smartphone as a credential.

NÜO Go! is the perfect access control system for office security, adapting to the size and unique characteristics of your company. Write to us, at NÜO Planet we can advise you and help you select the best access control system.