Office access control goes far beyond the protection of facilities: it is also the correct method for guaranteeing the security of the human team, of all your company's assets and goods and even a business's intangibles. For example, do you keep confidential documents in your office, is your know-how on central servers or stored in physical folders at your business?
Choosing the appropriate security system is vital in order to guarantee the protection of a company at all levels.
Based on our experience in developing office access control systems, at NÜO Planet we have put together this guide that delves into exactly what these systems are and what they contribute to the security of a business.

What is office access control?
An access control system is defined as the infrastructure that allows the entry of people or vehicles to a specific facility to be authorised or denied.
In particular, office access control allows you to:
| | | | |
| --- | --- | --- | --- |
| | | | |
| Allow or restrict people from entering a building or its different areas | Protect the physical or intangible assets of a business, including the possibility of theft or unauthorised access | Keep track of and activate traceability of access to facilities, including the recording of critical events | Enable the management of the human team and its organisation in the offices |
What is an access control system for?
Beyond the uses outlined above, an access control system covers three specific operations:
| | | |
| --- | --- | --- |
| | | |
| Identification of people trying to gain access to a facility | Identity authentication | Authorisation (or denial of entry) based on the previous data |
Thanks to technological advances, today there is a new generation of office access control systems in which, in addition to these three functions, traceability has been added: the ability to track or trace authorised people and events of an ordinary and extraordinary nature regarding access to the system.
In short, the idea is to have a system that you can rely on for the management of an office, allowing you to control who accesses it, when they access it and which rooms they are allowed to enter at all times.
In addition, and once again thanks to the latest technological developments in access control, it is possible to carry out this monitoring in real time and through increasingly intuitive and, at the same time, secure systems: from biometrics for fingerprint identification to the use of an individual smartphone to gain access.

Why you need to control access to the office: practical examples
The use of office access control systems can take on many forms. In general, the idea is to identify users and record their journey through the facilities (which rooms they access, at what time…).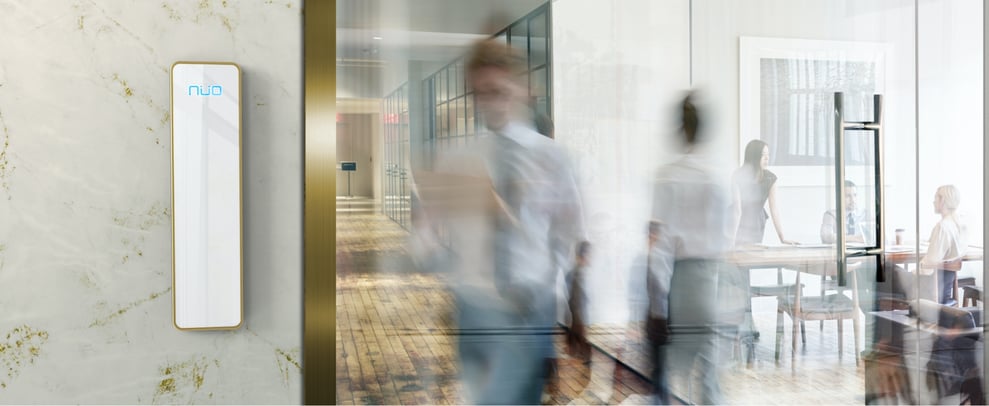 However, there are many ways this can materialise.
Considering the possibilities of the NÜO Planet office access control solution, we can highlight the main examples of how these tools are really used:
Permissions can be assigned according to different zones within the facilities and according to specific calendars (including days and time slots).
They are also highly customisable and flexible: they can be cancelled or activated instantly, considering the different situations that regularly arise in a business (problems with employees, new hires, different suppliers from those used normally…).
Configuring notifications takes office access control a step further. Different alarms can be activated (an open door, a forced door, mains power failure, low battery, battery error…).
Ease of integration with an alarm system.

Raising and lowering of security roller shutters from the entrance reader.

With the Supervisor mode, it is possible to only grant access to certain people after first ensuring that a person in charge is already present inside the area of restricted access.
The Double Intervention mode only grants access if the credentials of two people are combined during identification.


How can you guarantee access control in the office?
The answer is simple: by having a system that is modern and, at the same time, capable of adjusting to the needs of each business.
For offices, we propose the NÜO Go! solution, the simple and specific access control system for the management of SMEs and offices, which provides global and centralised management with three types of identification (fingerprint, identification card, and smartphone), and which allows:
Up to 8 wired access control doors + 4 combined video intercom and access control doors

Up to 4 video consoles to control visitors

Management of up to 250 users

Wide range of readers that can be combined with each other according to the needs of each door or space.

Control of the most sensitive areas of the company with high security biometric readers

Management of the entry and exit of vehicles




A modular and scalable system that grows hand in hand with your business. In other words, you can start by controlling 4 doors and, as your business grows, you can simultaneously expand the spaces you want to control. All this occurs without having any impact on software licenses or any additional costs for expanding the number of users, etc. Management of the system from the web app will be updated instantly with the new devices without causing any inconvenience or requiring any extra action to be taken with the software. Simple and intuitive.




Which rooms in the office need an access control system?
Not all spaces have the same need for security in an office: there are spaces that require a much more exhaustive control. The needs in office access control could be summarised as follows:
AMain or exterior entrances.


These entrances are transit areas and, if necessary, must act as a first security threshold.





Reception area:


this is the place where visitors to the facility usually pass through. Generally, a form of access is required that provides a certain amount of control but does not inconvenience potential visitors. Here the incorporation of video intercom systems stands out: unaccredited visitors can communicate with someone inside the building or with the reception area through a video console to ask to be let in. The most advanced options allow for several video consoles to be installed (at the reception area, in the warehouse area...) so that all calls are answered and controlled.




Car park:
access to some facilities by vehicle is also subject to control. At this point, automatic barriers are usually installed that open for authorised vehicles and are activated by different systems (remote card readers, identification and access readers, video intercom for visitors who access the offices by car...).





Offices and meeting areas:


the needs of these areas range from door opening systems to CCTV video surveillance, as well as a centralised system from which to manage any contingency or alarm.






High value areas:


this point includes warehouses for products or confidential information of high value (financial documents, know-how...), management offices, areas where cash is handled or server rooms, among others. In these cases, additional measures can be activated for access control such as Double Intervention or the figure of the Supervisor as described above.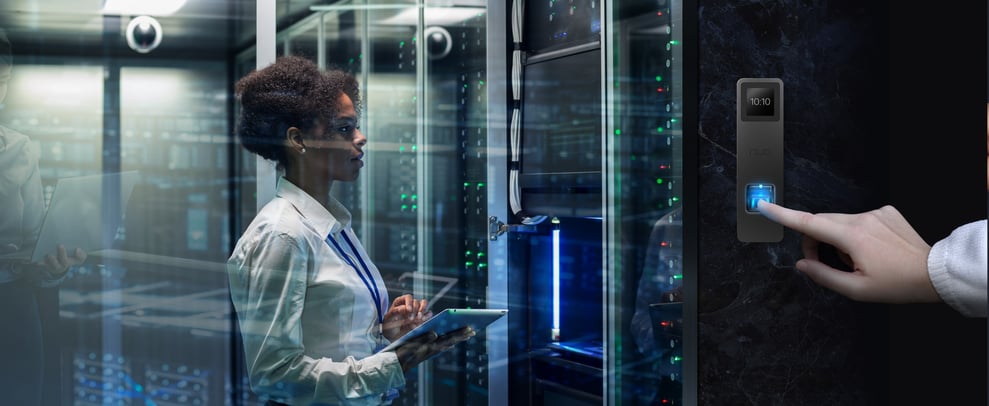 In short, adequate office access control allows you to seamlessly guarantee the security of a business and its continuity.
Looking for the best system? Each business has different needs (access control needs in SMEs are different depending on each facility, since each office is a unique environment where its specific needs must be studied). That's why at NÜO Planet, we help you find the best solution for your business:
Download our free guide on trends in security and access control systems or contact us so that we can guide you in deciding which access control system is most suitable for your office.